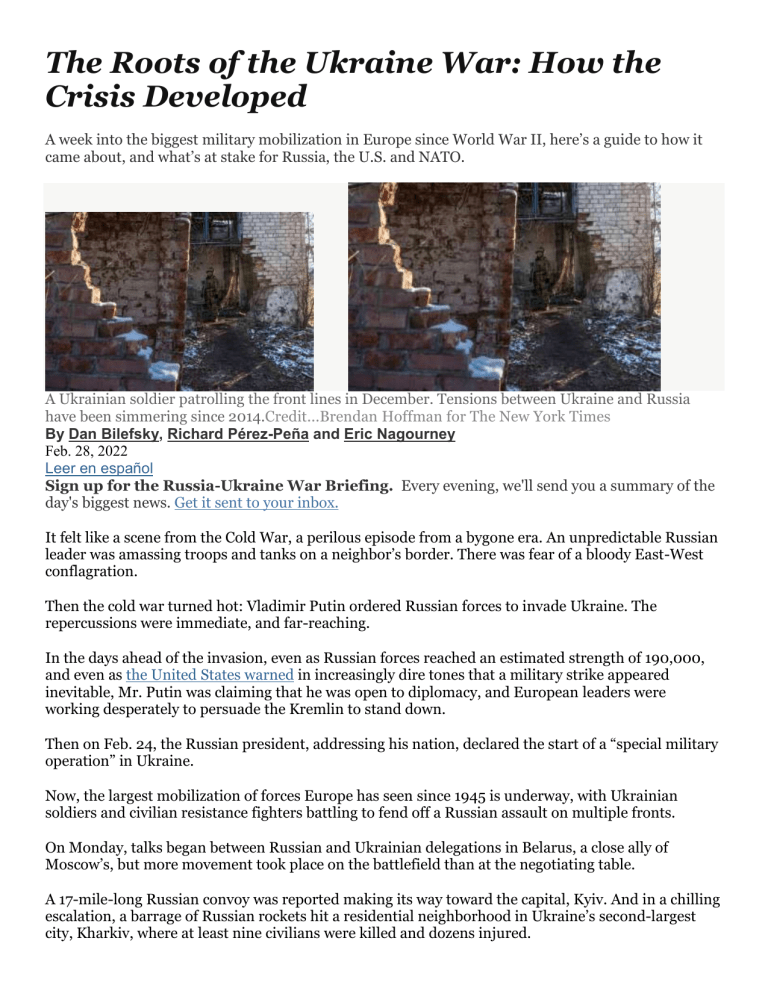 The Roots of the Ukraine War: How the
Crisis Developed
A week into the biggest military mobilization in Europe since World War II, here's a guide to how it
came about, and what's at stake for Russia, the U.S. and NATO.
A Ukrainian soldier patrolling the front lines in December. Tensions between Ukraine and Russia
have been simmering since 2014.Credit...Brendan Hoffman for The New York Times
By Dan Bilefsky, Richard Pérez-Peña and Eric Nagourney
Feb. 28, 2022
Leer en español
Sign up for the Russia-Ukraine War Briefing. Every evening, we'll send you a summary of the
day's biggest news. Get it sent to your inbox.
It felt like a scene from the Cold War, a perilous episode from a bygone era. An unpredictable Russian
leader was amassing troops and tanks on a neighbor's border. There was fear of a bloody East-West
conflagration.
Then the cold war turned hot: Vladimir Putin ordered Russian forces to invade Ukraine. The
repercussions were immediate, and far-reaching.
In the days ahead of the invasion, even as Russian forces reached an estimated strength of 190,000,
and even as the United States warned in increasingly dire tones that a military strike appeared
inevitable, Mr. Putin was claiming that he was open to diplomacy, and European leaders were
working desperately to persuade the Kremlin to stand down.
Then on Feb. 24, the Russian president, addressing his nation, declared the start of a "special military
operation" in Ukraine.
Now, the largest mobilization of forces Europe has seen since 1945 is underway, with Ukrainian
soldiers and civilian resistance fighters battling to fend off a Russian assault on multiple fronts.
On Monday, talks began between Russian and Ukrainian delegations in Belarus, a close ally of
Moscow's, but more movement took place on the battlefield than at the negotiating table.
A 17-mile-long Russian convoy was reported making its way toward the capital, Kyiv. And in a chilling
escalation, a barrage of Russian rockets hit a residential neighborhood in Ukraine's second-largest
city, Kharkiv, where at least nine civilians were killed and dozens injured.
Outside observers speculated that Mr. Putin, frustrated by the surprisingly slow advance of his forces
— which greatly outmatch Ukraine's but have faced stiff resistance from Ukrainian soldiers and
civilians alike — may have grown impatient and decided to tighten the screws. That could signal more
civilian casualties ahead, they said.
Editors' Picks
The number of refugees who have fled the country has topped half a million. And Mr. Putin appears
intent on capturing the Ukrainian capital, Kyiv, toppling Ukraine's democratically elected
government, and subsuming the country into Russia's orbit.
Maps: Tracking the Russian Invasion of Ukraine
See where Ukrainian refugees have fled to since Russia's invasion.
The invasion threatens to destabilize the already volatile post-Soviet region, with serious
consequences for the security structure that has governed Europe since the 1990s.Mr. Putin has long
lamented the loss of Ukraine and other republics when the Soviet Union broke apart. Now,
diminishing NATO, the military alliance that helped keep the Soviets in check, may be his real
mission. Before invading, Russia made a list of far-reaching demands to reshape that structure —
positions NATO and the United States rejected.
Here is a look at how the world got here.
What's behind the Ukraine crisis?
Image
Ukrainian soldiers preparing an underground bunker in November. Conflict with Russia-basked
separatists in eastern Ukraine has continued despite a cease-fire.Credit...Brendan Hoffman for The
New York Times
After the Soviet Union collapsed, NATO expanded eastward, eventually taking in most of the
European nations that had been in the Communist sphere. The Baltic republics of Lithuania, Latvia
and Estonia, once parts of the Soviet Union, joined NATO, as did Poland, Romania and others.
As a result, NATO moved hundreds of miles closer to Moscow, directly bordering Russia. And in
2008, it stated that it planned — some day — to enroll Ukraine, though that is still seen as a far-off
prospect.
Mr. Putin has described the Soviet disintegration as a catastrophe that robbed Russia of its rightful
place among the world's great powers and put it at the mercy of a predatory West. He has spent his 22
years in power rebuilding Russia's military and reasserting its geopolitical clout.
The Russian president calls NATO's expansion menacing, and the prospect of Ukraine joining it a
major threat to his country. As Russia has grown more assertive and stronger militarily, his
complaints about NATO have grown more strident. He has repeatedly invoked the specter of
American ballistic missiles and combat forces in Ukraine, though U.S., Ukrainian and NATO officials
insist there are none.
Mr. Putin has also insisted that Ukraine and Belarus are fundamentally parts of Russia, culturally and
historically. He holds considerable sway over Belarus, and talks about some form of reunification with
Russia have gone on for years.
Live Updates: Russia-Ukraine War
Updated
March 1, 2022, 6:29 a.m. ET46 minutes ago
46 minutes ago
 Videos show Russian military vehicles and foot soldiers patrolling a strategic city in southern
Ukraine.
 Voices from Ukraine: 'The Daily' hears from men facing a call to fight.
 An explosion rocks Kharkiv a day after shelling in a residential neighborhood.
But East-West relations worsened drastically in early 2014, when mass protests in Ukraine forced out
a president closely allied with Mr. Putin. Russia swiftly invaded and annexed Crimea, part of Ukraine.
Moscow also fomented a separatist rebellion that took control of part of the Donbas region of
Ukraine, in a war that still grinds on, having killed more than 13,000 people.
What does Putin want?
Image
Mr. Putin at his annual news conference in Moscow, on Dec. 23. He has increasingly portrayed
NATO's eastward expansion as an unacceptable threat to his country.Credit...Alexander
Zemlianichenko/Associated Press
Mr. Putin appears intent on winding back the clock more than 30 years, establishing a broad,
Russian-dominated security zone resembling the power Moscow wielded in Soviet days. Now 69 years
old and possibly edging toward the twilight of his political career, he clearly wants to draw Ukraine, a
nation of 44 million people, back into Russia's sphere of influence.
Russia presented NATO and the United States in December with a set of written demands that it said
were needed to ensure its security. Foremost among them are a guarantee that Ukraine would never
join NATO, that NATO draw down its forces in the Eastern European countries that have already
joined, and that the 2015 cease-fire in Ukraine be implemented — though Moscow and Kyiv disagree
sharply on what that would mean.
The West dismissed the main demands out of hand, while making overtures on other concerns, and
threatening sanctions. Moscow's aggressive posture has also inflamed Ukrainian nationalism,
with citizen militias preparing for a drawn-out guerrilla campaign in the event of a Russian
occupation.
Mr. Putin's timing could also be related to the transition from President Donald J. Trump, who was
notably friendly to him and disparaging of NATO, to President Biden, who is committed to the
alliance and distrustful of the Kremlin.
He may also want to energize nationalists at home by focusing on an external threat, as he has in the
past. Mr. Putin has crushed domestic challenges to his authority, but last year, with the economy
stumbling and the pandemic raging, opposition groups held some of the largest anti-Putin protests in
years. Since the invasion began, thousands of Russians, some at great personal risk, have taken to the
streets to protest the war.
How is the United States responding?
Image
Russia's Red Square in Moscow last year. Mr. Putin is seeking to energize nationalist support at home
amid a raging pandemic.Credit...Sergey Ponomarev for The New York Times
In early December, President Biden made clear that his administration was not considering sending
troops to fight for Ukraine since, among other reasons, Ukraine is not a member of the NATO alliance
and does not come under its commitment to collective defense.
Understand Russia's Attack on Ukraine
Card 1 of 7
What is at the root of this invasion? Russia considers Ukraine within its natural sphere of influence, and it has
grown unnerved at Ukraine's closeness with the West and the prospect that the country might join NATO or the
European Union. While Ukraine is part of neither, it receives financial and military aid from the United States
and Europe.
Are these tensions just starting now? Antagonism between the two nations has been simmering since 2014,
when the Russian military crossed into Ukrainian territory, after an uprising in Ukraine replaced their Russiafriendly president with a pro-Western government. Then, Russia annexed Crimea and inspired a separatist
movement in the east. A cease-fire was negotiated in 2015, but fighting has continued.
How did this invasion unfold? After amassing a military presence near the Ukrainian border for months, on
Feb. 21, President Vladimir V. Putin of Russia signed decrees recognizing two pro-Russian breakaway
regions in eastern Ukraine. On Feb. 23, he declared the start of a "special military operation" in Ukraine.
Several attacks on cities around the country have since unfolded.
What has Mr. Putin said about the attacks? Mr. Putin said he was acting after receiving a plea for assistance
from the leaders of the Russian-backed separatist territories of Donetsk and Luhansk, citing the false accusation
that Ukrainian forces had been carrying out ethnic cleansing there and arguing that the very idea of Ukrainian
statehood was a fiction.
How has Ukraine responded? On Feb. 23, Ukraine declared a 30-day state of emergency as cyberattacks
knocked out government institutions. Following the beginning of the attacks, Volodymyr Zelensky, Ukraine's
president, declared martial law. The foreign minister called the attacks "a full-scale invasion" and called on the
world to "stop Putin."
How has the rest of the world reacted? The United States, the European Union and others have condemned
Russia's aggression and begun issuing economic sanctions against Russia. Germany announced on Feb. 23
that it would halt certification of a gas pipeline linking it with Russia. China refused to call the attack an
"invasion," but did call for dialogue.
How could this affect the economy? Russia controls vast global resources — natural gas, oil, wheat, palladium
and nickel in particular — so the conflict could have far-reaching consequences, prompting spikes in energy
and food prices and spooking investors. Global banks are also bracing for the effects of sanctions.
Instead, the United States has sent anti-tank and antiaircraft weapons to Ukraine, increased the
American military presence in NATO countries that border Russia, and ordered an additional 7,000
troops to Europe. The Pentagon also ordered the deployment of an armored brigade combat team to
Germany to reassure skittish NATO allies in Eastern Europe. Administration officials also warned
that the United States could throw its weight behind an Ukrainian insurgency.
But the real cudgel is financial.
Before the invasion, Mr. Biden threatened Mr. Putin with "economic consequences like none he's ever
seen." Afterward, he began to put them in place. Mr. Biden, vowing to turn Mr. Putin into a "pariah,"
has announced tough new sanctions aimed at cutting off Russia's largest banks and some oligarchs,
from much of the global financial system and preventing the country from importing American
technology critical to its defense, aerospace and maritime industries. The administration has also
issued sanctions against the company behind an energy pipeline connecting Russia to Germany.
Mr. Biden has also said the United States was freezing trillions of dollars in Russian assets, including
the funds controlled by Russian elites and their families, making them pay for what the American
president called "a premeditated attack" against a free nation in Europe.
Western governments have also vowed to freeze assets belonging to Mr. Putin, but very little is known
about what he owns and where it might be.
The Biden administration could also institute sanctions that could deprive Russians of their beloved
next-generation phones, laptops and other gadgets.
What's at stake for Europe?
Image
Olaf Scholz leaving Parliament in Berlin after lawmakers voted to approve him as chancellor in
December.Credit...Christian Mang/Reuters
At stake for Europe is the security structure that has helped keep the peace on the continent since
World War II. Europeans were initially divided over how to respond to various forms of Russian
aggression, and the conflict laid bare the fractures within the European Union and NATO. But outrage
over Mr. Putin's aggression has helped foster a unified front, and the E.U. unveiled penalties that hey
described as unprecedented for the bloc in terms of scale and reach.
Europe has important trade ties with Russia, and stands to lose far more than the United States from
sanctions. It is also dependent on Russian gas supplies, a weakness that Mr. Putin has exploited in
past disputes.
Europe lost an invaluable negotiator with Moscow after the departure of Chancellor Angela Merkel,
who grew up in the east, speaks fluent Russia, and had developed a good working relationship with
the Russian president. Her successor Olaf Scholz, has tried to take on a leadership role in the crisis
that escalated soon after his election, halting certification of the Nord Stream 2 natural gas pipeline
that would link his country with Russia — one of the strongest moves yet by the West to punish the
Kremlin.
Steven Erlanger in Brussels contributed reporting.
Dan Bilefsky is a Canada correspondent for The New York Times, based in Montreal. He was
previously based in London, Paris, Prague and New York. He is author of the book "The Last Job,"
about a gang of aging English thieves called "The Bad Grandpas." @DanBilefsky
Richard Pérez-Peña, an international news editor in New York, has been with The Times as a
reporter and editor since 1992. He has worked on the Metro, National, Business, Media and
International desks. @perezpena • Facebook
A version of this article appears in print on Jan. 10, 2022, Section A, Page 8 of the New York
edition with the headline: Can the West Stop an Invasion by Russia Into Ukraine?.
Explore Our Coverage of the Russia-Ukraine War
Understand What Is Going On




What does Russia want in Ukraine? Explore the causes of the conflict and the history of the
relationship between the two countries.
Russia's attack was preceded by months of military buildup on the border with Ukraine and rising
tensions. Here is how the invasion unfolded.
The fate of Ukraine could have enormous implications for the world. Learn more about what's at
stake.
To receive the latest updates and expert insight on the Russia-Ukraine war straight to your
inbox, sign up here.
In Ukraine


Photographers around the country are documenting the effects of the invasion on the ground.
Though vastly outgunned, Ukraine's army and a growing corps of civilian volunteers are mounting
a spirited defense of the city of Kyiv, while a grass-roots movement is underway in countryside
villages.

Ukraine's president, Volodymyr Zelensky, a former actor and comic, has assumed the role of
wartime leader. So far, Ukrainians have rallied around him.
In Russia


As Western sanctions kick in and the ruble plunges, Russian citizens are facing the anxieties of a
costly war.
For years, Russians have embraced Mr. Putin. But as the invasion starts taking its toll on the
country, his image has been upended.
Around the World


In culture, commerce, sports and travel, the world is shunning Russia in myriad ways to protest the
war in Ukraine.
Several countries have adopted broad measures against Russia. Notably missing from their
sanctions lists? Curbs to the export of Russian oil and gas.