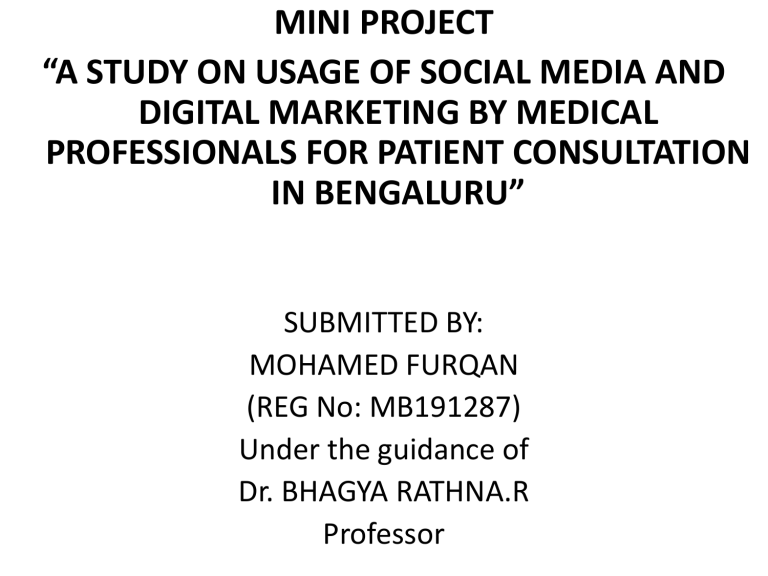 MINI PROJECT
"A STUDY ON USAGE OF SOCIAL MEDIA AND
DIGITAL MARKETING BY MEDICAL
PROFESSIONALS FOR PATIENT CONSULTATION
IN BENGALURU"
SUBMITTED BY:
MOHAMED FURQAN
(REG No: MB191287)
Under the guidance of
Dr. BHAGYA RATHNA.R
Professor
INTRODUCTION
The Healthcare and Medical industry is one of the significant keys of the economy
in the world. It is a self-pushed Industry which includes segments of Manufacturing
and Consumption of various Tablets, Syrups, Capsules, Ointments, Vaccines and
Syringes, Medical Kits and many other assisting machines as well. Digital Marketing
and Social Media have great scope in upcoming years as the consultation process
can be completely transformed from traditional physical to the modern virtual
process.
Usage of Social media and Digital marketing by medical professionals for patient
consultation is a very new concept even in the most urban metropolitan cities.
Therefore, the study also highlights on the factors influencing the patients for
online consultation and also analyzes and forecast the extent of success in it.
Online Medical Consultation:
Online medical consultation has in one way or the other become a boon to the
urban populace of the country. Hard pressed for time, having to travel long
distances to the hospital are some of the reasons that are prompting many
potential patients to online doctor consultation. For the chronically ill patients, for
those who want a follow-up examination, and for a periodical consultation, seeing
a doctor online seems a great option
STATEMENT OF THE PROBLEM
OBJECTIVES OF THE STUDY:
• To know the usage of social media by medical professionals in online medical
consultation.
• To understand the merits and demerits associated with online medical
consultation.
• To know the future prospects in the Indian Healthcare and Medical industry.
SCOPE OF THE STUDY:
This study is based on secondary data. Therefore no primary data or field study was
conducted, instead it is a desk study. The scope of this study is to know and study
the importance and demand of the doctors in person and to render their valuable
and expertise advices even in this pandemic situation, to perceive the behavioral
pattern of virtual consultation and to analyze the factors influencing the patient's
behavior in Social Media and Digitalization in the field of virtual consultation.
LIMITATIONS OF THE STUDY:
• The study focuses only on usage of Social Media and Digital Marketing by Medical
Professionals for Patient Consultation.
• This study is confined to Bengaluru city only.
• It is based on secondary data only.
RESEARCH DESIGN
• TYPE OF RESEARCH
• SOURCES OF DATA COLLECTION
SECONDARY DATA: From published books,
research papers, magazine, journals,
documents and internet.
• Websites
• Blogs
• Internet
SWOC Analysis:
STRENGTHS
• To know the present environment,
we are living in
• To know the existance of modern
technology
• Patient behaviour on online
consultation
• To know the increasing demand of
social media and digital marketing
in the field of healthcare
• Anticipation or forecasting
demand of online consultation
• Quick and easy communication
• Large audiences
• Global reach
• Measurable and trackable
WEAKNESSES
•
•
•
•
•
Skills and training
Time consuming
Huge competition
Security / privacy issues
Complaints and feedbacks
OPPURTUNITIES
• Opportunity to expand globally
• Competitive advantage
• Capture a large chunk of potential
customers
• Gain huge traffic when the medical
professionals become famous
• Build up of loyal patient base
• Global reach
• Easy and effective influence to the
patients
• Creates a pool of potentially
targeted patients
• Wide Market to be explored
CHALLENGES
• Time consuming
• Improper / inaccurate skills and
training
• Global competition
• Security / privacy issues
• Negative feedbacks and critisms
• Must be updated with current
trends and technologies
• Fluctuating Network
• No reach to Rural Hinterlands
FINDINGS:
 There is a tremendous huge amount of Demand as well as scope of online/virtual
consultation especially in metropolitan cities like Bengaluru and more.
 People now a days are more advanced and technology driven as a result, they are
using social media and its platforms much more than ever in the past.
 People have found the online consultation and medical professionals using Digital
marketing and social media platforms for patient consultation very helpful and
convenient.
 It has become a boon in this Pandemic situation or pandemic crisis.
 Patients are also provided with their privacy and security relating to their records,
medical history in a separate database in the form of 'Patient Portfolio'.
 It has become one of the most successful idea and platform for the medical
professionals to serve the general public through Digital marketing tools and Social
media platforms without the fear of physical contact.
 General public has found the method of Digitalization of healthcare using Social
media platforms in order to be consulted to their desired medical professionals as a
method of more convenience, cost friendly and free from all hustles.
 Expert doctors or medical professionals also gain high popularity and fame over the
internet as they are more in demand by their services and expertise which results
in huge web traffic.
 The people who refuse to show up to the doctors or who evades the treatment of
the doctors from their family members also can now easily be consulted through
online platforms.
SUGGESTIONS:
 Based on the major and significant findings of the study, based on the observations
made at the time of research and by discussing with some of the
customers/patients who have undergone online medical consultation as well as
with the doctors who render their service online, the following suggestions were
made
 Medical professionals who opt for rendering their noble and qualitative services
online through Digital marketing tools and social media platforms must be well
equipped with all the skills and training needed to carry the online work.
 Medical professionals, no matter how good their services are and how expert they
are in their specific specialization, but they must be updated and must move with
the trend and latest technologies prevailing in the market.
 Medical professionals rendering services online must at least have an average
understanding and knowledge of the Digital marketing tools and social media
marketing in order to survive in the gigantic online market and also to attract some
traffic from the online platforms.
 Medical professionals rendering online consulting service has to build Brand loyalty
in the minds of the people/patients, to whom they are serving.
 Mere building the brand loyalty is not enough, but the online medical professionals
must also have to target a particular set of patients relating to their specialization
and expertise.
 The Medical professionals must always try to enhance and develop their
consultation process and must ask for the constant feedbacks regarding the entire
process of consultation with their experience, with a view point of improving.
CONCLUSION:
 There is a much wider and demanding scope for usage of Social Media
platforms and Digital Marketing by the medical professionals for patient
consultation in the future as people are more technology driven and prefer
convenience. Online consultation for any particular ailment is highly
advisable especially in this pandemic situation (COVID-19) of which the
viruses can be present anywhere especially in the clinics and hospitals.
 Medical professionals who are rendering online services must be equipped
with all the necessary skills and training needed to serve the public online
and must be ready to adopt the changes happening in the social media in
respect of patient behavior, up gradation in technology and more. There
must be a provision of some 'FREE OF COST' sessions to the general public
in order to bring them an idea, about the very new concept of online/virtual
consultation and it also attract the potential patients who are in need of the
above services.
 Healthcare and medical sector can be said as one of the most flexible and
quickest to adopt industry out there, which picks up the opportunities along
with the challenges to render the service to their patients. Previously online
consultation may not be so much effective when compared to the
physical/personal consultation, but it is a boon in this pandemic situation
and may become much more effective and efficient in the near future with
more advanced technology replacing the existing one.