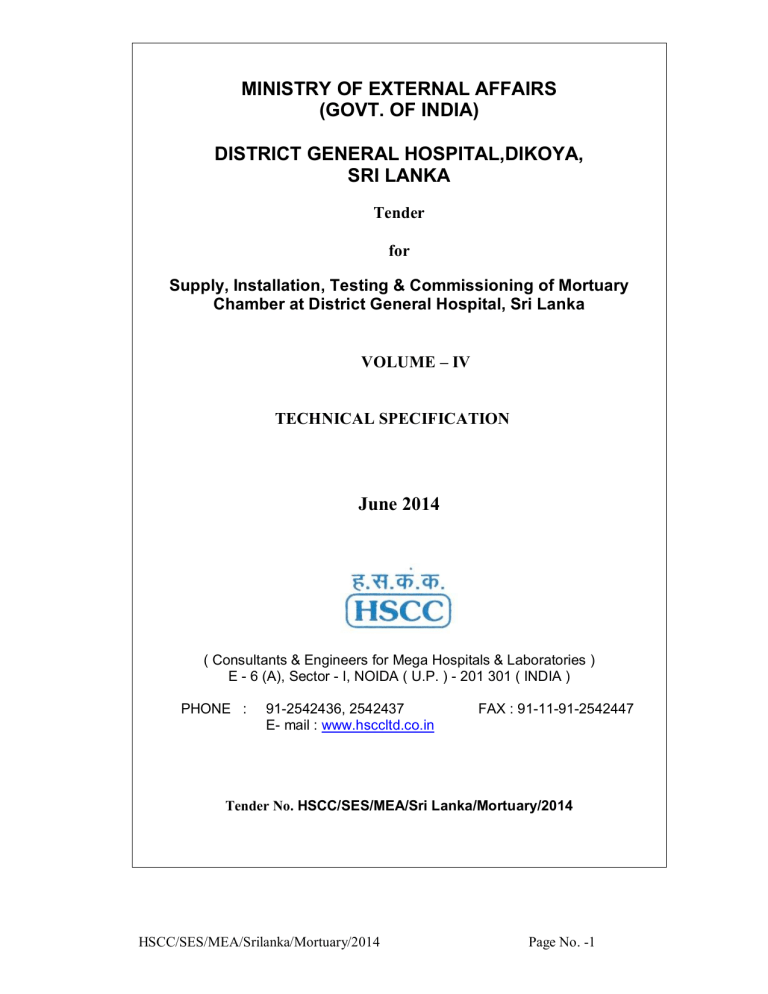 MINISTRY OF EXTERNAL AFFAIRS
(GOVT. OF INDIA)
DISTRICT GENERAL HOSPITAL,DIKOYA,
SRI LANKA
Tender
for
Supply, Installation, Testing & Commissioning of Mortuary
Chamber at District General Hospital, Sri Lanka
VOLUME – IV
TECHNICAL SPECIFICATION
June 2014
( Consultants & Engineers for Mega Hospitals & Laboratories )
E - 6 (A), Sector - I, NOIDA ( U.P. ) - 201 301 ( INDIA )
PHONE :
91-2542436, 2542437
E- mail : www.hsccltd.co.in
FAX : 91-11-91-2542447
Tender No. HSCC/SES/MEA/Sri Lanka/Mortuary/2014
HSCC/SES/MEA/Srilanka/Mortuary/2014
Page No. -1
TECHNICAL SPECIFICATION OF MORTUARY CHAMBER
SCOPE OF WORK- Supply, Installation, Testing & Commissioning of Mortuary
Chamber including turnkey works and hand over in satisfactory
condition to the client and services during Defect Liability Period
Mortuary chambers shall be used for keeping cadaver under cool condition to prevent
decomposition either for the purpose of conducting postmortem or before handing it over to the
relatives of the dead patient.

Mortuary should be energy efficient and capable for storing of cadaverous for long time and
ensuring best hygiene

The outer panels of all our mortuary chamber shall be of galvanized sheets having a
superior bacteria resistance film coating for greater hygiene and Polyurethane foam
insulation of 35mm and inner chamber shall be of Stainless steel-AISI-304. Corrosion
free exterior and interior. Mortuary Chamber shall have Front opening Doors.

The hinged doors shall be insulated using PUF and assembled with magnetic gasket,
handle and lock arrangement & keys for each dead body. The door with Double gasket
seal shall be between the door and the cabinet. Insulated glass door shall remove fogging
and condensation.

Stainless Steel (AISI-304) Tray formed of one seamless sheet for dead bodies with a
tubular edge and handle at both ends.

Mortuary Chamber shall be equipped with telescopic track system along with carriage
assemblies and suitable locking arrangement.

Equipped with refrigeration unit of sealed compressor is incorporated outside the
chamber. Heavy duty Air-cooled compressor. The compressor should be of low noise
level and minimal vibration.

Condenser should have automatic condensate evaporating system.

Non-CFC environmental friendly based on compressor capacity.

Working Temperature –2 °C to +8° C and humidity control. Digital temperature
indication.
No Defrost required cycle required with balanced flow refrigeration system.
Circulation Forced air circulation maintains chamber uniformity of +/-1°C and provides
quick recovery



Microprocessor controlled. Control Panel shall be placed in the front top of chambers and
equipped with Microprocessor based Temperature controller cum indicator with pilot
lamp, switch.





LCD/TFT display
Audio visual alarm for high and low temperature
Should be Ergonomically designed "easy grip" door Handle
Interior fluorescent lighting.
Swivel locking castors.

The Mortuary Chamber shall be suitable for keeping 4 dead bodies and shall be complete
with refrigeration system, locking arrangement, Foul Order Treatment by means of
Activated Carbon filter for De-Odorizing System.
2. Loading TrolleyTrolley Concealment (Hydraulic Lifting Option). Reliable and durable. Smooth rapid
high/low operated from either side of trolley. Lightweight aluminum folds down sides and
ends. Concealment sides and ends lower below the level of the body tray for easy side or
end body transfers. Small wheel base for easy maneuverability.
3. Turnkey work:

Bidder must take into consideration in its bid, costs to be incurred for any additional work
pertaining to Civil, Electrical, Plumbing, Sanitary and any other protections relevant as per
State/Central Govt. regulation/local authority, Servo stabilisers, U.P.S. etc. required for
successful installation testing and commissioning of the system and the offered price should
include all such costs, each Schedule is to be considered a package in itself and contractor
to execute the order package on a "turn key basis".

Electric distribution panel for the above Mortuary Cabinet complete with all switchgears,
wiring and controls etc complete. (Switch gears of L&T/ Siemens/ ABB/GE or Schneider
make ). Earthing system of control panel and other electrical instrument and accessories in the
Mortuary area as per standard guidelines of BIS(Latest edition). All cable trenches and railings
should be made wherever required.

Electrical cabling of IS : 1554 standard and wiring as per IS : 732 standard from
MDB(Single point source) to Electric Distributional Panel and to the corresponding load
points

Providing fixing of Electrical Gadgets like ELCB, MCB, Fluorescent Light, Power
points, Fans, Cool air Fans, Exhaust fan etc in the Laundry room. Number of fans, power
point, bulbs/tube light. Apart from these supplies to the individual equipments with
ELCB & MCB in the Mortuary room.

Installation of MCB, ACB, ELCB & OCB of Havell/Siemens/L&T/Schneider etc for
Control Panel for Laundry.

Construction/laying of Draining system from all the equipments to the main drain
(outside the Mortuary) with SS Grating, proper trap and flow system and tapping.

Necessary Ducting of GI sheet with grills at the suitable places for fresh air at the
working place inside the Mortuary Room. Exhaustion of inside air for creating
comfortable working zone within the Mortuary Room. Motors shall be of continuous
duty
S1
type
of
IS:
325
standard
(Latest
version)
and
of
Kirloskar/NGEF/Siemens/ABB/GEC/ Crompton Greaves make.
In addition to the above mentioned equipment/appliances, if the contractor thinks it
necessary to include any other equipment/appliances, accessories etc. for the Mortuary then
that may be provided after approval from Engineer in-charge.
The sizes are approximate. Minor variations in sizes shall be acceptable subject to prior
approval of the Engineer.
Manufacturer – Bionics/Rattan Sales Corporation/Biomate/Acmas Technology /Advanced
Technocracy
APPROVED MAKES
1.
Air Blower
SWAM/ EVEREST/ KAY/Beta
2.
Blower/Suction Motor
KIRLOSKAR/ NGEF/ SIEMENS/CROMPTON/ABB
4.
5.
Cable
Control Panel
6.
Valve
SKYTONE/KEI/UNIVERSAL/NATIONAL/RR
L & T/ SIEMENS/ SCHNEIDER
CABLE
LEADER/ ZOLOTO /CRI
7.
PVC Pipe Class III with Fitting
FINOLEX/ SUPREME/ PRINCE/ ORI-PLAST
8.
G.I. / M.S. Pipe Heavy Class-
TATA/ JINDAL(HISSAR)/SAIL /SURYA PRAKASH
9.
MCCB/Contactor/Relay
L&T/ABB/SIEMENS/SCHNEIDER
10. Pressure Gauges
11. Stainless Steel
12.
13.
Aeration System
Butter Fly Valve
14.
GI Sheets
15.
Aluminium Sheet
16.
Grills/Diffusers
H.GURU /FIEBIG
TATA/SALEM/JINDAL/MUKUND/BHAYANDER/AMBICA
NORTON/
UEM/
V.K.ENVIROTECH/MM
AUDCO/ KEYSTONE/ KSB/CRI/Castle
AQUA
TATA/SAIL/JINDAL/BHUSHAN STEEL
BALCO/NALCO/HINDALCO
RAVISTAR/CARYAIRE/ MAPRO/DYNACRAFT
Note :






The contractor shall be responsible for the complete works including submission of
working drawing and walk through view.
Bidder should provide complete Operation manual, Equipment manual, Service
manual and manuals for all systems and subsystems.
Final electrical and pressure and other safety test, system test and calibration
should be done by authorized person with test instruments.
All electrical accessories like cable wire, electrical outlets, switches etc, should be
fire proof of reputed make, certified for electrical safety.
Wherever makes have not been specified for certain items, the same shall be as per
BIS and as per approval of HSCC.
Training of personnel of the Institute should be 7days at least

The contractor should prepare and submit layout plan for Electrical Wiring, Plumbing, to
HSCC for approval before beginning of supply and installation and As built drawing after
installation.

The contractor should provide test certificate for all materials along with
manufacturer's test certificate and equipments used for Mortuary.