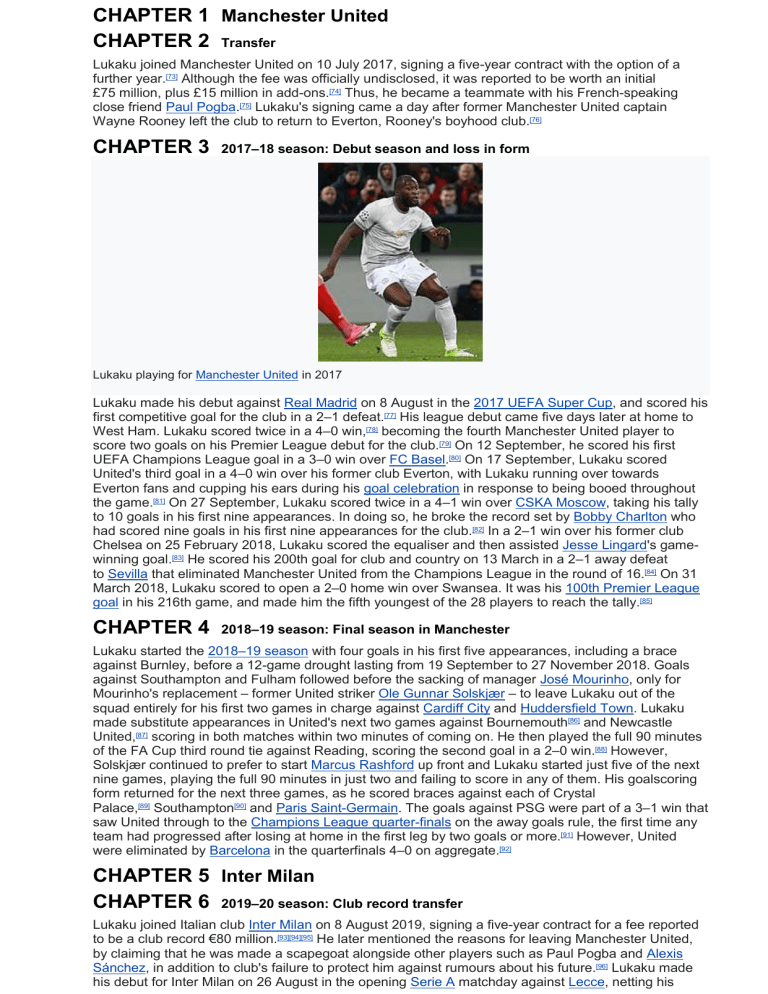 CHAPTER 1 Manchester United
CHAPTER 2 Transfer
Lukaku joined Manchester United on 10 July 2017, signing a five-year contract with the option of a
further year.[73] Although the fee was officially undisclosed, it was reported to be worth an initial
£75 million, plus £15 million in add-ons.[74] Thus, he became a teammate with his French-speaking
close friend Paul Pogba.[75] Lukaku's signing came a day after former Manchester United captain
Wayne Rooney left the club to return to Everton, Rooney's boyhood club.[76]
CHAPTER 3
2017–18 season: Debut season and loss in form
Lukaku playing for Manchester United in 2017
Lukaku made his debut against Real Madrid on 8 August in the 2017 UEFA Super Cup, and scored his
first competitive goal for the club in a 2–1 defeat.[77] His league debut came five days later at home to
West Ham. Lukaku scored twice in a 4–0 win,[78] becoming the fourth Manchester United player to
score two goals on his Premier League debut for the club.[79] On 12 September, he scored his first
UEFA Champions League goal in a 3–0 win over FC Basel.[80] On 17 September, Lukaku scored
United's third goal in a 4–0 win over his former club Everton, with Lukaku running over towards
Everton fans and cupping his ears during his goal celebration in response to being booed throughout
the game.[81] On 27 September, Lukaku scored twice in a 4–1 win over CSKA Moscow, taking his tally
to 10 goals in his first nine appearances. In doing so, he broke the record set by Bobby Charlton who
had scored nine goals in his first nine appearances for the club.[82] In a 2–1 win over his former club
Chelsea on 25 February 2018, Lukaku scored the equaliser and then assisted Jesse Lingard's gamewinning goal.[83] He scored his 200th goal for club and country on 13 March in a 2–1 away defeat
to Sevilla that eliminated Manchester United from the Champions League in the round of 16.[84] On 31
March 2018, Lukaku scored to open a 2–0 home win over Swansea. It was his 100th Premier League
goal in his 216th game, and made him the fifth youngest of the 28 players to reach the tally.[85]
CHAPTER 4
2018–19 season: Final season in Manchester
Lukaku started the 2018–19 season with four goals in his first five appearances, including a brace
against Burnley, before a 12-game drought lasting from 19 September to 27 November 2018. Goals
against Southampton and Fulham followed before the sacking of manager José Mourinho, only for
Mourinho's replacement – former United striker Ole Gunnar Solskjær – to leave Lukaku out of the
squad entirely for his first two games in charge against Cardiff City and Huddersfield Town. Lukaku
made substitute appearances in United's next two games against Bournemouth[86] and Newcastle
United,[87] scoring in both matches within two minutes of coming on. He then played the full 90 minutes
of the FA Cup third round tie against Reading, scoring the second goal in a 2–0 win.[88] However,
Solskjær continued to prefer to start Marcus Rashford up front and Lukaku started just five of the next
nine games, playing the full 90 minutes in just two and failing to score in any of them. His goalscoring
form returned for the next three games, as he scored braces against each of Crystal
Palace,[89] Southampton[90] and Paris Saint-Germain. The goals against PSG were part of a 3–1 win that
saw United through to the Champions League quarter-finals on the away goals rule, the first time any
team had progressed after losing at home in the first leg by two goals or more.[91] However, United
were eliminated by Barcelona in the quarterfinals 4–0 on aggregate.[92]
CHAPTER 5 Inter Milan
CHAPTER 6 2019–20 season: Club record transfer
Lukaku joined Italian club Inter Milan on 8 August 2019, signing a five-year contract for a fee reported
to be a club record €80 million.[93][94][95] He later mentioned the reasons for leaving Manchester United,
by claiming that he was made a scapegoat alongside other players such as Paul Pogba and Alexis
Sánchez, in addition to club's failure to protect him against rumours about his future.[96] Lukaku made
his debut for Inter Milan on 26 August in the opening Serie A matchday against Lecce, netting his
side's third goal with his first shot in a 4–0 home win.[97] The goal meant that Lukaku has found the net
in his first league game for five of the six clubs he has represented; Anderlecht, West Brom, Everton,
Manchester United, and Inter;[98] he also become only the third Belgian to score for Inter in Serie A,
after Enzo Scifo and Radja Nainggolan.[99] In the club's second league game of the season
at Cagliari on 1 September, Lukaku scored the match-winning goal from the penalty spot to give Inter
a 2–1 victory away from home; however, he was subject to racial abuse from some of the Cagliari
fans.[100]
In the first months since his arrival, Lukaku formed an attacking partnership with Argentine
youngster Lautaro Martínez, dubbed "Lu-La" by Italian media.[101][102][103] This became after the duo
scored a brace each in the 4–3 away win against Sassuolo in October, giving Inter the first triumph
since 2016.[104] On 2 November, Lukaku scored a brace in a 2–1 away win over Bologna in Serie A,
which saw him match Ronaldo's record of nine goals in his first 11 league appearances for the
club.[105] On 27 November, Lukaku scored his first UEFA Champions League goal for Inter in a 3–1
away win against Slavia Prague in the group stage; in addition to that, he also assisted the two other
goals scored by Lautaro Martínez and had two goals disallowed himself.[106] In the final match home
against Barcelona, Lukaku scored his side's only goal in a 2–1 defeat, meaning that Inter was
transferred to Europa League for the second season in a row.[107]
He begun the new year on 6 January by scoring a brace in a 3–1 win against Napoli, giving Inter the
first league win at Stadio San Paolo since October 1997;[108] he earned praise from the media for his
first goal scored in the 14th minute, which came from an individual effort.[109] On 9 February, Lukaku
scored the final goal of the 4–2 home win over cross-town rivals Milan, sending Inter to the top of the
table and giving them another double over Milan; it was also his 17th league goal of the season.[110]
On 25 July, Lukaku scored a brace in a 3–0 win at Genoa; in doing so, he became the first Inter player
since István Nyers in 1949–50 season to score 15 away goals in a Serie A season, and the first do to
so in his debut season.[111][112] He concluded his first Serie A season with 23 goals, as Inter finished
runner-up by just one point to Juventus in the standings; only Ronaldo (25) and Nyers (26) have
scored more than him in their debut season at Inter.[113] On 5 August, Lukaku scored in a 2–0 win
over Getafe in the Europa League's round of 16, helping his side reach the quarter-finals of a
European competition for the first time since 2011.[114] It was his 30th goal in all competitions, a new
personal best, and he had also scored for the 8th consecutive Europa League match, equalling the alltime record set by Alan Shearer in 2004–05.[115][116] In the quarter-finals on 10 August, he broke the
record, scoring in his ninth consecutive match in the competition in a 2–1 victory over Bayer
Leverkusen in Düsseldorf, to send Inter into the semi-finals.[117] On 17 August, Lukaku scored a brace
in a 5–0 win against Shakhtar Donetsk—his tenth consecutive match in the competition—as Inter
reached the final.[118] In the final, he earned and scored a penalty in the 5th minute, but also scored an
own goal in the 74th minute, which was eventually the winning goal for Sevilla in a 3–2
defeat.[119] Lukaku equalled Ronaldo's record in 1997–98 season, by scoring 34 goals in all
competitions.[120]