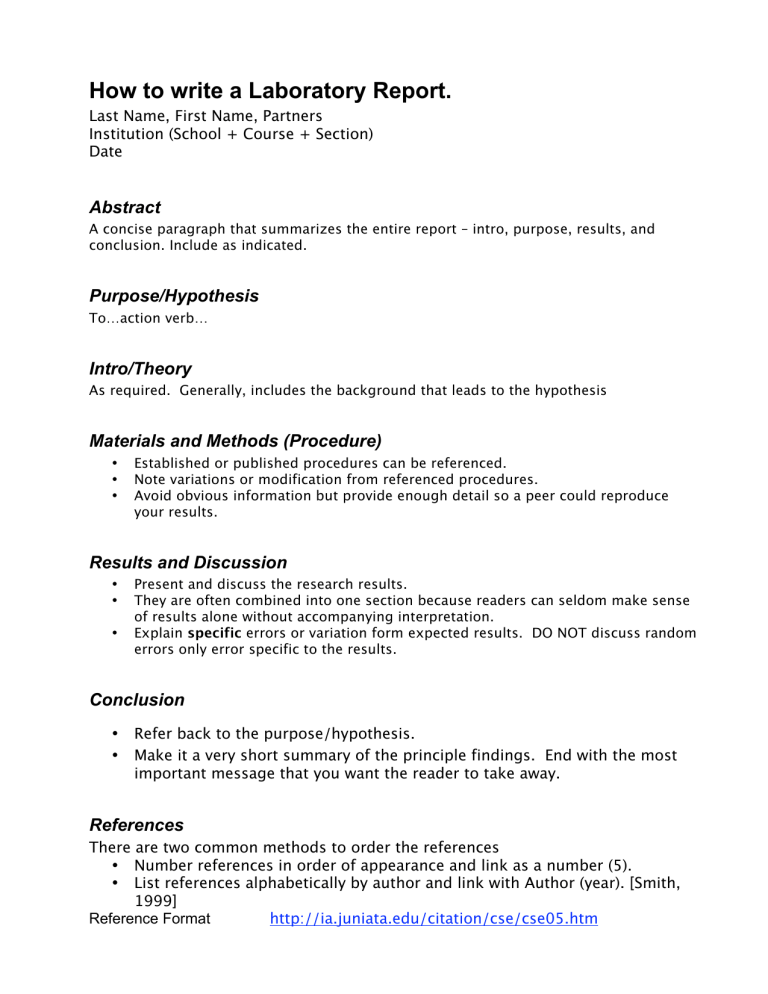 How to write a Laboratory Report.
Last Name, First Name, Partners
Institution (School + Course + Section)
Date
Abstract
A concise paragraph that summarizes the entire report – intro, purpose, results, and
conclusion. Include as indicated.
Purpose/Hypothesis
To…action verb…
Intro/Theory
As required. Generally, includes the background that leads to the hypothesis
Materials and Methods (Procedure)
•
•
•
Established or published procedures can be referenced.
Note variations or modification from referenced procedures.
Avoid obvious information but provide enough detail so a peer could reproduce
your results.
Results and Discussion
•
•
•
Present and discuss the research results.
They are often combined into one section because readers can seldom make sense
of results alone without accompanying interpretation.
Explain specific errors or variation form expected results. DO NOT discuss random
errors only error specific to the results.
Conclusion
•
•
Refer back to the purpose/hypothesis.
Make it a very short summary of the principle findings. End with the most
important message that you want the reader to take away.
References
There are two common methods to order the references
• Number references in order of appearance and link as a number (5).
• List references alphabetically by author and link with Author (year). [Smith,
1999]
Reference Format
http://ia.juniata.edu/citation/cse/cse05.htm
Tables
Numbered
Title above
Footnotes below.
•
•
•
Table 1. Immune cells in the bone marrow
Immune cells
CD4+ T cells
+
Percent
~1.5%
CD8 T cells
2–2.5%
Regulatory T cells (Treg)
~0.5%
+
CD11c dendritic cells (DCs)
1–2%
B cells
~1%
Plasma cell
~0.5%
Natural killer T (NKT) cells
0.4–4%
Mesenchymal stem cells (MSCs)
0.01–0.1%
Myeloid-derived suppressor cells (MDSCs)
20–30%
Figures
•
•
•
•
Includes images, graphs, or any visual data.
Numbered
Title below
Figure legend – explains the figure, sometimes has basic procedure.
Figure 1: Genome size is the total number of base pairs in an organism. While the
number of genes in an organism's DNA (red bars) varies from species to species
(numbers at right), it is not always proportional to genome size (blue bars). Note
how many genes a fruit fly can squeeze out of its relatively small genome.
More info @
Scitable
http://www.nature.com/scitable/ebooks/english-communication-for-scientists14053993/14571219#bookContentViewAreaDivID
NOTES:
•
•
•
Avoid using first person, I and we but they may be used at the start and end
of the report. To test this we… We found that…
Include the original data and procedures. These may be added as an
appendix at the end of the report.
Concise and to the point is much better than long and windy!