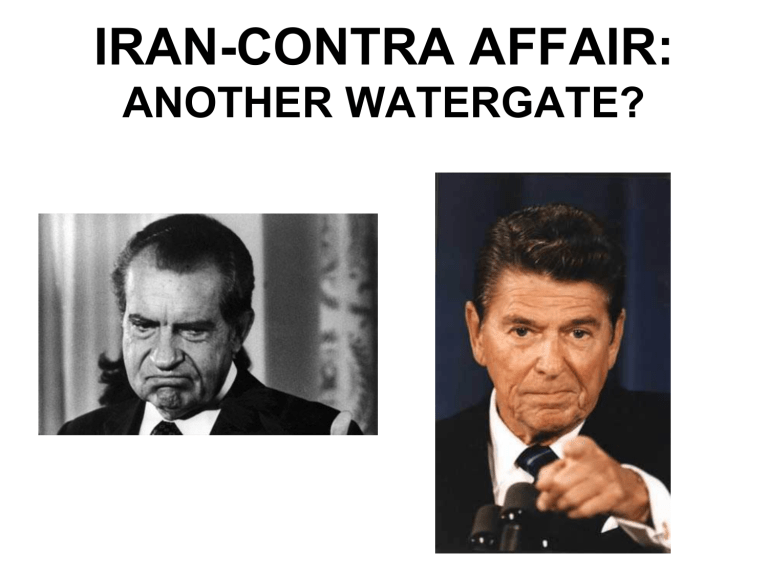 IRAN-CONTRA AFFAIR:
ANOTHER WATERGATE?
INTERNATIONAL CONNECTIONS
WHAT IS GOING TO BE THE CONNECTION
BETWEEN:
1. A PRESIDENT STATING HE WILL NEVER NEGOTIATE WITH
TERRORISTS?
2. THE TERRORIST GROUP HEZBOLLAH TAKING AMERICANS
HOSTAGE IN LEBANON?
3. A WAR BETWEEN IRAQ AND IRAN IN WHICH THE U.S. PUBLICLY
SUPPORTS IRAQ AND SADDAM HUSSEIN?
4. A REVOLUTIONARY GROUP IN NICARAGUA THAT TRAFFICS IN
COCAINE AND PRACTICES SYSTEMATIC MURDER?
5. A DISTRUSTFUL AMERICAN PUBLIC THAT REMEMBERS
WATERGATE BUT LOVES RONALD REAGAN?
BACKGROUND: NICARAGUA
CIVIL WAR IN NICARAGUA
• U.S. SUPPORTS ANTICOMMUNIST REBELS
(CONTRAS) AGAINST
COMMUNIST GOVERNMENT
(SANDINISTAS)
• CIA INVOLVEMENT:
– Give $ TO CONTRAS
– CARRIED OUT ACTS OF
SABOTAGE TO SUPPORT
CONTRAS
SANDINISTAS
CONTRAS . . .
ALSO RAISED
MONEY
THROUGH
DRUG
TRAFFICKING!
BOLAND AMENDMENT
• CIA FAILED TO GET APPROVAL OF
CONGRESS FOR ITS "ACTIVITIES" IN
NICARAGUA
• CONGRESS RESPONDED BY
ATTEMPTING TO CUT OFF FUNDING FOR
THE CONTRAS BY PASSING THE
BOLAND AMENDMENT:
– PROHIBITED U.S. GOV'T (INCLUDING THE
CIA) FROM PROVIDING MILITARY SUPPORT
FOR "OVERTHROWING THE GOVERNMENT
OF NICARAGUA"
BACKGROUND: HOSTAGES IN LEBANON
• HEZBOLLAH:
– ISLAMIC ORGANIZATION
BASED IN LEBANON
– CONSIDERED A TERRORIST
ORGANIZATION BY U.S.
– TOOK 7 AMERICANS
HOSTAGE TO TRADE FOR
CAPTURED TERRORISTS
• REAGAN COMMITTED TO
FREEING THE HOSTAGES
• BUT . . . OFFICIAL U.S.
POLICY WAS NOT TO
NEGOTIATE OR TRADE
WITH TERRORISTS
HEZBOLLAH
AMERICAN HOSTAGES
HELD BY HEZBOLLAH
BACKGROUND: IRAN-IRAQ WAR
• IRAN WAS IN THE
MIDST OF AN 8-YEAR
WAR WITH IRAQ:
– IRAN WAS DESPERATE
FOR WEAPONS
– U.S. GOV'T PUBLICLY
SUPPORTED IRAQ &
SADDAM HUSSEIN!
WHY?
• WANT TO CONTAIN THE
SPREAD OF RADICAL
ISLAM (IRAQ HAD A
SECULAR GOV'T)
REAGAN ADMINISTRATION GOALS
• AID THE CONTRAS IN NICARAGUA
DESPITE THE BOLAND AMENDMENT
• APPEASE "MODERATES" IN THE
IRANIAN GOV'T TO:
– HELP IN GETTING HEZBOLLAH TO RELEASE
THE HOSTAGES
THE REAGAN ADMINISTRATION PLAN!
• SECRETLY SELL
WEAPONS TO IRAN
• IRANIAN MODERATES
WOULD THEN TRY TO
GET HEZBOLLAH TO
RELEASE HOSTAGES
• USE THE PROFITS FROM
THE WEAPONS SALES TO
FUND THE CONTRAS
• THUS . . . ALL THE GOALS
COULD BE MET WITH A
SINGLE PLAN!
THE SCANDAL BREAKS!
• AMERICANS WERE SHOCKED THAT
WEAPONS HAD BEEN SOLD TO IRAN IN
VIOLATION OF U.S. POLICY OF MAKING NO
CONCESSIONS TO TERRORISTS
• REAGAN'S INVOLVEMENT WAS VAGUE:
– AT FIRST HE SAID HE HAD APPROVED THE
SALES OF THE ARMS TO IRAN
– LATER HE SAID HE HAD NO RECOLLECTION OF
APPROVING THE SALES
– IN HIS AUTOBIOGRAPHY HE SAID HE HAD
AUTHORIZED THE SALES
– IT APPEARS REAGAN WAS UNAWARE THAT THE
MONEY WAS BEING DIVERTED TO THE
CONTRAS
THE SCANDAL GROWS
• MEMBERS OF REAGAN'S STAFF TRIED TO
COVER-UP THEIR INVOLVEMENT (SOUND
FAMILIAR?)
OLLIE NORTH
• MARINE COLONEL OLIVER NORTH, A SECURITY
ADVISOR, WAS DIRECTLY INVOLVED IN THE
SCHEME. HE SHREDDED OR HID INCRIMINATING
DOCUMENTS. (SOUND FAMILIAR?)
OTHER CULPRITS
NATIONAL SECURITY ADVISOR
ADMIRAL JOHN POINDEXTER
DEFENSE SECRETARY
CASPER WEINBERGER
REAGAN REACTS
• ADMIRAL POINDEXTER "RESIGNS"
• REAGAN FIRES OLLIE NORTH (SOUND FAMILIAR?)
• REAGAN TAKES RESPONSIBILITY FOR HIS SUBORDINATES
ACTIONS
• REAGAN CREATES A "SPECIAL REVIEW BOARD" TO LOOK
INTO THE MATTER (SOUND FAMILIAR?):
– KNOWN AS THE TOWER COMMISSION
CONGRESS REACTS
• CONGRESS HELD ITS OWN HEARINGS ON THE
SCANDAL AND APPOINTED ITS OWN SPECIAL
PROSECUTOR (SOUND FAMILIAR?)
TESTIMONY
• NORTH SAID HE BELIEVED REAGAN WAS
AWARE OF THE SECRET ARRANGEMENTS
SPECIFIC RESULTS
• THE TOWER COMMISSION:
– CRITICAL OF THE NATIONAL SECURITY COUNCIL
(COUNCIL THAT ADVISES THE PRESIDENT ON SECURITY
MATTERS):
– CRITICAL OF REAGAN'S LACK OF SUPERVISION
• CONGRESSIONAL HEARINGS UNCOVERED:
– OFFICIAL DECEPTION
– MISMANAGEMENT
– ILLEGAL ACTS
• CRIMINAL CONVICTIONS:
– NORTH, POINDEXTER, & WEINBERGER AMONG OTHERS
– GEORGE H. W. BUSH PARDONED WEINBERGER AND
OTHERS WHEN HE BECAME PRESIDENT (SOUND
FAMILIAR?)
GENERAL RESULTS
• CONCERNS OVER THE ROLES OF CONGRESS AND THE
EXECUTIVE BRANCH IN CONDUCT OF FOREIGN AFFAIRS
• CONCERNS OVER REAGAN'S MANAGEMENT (OR LACK
THEREOF) OF HIS STAFF
• TEMPORARY DROP IN REAGAN'S POPULARITY
MORE DISTRUST OF GOV'T!
WHICH IS WORSE?
1. REAGAN KNEW AND WAS DIRECTLY INVOLVED IN THE DIVERSION
OF FUNDS TO THE CONTRAS AND LIED, OR . . .
2. REAGAN HAD LOST CONTROL OF HIS STAFF AND WAS BECOMING
FORGETFUL AND UNINVOLVED.
Iran-Contra & Watergate Comparison
Iran-Contra
1. Reagan's staff tried to cover up
their involvement
2. Colonel Oliver North (security
advisor) was directly involved
and shredding incriminating
evidence
3. Reagan fired North
4. Reagan created a special
review board- Tower
Commission
5. Congress held its own hearings
& appointed their own special
prosecutor
6. George Bush pardoned some of
those involved before he left
office in 1992.
Watergate
1. Creep paid "hush money
to the "plumbers" to
stop them from talking.
2. Shredded documents
3. Saturday night massacre
(a lot of people were
fired/resigned)
4. Nixon appointed special
prosecutor Archibald
Cox (& later fired him)
5. Senate set up its own
investigation.
6. Ford pardoned Nixon
How were the two scandals different?
• Nixon directly tried to impede the
Watergate investigation, whereas Reagan
just pleaded ignorance.
Why did President Nixon resign after
Watergate but President Reagan did not
resign after the Iran-Contra Scandal?
• Reagan wasn't going to be impeached because
he just said he didn't know anything about it. He
didn't try to cover anything up.