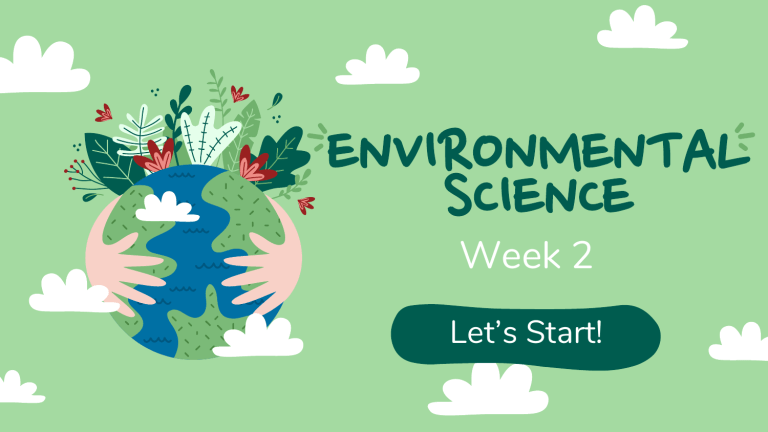 ENVIRONMENTAL
SCIENCE
Week 2
Let's Start!
Major Components
of Envi Sci
Home
1
2
3
4
Finished?
Seven Environmental
Principles
N
E
A
E
E
O
N
Back
ECOLOGY
Games
Any idea?
Echo-h+logoo+my-m=
What is Ecology?
Oikos - in the house
Logos – to study
It is the study of organisms and the environment
interacting with one another.
Pinta Island Tortoise
Home
POlar Bear
Home
Ecosystem
●
It includes organisms, populations,
and communities, each influencing
the properties of the others.
● Is any unit that includes all
organisms in an given interacting
with the physical environment.
home
Mutualism
- Both organisms benefits
Parasitism
- One organism benefits and
the other is being harmed. (Host and
parasite)
Commensalism
- One organism benefits while
the other neither benefits, nor harmed
Predation
- Predator and prey
Games
GEOSCIENCE
What's your thought?
Home
Get – t + cost
–ct + cite –t +
nice – I =
What is Geoscience?
geo- "earth"
Back
logia - "study"
It is also called Earth
Science. It is the study of
Earth
What do Geoscientist DO?
next
home
Geoscientists study and work with
○
○
○
○
○
○
○
○
○
minerals,
soils,
energy resources,
fossils,
oceans and freshwater,
the atmosphere,
weather,
environmental chemistry and
biology,
natural hazards and more.
Back
Game
Ate – e + most –
st + sphere – e +
tic – t =
ATMOSPHERI
C SCIENCE
You first!
Back
What is Atmospheric Science?
It is the study of the Earth's atmosphere
It is the study of the physics and
chemistry of clouds, gases, and
aerosols (airborne particles) that
surround the planetary bodies of
the solar system.
Learn more!
Research in atmospheric science includes
such varied areas of interest as:
Back
Next
Atmospheric chemistry — the chemical
composition of the atmosphere.
Atmospheric physics — the study of processes
such as heating and cooling of the atmosphere.
Aeronomy — the study of the upper atmosphere.
Oceanography — the study of the Earth's oceans
and how they affect the atmosphere
.
Research in atmospheric science includes
such varied areas of interest as:
Climatology — the study of long-term
weather and temperature trends.
Dynamic meteorology — the study of the
motions of the atmosphere.
Cloud physics — the formation and
evolution of clouds and precipitation.
.
Home
Game
Cheat – at +
miss – s + try =
Back
Environmental
CHEMISTRY
What is this?
What is Environemental Chemistry?
It is the study of the changes that chemicals
make in the environment.
Back
Such as….
• Cotamination of the environement
• Degradation of chemicals
beneficial to the organisms
• The transport of chemicals upon
the plant and animals.
Home
1
Nature Knows ____
BEST
Next
Nature manifests certain
processes that enable it
to maintain balance and
remain in a state of
equilibrium…
any disruption on these processes
can bring imbalance
1
Nature Knows ____
BEST
Home
Human have to
comprehend nature and
must obey the rules that
our nature dictates
2
All forms of Life are
i___r___t
mpo tan
Each organism plays a
fundamental role in nature
Back
Next
Ecological
Niche
The Philippines ranks high
among the biodiversity hotspots
But certain factors causes
biodiversity to be limited
factors that affect the
biodiversity
habitat
destruction
Back
Over harvesting
Deforestation
Pollution
Home
3
onne t d
Everything is c____C_e_
to Everything else
Home
Biotic and Abiotic components
interact with each other.
Inter-specific relationships create a
dependency with each other so that they
both have to co-exist to live.
Human interaction with nature oftentimes alters the
ecosystems and there is a cause-and-effect chain
4
h g s
Everything c_an_e_
Home
Changes in the
Changes
in
the
biophysical
biophysical world occur
world
occur naturally.
naturally.
Random changes
manifested by
natural catastrophe
Human-induced
alteration may cause
more massive
consequences.
5
Everything must go
so___h_re
mew e
By-products of
consumption go back to
the environment.
Home
6
i t Earth
Ours is a f_ni_e
●
●
Next
Everything that we need is provided
by nature in abundance.
● However, some resources that we
depend upon nowadays are extracted
excessively but are slow to replace.
These non-renewable resources
experience limits of supply
Home
Increasing population
decreases the amount of
resources available to
each person
The philosophy of "sapat", meaning "enough"
suggests that we should buy and consume only
what we need and leave some for the less
privileged and the next generation.
7
au f l
N_t_r_
a u e is be__ti_u_
Home
and we are stewards of God's C_ea___n
r tio
being the most rationale,
intelligent, and gifted creation, it is
our ethical responsibility to take
care of the environment.
All His creations exist and destined
not to be abused but to be taken
care of.
●
●
Next
Quiz
Time
https://forms.gle/dCSGyLbsKPpn3UEn9
Back
Well
Done!
Next
Output # 1
Make a collage on how we
could stop pollution and
upload the picture of your
work in our google classroom
Let's do this list!
Back
Thanks
Every small action counts.
Let's protect the
environment together!
CREDITS: This presentation template was
created by Slidesgo, including icons by Flaticon
and infographics & images by Freepik.
Please keep this slide for attribution.