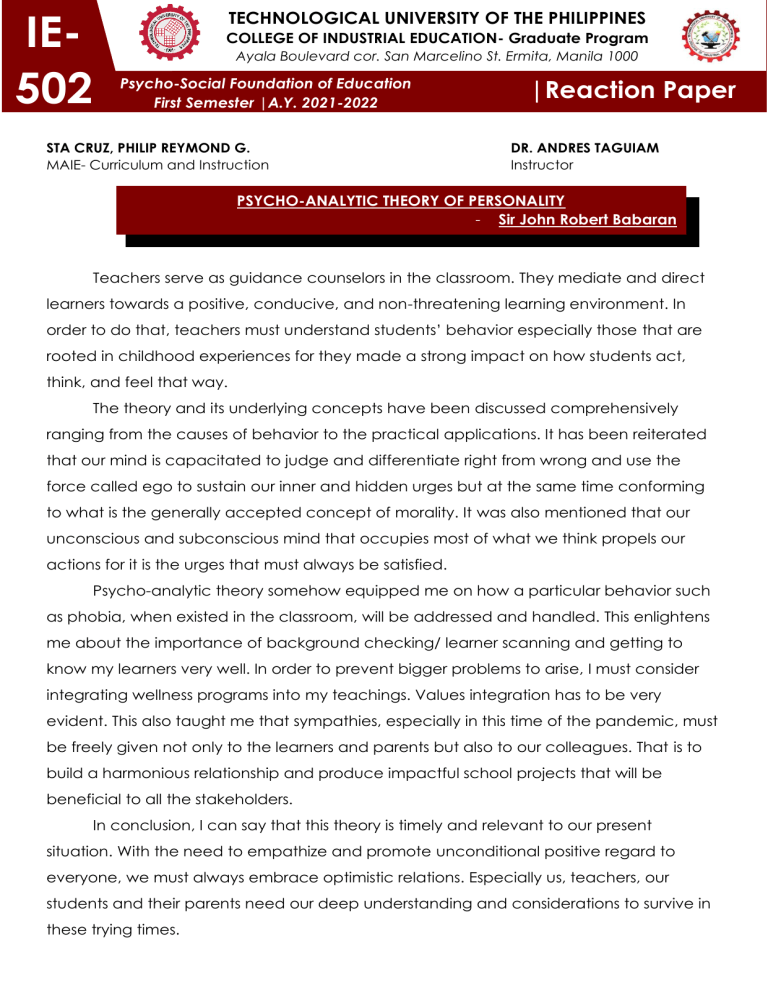 IE502
TECHNOLOGICAL UNIVERSITY OF THE PHILIPPINES
COLLEGE OF INDUSTRIAL EDUCATION- Graduate Program
Ayala Boulevard cor. San Marcelino St. Ermita, Manila 1000
Psycho-Social Foundation of Education
First Semester |A.Y. 2021-2022
STA CRUZ, PHILIP REYMOND G.
MAIE- Curriculum and Instruction
|Reaction Paper
DR. ANDRES TAGUIAM
Instructor
PSYCHO-ANALYTIC THEORY OF PERSONALITY
- Sir John Robert Babaran
Teachers serve as guidance counselors in the classroom. They mediate and direct
learners towards a positive, conducive, and non-threatening learning environment. In
order to do that, teachers must understand students' behavior especially those that are
rooted in childhood experiences for they made a strong impact on how students act,
think, and feel that way.
The theory and its underlying concepts have been discussed comprehensively
ranging from the causes of behavior to the practical applications. It has been reiterated
that our mind is capacitated to judge and differentiate right from wrong and use the
force called ego to sustain our inner and hidden urges but at the same time conforming
to what is the generally accepted concept of morality. It was also mentioned that our
unconscious and subconscious mind that occupies most of what we think propels our
actions for it is the urges that must always be satisfied.
Psycho-analytic theory somehow equipped me on how a particular behavior such
as phobia, when existed in the classroom, will be addressed and handled. This enlightens
me about the importance of background checking/ learner scanning and getting to
know my learners very well. In order to prevent bigger problems to arise, I must consider
integrating wellness programs into my teachings. Values integration has to be very
evident. This also taught me that sympathies, especially in this time of the pandemic, must
be freely given not only to the learners and parents but also to our colleagues. That is to
build a harmonious relationship and produce impactful school projects that will be
beneficial to all the stakeholders.
In conclusion, I can say that this theory is timely and relevant to our present
situation. With the need to empathize and promote unconditional positive regard to
everyone, we must always embrace optimistic relations. Especially us, teachers, our
students and their parents need our deep understanding and considerations to survive in
these trying times.