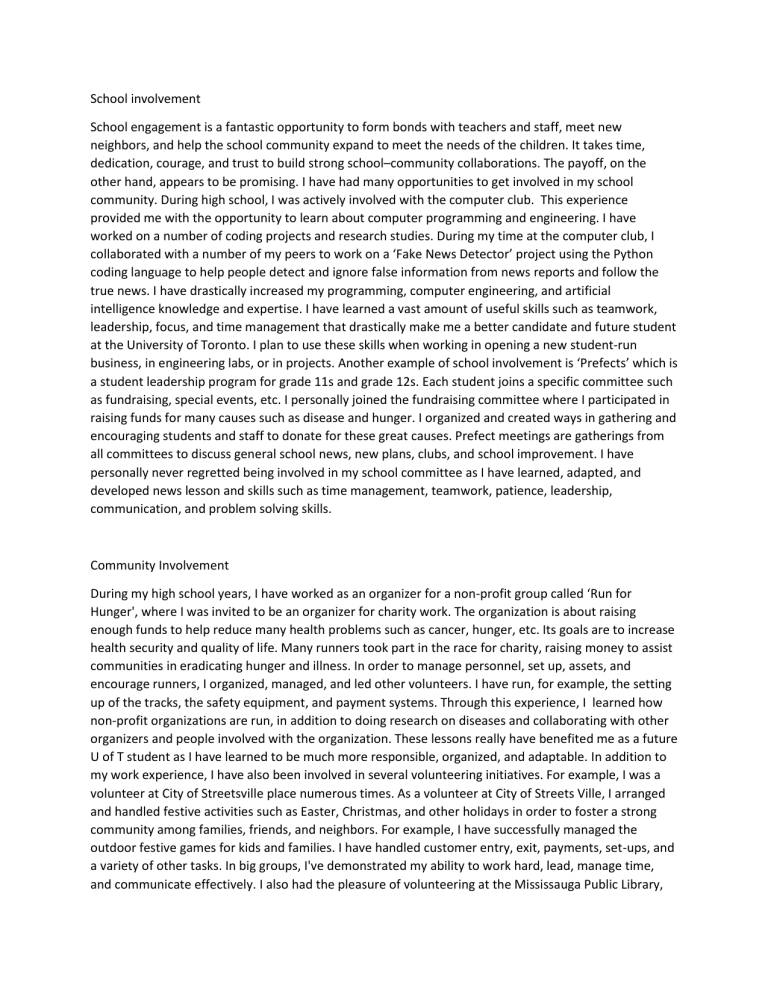 School involvement
School engagement is a fantastic opportunity to form bonds with teachers and staff, meet new
neighbors, and help the school community expand to meet the needs of the children. It takes time,
dedication, courage, and trust to build strong school–community collaborations. The payoff, on the
other hand, appears to be promising. I have had many opportunities to get involved in my school
community. During high school, I was actively involved with the computer club. This experience
provided me with the opportunity to learn about computer programming and engineering. I have
worked on a number of coding projects and research studies. During my time at the computer club, I
collaborated with a number of my peers to work on a 'Fake News Detector' project using the Python
coding language to help people detect and ignore false information from news reports and follow the
true news. I have drastically increased my programming, computer engineering, and artificial
intelligence knowledge and expertise. I have learned a vast amount of useful skills such as teamwork,
leadership, focus, and time management that drastically make me a better candidate and future student
at the University of Toronto. I plan to use these skills when working in opening a new student-run
business, in engineering labs, or in projects. Another example of school involvement is 'Prefects' which is
a student leadership program for grade 11s and grade 12s. Each student joins a specific committee such
as fundraising, special events, etc. I personally joined the fundraising committee where I participated in
raising funds for many causes such as disease and hunger. I organized and created ways in gathering and
encouraging students and staff to donate for these great causes. Prefect meetings are gatherings from
all committees to discuss general school news, new plans, clubs, and school improvement. I have
personally never regretted being involved in my school committee as I have learned, adapted, and
developed news lesson and skills such as time management, teamwork, patience, leadership,
communication, and problem solving skills.
Community Involvement
During my high school years, I have worked as an organizer for a non-profit group called 'Run for
Hunger', where I was invited to be an organizer for charity work. The organization is about raising
enough funds to help reduce many health problems such as cancer, hunger, etc. Its goals are to increase
health security and quality of life. Many runners took part in the race for charity, raising money to assist
communities in eradicating hunger and illness. In order to manage personnel, set up, assets, and
encourage runners, I organized, managed, and led other volunteers. I have run, for example, the setting
up of the tracks, the safety equipment, and payment systems. Through this experience, I learned how
non-profit organizations are run, in addition to doing research on diseases and collaborating with other
organizers and people involved with the organization. These lessons really have benefited me as a future
U of T student as I have learned to be much more responsible, organized, and adaptable. In addition to
my work experience, I have also been involved in several volunteering initiatives. For example, I was a
volunteer at City of Streetsville place numerous times. As a volunteer at City of Streets Ville, I arranged
and handled festive activities such as Easter, Christmas, and other holidays in order to foster a strong
community among families, friends, and neighbors. For example, I have successfully managed the
outdoor festive games for kids and families. I have handled customer entry, exit, payments, set-ups, and
a variety of other tasks. In big groups, I've demonstrated my ability to work hard, lead, manage time,
and communicate effectively. I also had the pleasure of volunteering at the Mississauga Public Library,
where I helped young readers learn and communicate successfully in English and French. I've taught and
strengthened the capacities of younger children to talk and communicate in French and English so that
they may use these valuable skills later in life. I created and supervised small groups of youngsters who
were eager to learn and grow. Patience, determination, hard effort, teamwork, and tenacity are just a
few of the things I've learnt.
Leadership
Leading a group of people in any sector is not a task that every single person can do. In order to become
a leader, a person must possess specific characteristics. For example, I volunteered with the 'Mississauga
Food Bank,' a non-profit organization, as a volunteer leader. They earn enough money to battle hunger
in the Mississauga region, and they enlist volunteers to help them raise dollars in grocery shops. I put
forth a lot of effort to organize and lead a huge group of individuals in order to establish a successful
charity campaign for the Mississauga Food Bank. That chance has significantly increased my leadership
and teamwork abilities, and I am quite pleased and confident of it. A programming project in a
bootcamp where I offered my knowledge and experience in computer science and engineering to teach
and educate aspiring computer scientists and engineers to learn about coding is one of the projects that
I have led. Face mask detectors were one of the projects we were working on, and they were intended
to be utilized within indoor spaces such as malls and community centers. Everyone who participated
liked the input I received from assisting individuals, constructing projects, arranging the bootcamp, and
guiding people. The things I've learned are priceless, and I believe they've enhanced my social,
communication, leadership, and social abilities as a result of this incredible experience.