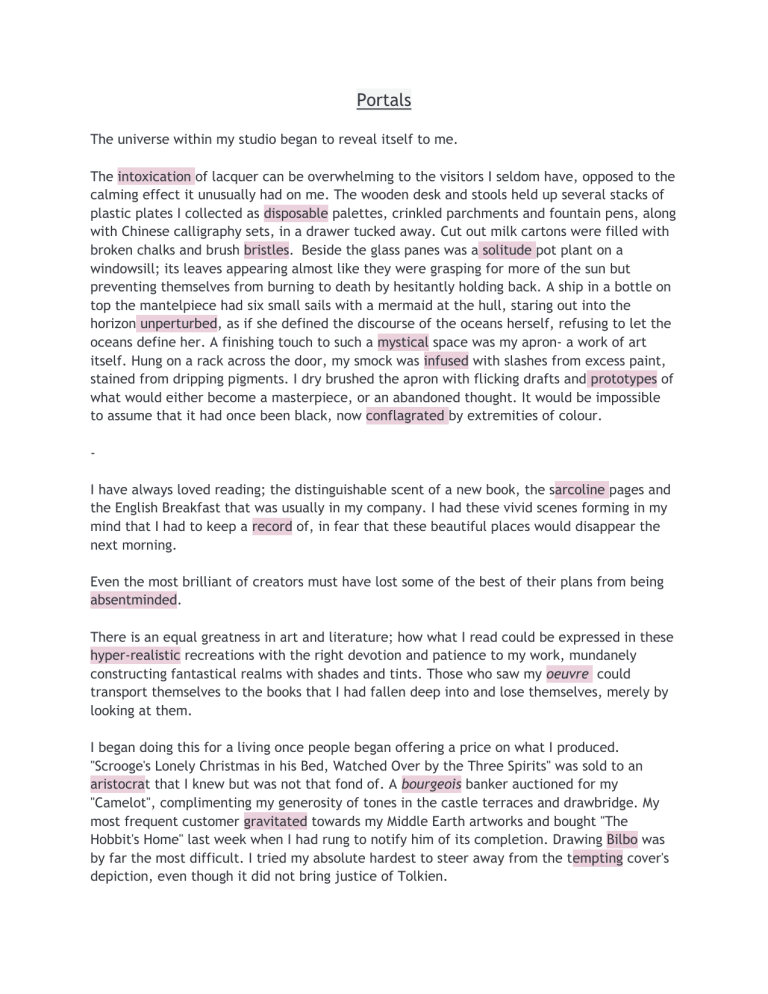 Portals
The universe within my studio began to reveal itself to me.
The intoxication of lacquer can be overwhelming to the visitors I seldom have, opposed to the
calming effect it unusually had on me. The wooden desk and stools held up several stacks of
plastic plates I collected as disposable palettes, crinkled parchments and fountain pens, along
with Chinese calligraphy sets, in a drawer tucked away. Cut out milk cartons were filled with
broken chalks and brush bristles. Beside the glass panes was a solitude pot plant on a
windowsill; its leaves appearing almost like they were grasping for more of the sun but
preventing themselves from burning to death by hesitantly holding back. A ship in a bottle on
top the mantelpiece had six small sails with a mermaid at the hull, staring out into the
horizon unperturbed, as if she defined the discourse of the oceans herself, refusing to let the
oceans define her. A finishing touch to such a mystical space was my apron- a work of art
itself. Hung on a rack across the door, my smock was infused with slashes from excess paint,
stained from dripping pigments. I dry brushed the apron with flicking drafts and prototypes of
what would either become a masterpiece, or an abandoned thought. It would be impossible
to assume that it had once been black, now conflagrated by extremities of colour.
I have always loved reading; the distinguishable scent of a new book, the sarcoline pages and
the English Breakfast that was usually in my company. I had these vivid scenes forming in my
mind that I had to keep a record of, in fear that these beautiful places would disappear the
next morning.
Even the most brilliant of creators must have lost some of the best of their plans from being
absentminded.
There is an equal greatness in art and literature; how what I read could be expressed in these
hyper-realistic recreations with the right devotion and patience to my work, mundanely
constructing fantastical realms with shades and tints. Those who saw my oeuvre could
transport themselves to the books that I had fallen deep into and lose themselves, merely by
looking at them.
I began doing this for a living once people began offering a price on what I produced.
"Scrooge's Lonely Christmas in his Bed, Watched Over by the Three Spirits" was sold to an
aristocrat that I knew but was not that fond of. A bourgeois banker auctioned for my
"Camelot", complimenting my generosity of tones in the castle terraces and drawbridge. My
most frequent customer gravitated towards my Middle Earth artworks and bought "The
Hobbit's Home" last week when I had rung to notify him of its completion. Drawing Bilbo was
by far the most difficult. I tried my absolute hardest to steer away from the tempting cover's
depiction, even though it did not bring justice of Tolkien.
I had taken down 'To Emerald City' from the main wall, caressing the surface pitifully. It was
thick from the copious layers of white that I had slapped on top, erasing my half-hearted
attempts at the Yellow Brick Road.
A freshly primed canvas resided on my eager easel in replacement. I rapidly tapped my brush's
handle against the top and hoped a prompt would come to me. Where in the world of fiction
will I venture to now, capturing the essence of somewhere surreal and making it tangible?
My artworks have been most favoured amongst families. I sometimes did free speed drawings
and paintings to gift the little boys and girls en plein air. I had drawn up a charcoal Atlantis
with its ruins and scattered artefacts, the fairies and Lost Boys of Neverland with spinning
watercolours, Wonderland's hedges with splats of my own crimson acrylics on the pearly
roses. A personal favourite was "The Secret Garden" with its fountain in the centre of the
otherworldly garden establishment. The children would clutch these pieces to their chest,
waving as their parents moved them along.
"Merci beaucoup, Antoine!"
I specialised in traveling to these children's lands of imagination- the root, I believe, of all
curiosity.
Only I would know this well enough to live by it.
It began with a simple illustration of what I thought the Hundred Acre Wood looked like in my
eyes. The drawing itself, I could only remember in fragments but I remembered my Papa
gasping at how intricate he found it, adoring every little pencil stroke before grinning widely
at me.
"Il était magnifique! You have quite the gift, Antoine. It appears as if the Hundred Acre Wood
was inspired from your drawing, rather than your picture being based off the story."
The Hundred Acre Wood! Quelle bonne idée! Surely, I must have kept the drawing
somewhere. I stood up abruptly, knocking over an empty milk crate.
"Pardon, Monsieur Caisse."
Racing upstairs to my Papa's bedroom, I opened the cabinet where he documented all the
incomplete designs. I foraged for the sketch but all I found flipping through were different
sheets, rediscovering all these ideas that were never animated. The Paris Opera House from
"Phantom", the spectacle of the Notre Dame and the deformed hunchback residing in it, and
even Jane and Michael's attic from "Mary Poppins" was in here. Did I abandon them for a
reason?
Can I really justify the degradation of my creativity in the last few months?
An unfamiliar folder toppled off from the pile and landed facing up.
"Antoine."
Opening it, I unravelled my Hundred Acre Wood drawings, all its coarse edges and sketch
marks that I realized before and hence, never removed. There was Winnie the Pooh in a
yellow that did not suit him, Piglet with a hand too large for a small and frightful creature
such as himself. A large smudge was smeared across the top, engulfing Owl's tree-house
whole. Eeyore's thistles were roughly drawn and the trees surrounding him needed more
dimension. Christopher Robin's hair was a monotonous brown and his smile
appearing like it was ripped off another face and redrawn on his.
I closed my eyes and in a second, I found the words that I had suppressed in my own
reluctance to move forward.
"Revitalise these in a body of work for me when you can see how far you have come."
I was finally reminded of what was most important; that art was a journey and it was my
responsibility as an artist to take not only myself, but my audience, on it.
I headed back into the studio and I knew what I needed to do. Oil paint tubes were screwed
open.
This was the threshold.
I no longer waited for the portals to open.
They waited for me to enter.