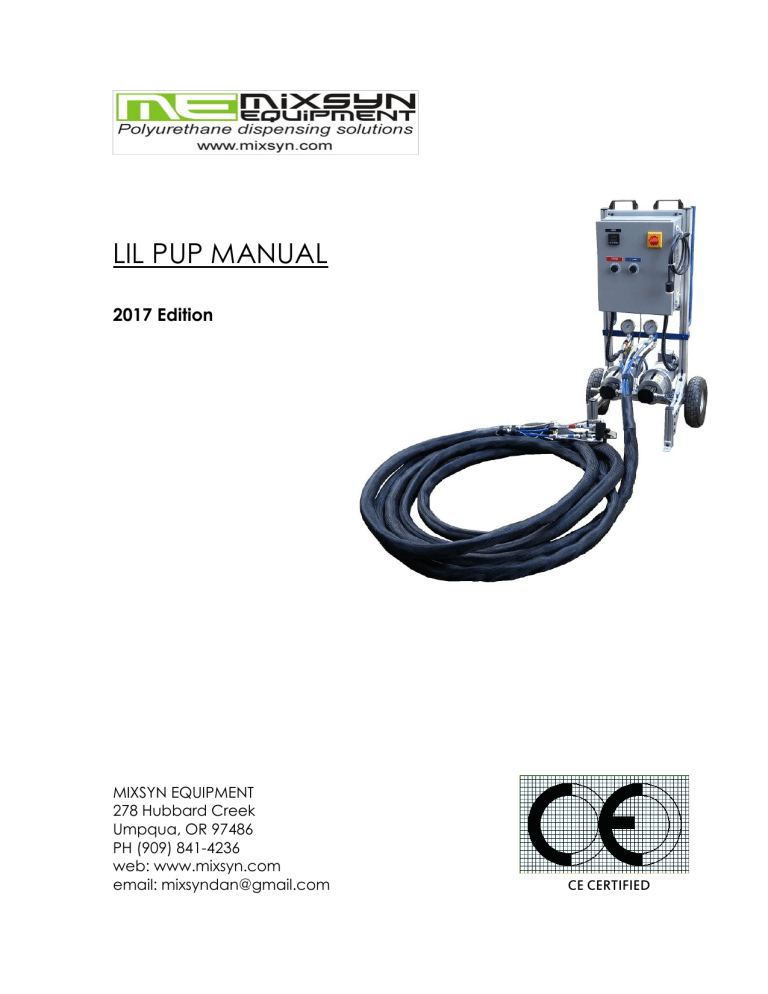 LIL PUP MANUAL
2017 Edition
MIXSYN EQUIPMENT
278 Hubbard Creek
Umpqua, OR 97486
PH (909) 841-4236
web: www.mixsyn.com
email: mixsyndan@gmail.com
CE CERTIFIED
INTRODUCTION
Table of Contents:
 INTRODUCTION
 GETTING STARTED
 SETTING RATIO/HOSE
TEMPERATURE
 OPERATION
 SHUT DOWN
 MAINTENANACE
 TROUBLESHOOTING
 SPECIFICATIONS
 GUN PARTS ID
 WARRANTY
About This Manual
Before operating, maintaining or
servicing any MIXSYN equipment, read
and understand all of the technical and
safety literature provided. If you do not
have the manuals for your MIXSYN
equipment, contact your distributor or
MIXSYN Equipment.
The information in this document is
intended only to indicate the
components and their normal working
relationship during typical use. Each
assembly should be directed by a
MIXSYN distributor or made from the
assembly instructions provided.
This manual provides information for the,
operation, maintenance and service of
this MIXSYN product as used in typical
configuration. While it lists standard
specifications and procedures, some
deviations may be found.
Careful study and continued use of this
manual will provide a better
understanding of the equipment and
process, resulting in more efficient
operation, longer trouble-free service
and faster, easier trouble shooting.
LIL PUP machine updates occur as
improvements are continually being
made.
GETTING STARTED
The following list of items is needed for proper operation of the LIL PUP
sprayer. (Contact Mixsyn for recommendations)









Two drum cradles for supporting the 55 gallon drums
Two drum desiccant cartridges/drum adaptor kits
PPE equipment including fresh air system, protective gloves, suit,
and eye protection
One tube white lithium grease/petroleum jelly for lubing gun nozzle
5 gallons of solvent for purging gun
One gallon Dynaly CU-6 gun cleaner for soaking gun parts
115 volt 15 amp electrical service
12 CFM @ 90PSI compressed air (clean and dry)
Drum heaters or "HOT BOX" for cold climate applications
INITIAL STEPS...
1. Attach 2 inch drum adaptor fittings and close the 3/4" ball valves
Note: apply the white lithium grease to ISO (A component) threads first
2. Tip drums over on their cradles and attach the 3/4" braided feed hoses
to their respective drums. Open the 3/4" ball valves
Note: ISO or "A" side chemical should be on the left, Poly or "B" side on the
right as viewed from the front
3. Remove the 3/4" bung from each drum and connect the desiccant
cartridge kits (remove the peel off cover on the cartridges first)
4. Fill solvent flush pail
5. Attached air supply to flush pump
6. Plug in 120 VAC 15 amp power to unit
WARNING!
Spray in a well ventilated area and
make certain to have all protective
gear on prior to use!
SETTING FLUID RATIOS
THE PROPER RATIO CHECK PROCEDURE
Mount the Teflon ratio tip on the gun as depicted here. The ratio tip splits the
two material streams for checking fluid ratios. Make certain the SS braided
solvent lines are not attached to the gun and the caps are fitted on sides of
gun as depicted in the picture to the left. WARNIING! Setting ratio with
solvent lines attached will cause foam to back up into solvent lines!
Caps must be ON for ratio checking!
Material and hose temperatures must be at operating levels prior to ratio testing.
Pull the trigger and shoot materials into cups as shown here. Adjust pump speed knobs
up or down to achieve equal ratio. Recommended initial pump
speed setting is 35% on each pump speed knob.
After ratio is set, remove ratio tip and replace with the spray
tip(looks like a tube, see below pic).
Remove the caps located on the side of the gun and reconnect
each of the stainless steel braided solvent hoses
Picture on left is gun with spray
tip attached.
Note: The brass solvent/air valve has three positions.
Middle off position is no solvent or air, handle pointing
towards the SS braided line will pump solvent thru gun
block & tip for cleaning nozzle, the handle towards the
air line will pump air into the block and mixing tip for purging out the solvent and for
spraying foam.
Solvent flush position
Air purge/spray position
OFF position
IMPORTANTThere are no check valves located on sides of gun block where SS braided hoses
connect. Make certain to keep air ON(middle picture above) and blowing thru spray tip
to avoid foam backing up into the brass solvent/air valve. Check valves are available
but tend to plug frequently so it is advised to keep air always on during operation.
Operating Guidelines
Adjustment of pump speeds and air pressure is critical for optimum
performance. Initial pump speed setting should be 35 to 40% as depicted
on the pump speed control knobs.
We have found these settings to be ideal for
most applications. Please note that it may be
necessary to run one pump faster than the
other to achieve the proper 1:1 volumetric
ratio. This is due in part to varying material
viscosities and minor differences with pump
speed control trim pot settings.
Over pressure protection switches are located behind the
material pressure gauges. These switch should not be
adjusted and have no bearing on the volume or pressure
developed. They are solely for over pressure safety
concerns.
Test spray an area and inspect the foam. Well mixed foam
will have a tight uniform cell structure. Cut into the foam
and visually inspect the cell structure. Look at the color of the foam and
check for firmness after curing.
Set hose temperature to 100 F using the up/down
arrow keys on the controller. The Top (red) display is
the actual value and the lower (green) is the set
value. Do not press the SET or AM keys. These are for
programming use only!
Drum temperature should be no lower than 65F and
no higher than 90F. Ideal drum/chemical temperature
is 70-85F.
Notes: Most technical data sheets from chemical suppliers are written with
high pressure equipment in mind. They will state machine settings of 120F
and fluid pressure of 1,000 or more PSI. Please disregard these figures as
they do not apply. The LIL PUP has been designed to process standard
closed and open cell foams at much lower pressures and temperatures.
This is due to our unique air nucleation gun. Typical fluid pressure should
be between 200 and 500 PSI with chemical temperatures between 65 and
85 F. Hose temperature setting of 100F will heat chemical in lines to about
85F due to placement of the temperature sensor.
System Specifications
PUMP RATIO:
Adjustable range 1:3 thru 3:1
OUTPUT:
.3 TO 1.0 GPM (combined)
OPERATING PSI:
50 TO 300 PSI typical fluid pressures
OVER PRESSURE:
Adjustable over pressure switches set for 750 PSI
ELECTRICAL REQUIREMENTS:
15 AMPS @ 115 VAC, 60HZ
DISPENSE GUN:
Anodized aluminum ,24 volt DC electric trigger
Air nucleation mix (90-100 PSI)
COMPRESSED AIR
REQUIREMENTS:
12 CFM @ 100 PSI
MAXIMUM HOSE
LENGTH:
100'
OVERALL DIMENSIONS:
24"W X 20" D X 42" H
WEIGHT:
125 LBS
MOTORS:
1/2 HP 90 volt DC
PUMPS:
cast iron spur gear with VITON lip seal
HOSES:
3,000 PSI rated, nylon core 1/4" ID. Electrical
heat tracing, insulation, scuff jacket
MATERIAL VISCOSITY:
200-1000 CENTIPOISE (CPS) @ AMBIENT
(If viscosity exceeds 800 cps @ ambient it is
recommended to pre-heat material before
processing through the machine. Do not
exceed 100°F. Check with your material
manufacturer or MIXSYN Equipment for
for temperature recommendations.
TROUBLE SHOOTING
SYMPTOM
ISO rich
(foam is dark and "crunchy")
PROBABLE CAUSE

Restriction at gun
block or gun check
valve

Material in drums is
too hot or too cold
Plugged gun block or
gun check valve
OR
POLY rich
(foam is soft and "punky")

FIX

Check gun for blockage,
clean and service gun

Keep chemicals warm but
do not overheat.
Recommended chemical
temp is 65 to 90F

Pump speeds set
incorrectly

Perform ratio check
Nothing happens when
trigger is pulled

Break in control wire
or faulty gun trigger

Check and repair the wire
that connects to gun
OR

Tripped breaker

Check and reset
Only one motor turns

Pump locked up

Clean/replace pump

Chemicals too cold

Warm materials

Insufficient air to gun

Increase gun air pressure
and/or volume

Nozzle or gun partial
restriction

Clean gun/ replace spray
tip

Tripped hose heat
breaker

Reset breaker

Broken wire on heat
trace

Repair/replace heat
tracing

Over pressure due to
restriction, pump
speed settings too
high or material
viscosity too thick

Clean gun, lower pump
speeds or heat material to
lower viscosity
Poor spray pattern
Hose heat not heating
Pumps start and stop during
operation
SHUT DOWN/MAINTENANCE
DAILY SHUT DOWN PROCEDURE






Turn the main power switch to off position
Remove spray tip
Purge gun block with solvent, do not follow with air(leave solvent in block)
Grease threads on the gun block with Vaseline of white lithium grease
Attach the night cap and close the gun ball valves
Close the valves on the drums
FLUSHING UNIT FOR LONG TERM STORAGE






Turn the "B" side pump speed to "0" as we will only flush the ISO(hardener) side
Remove the braided PVC feed hose from the "A" side pump at the drum and
place it into the solvent flush pail
With power on, "A" gun valve open and night cap removed, pull the trigger on
the gun and run the chemical out into a clean pail. Run until all "A" is removed
and acetone is flowing freely thru the gun block and acetone is clear with no
trace of ISO (A) component.
Remove the PVC hose from the flush bucket and pull trigger until acetone is
removed from lines.
Place the PVC hose into a clean bucket of DYNA-LUBE or equivalent type pump
lubricant. Standard hydraulic oil can be used in place of DYNA-LUBE but may not
be as effective.
Run until oil is flowing cleanly thru gun block, then stop and replace the night cap
on the gun. Store unit in dry area.
MAINTENANCE
Proper maintenance will insure long service life of the PUP sprayer.
ISO or "A" component is the side that has the most service related issues. ISO hardening in
the hoses, fluid pump or gun are common with all polyurethane equipment.
Hose blockage or hardened ISO in the hose will require the hose to be replaced. Strip
down the hose assembly by removing the scuff resistant jacket, insulation, heat trace
and air/electrical lines. Replace hose and reassemble.
If the ISO pump will not run it is likely the trace ISO left in the pump has reacted and the
pump shaft has locked itself to the lip seal. Remove the four 5/16-18 bolts that secure the
pump to the pump housing. Loosen the set screw and remove the Jaw coupling.
Reattach the coupling to new pump and reinstall.
Gun blockage due to ISO hardening of foam backed up into gun block: Remove block
from gun handle and remove all hoses. Soak the gun block in CU-6 Dynasolve to loosen
and remove cured foam. Chase thread in block with 1/8" and 1/4" pipe taps, blow
compressed air thru passages.
LIMITED WARRANTY POLICY
Mixsyn Equipment ("Mixsyn") warrants to the original Purchaser of Mixsyn manufactured equipment and
parts, that all Mixsyn manufactured equipment and parts will conform to their published written specifications
and be free of defects in workmanship and material for a period of one (1) year from the original date of sale.
Mixsyn makes no warranty to anyone other than the original purchaser.
lf any Mixsyn manufactured part or equipment is found to be defective in workmanship or material within the
one-year period from the date of sale, as determined solely by Mixsyn, Mixsyn , in its sole discretion, will
either repair or replace the defective part at Mixsyn's cost.
A warranty claim will be honored only when:
1. Mixsyn has been informed, in writing, of any such defect in workmanship or material within ten (10)days
after discovery by the original purchaser;
2. An official of Mixsyn has issued a return authorization number; and
3. The claimed defective equipment or part has been returned to Mixsyn by the original purchaser, freight
prepaid(with proper return authorization number(s) attached), to: Mixsyn Equipment, 278 Hubbard Creek
Road, Umpqua OR 97486
This warranty shall not apply to any equipment or parts that have been altered or repaired by anyone other
than Mixsyn Equipment or to defects or damage resulting from improper installation, misuse, negligence,
accident, or use not specified by Mixsyn. This warranty shall not apply to any equipment where ,any parts or
components were replaced by any parts or components not manufactured by Mixsyn Equipment. The
decision by Mixsyn shall be conclusive and binding on the purchaser.
Mixsyn does not warrant that any equipment or parts sold to Purchaser meet or comply with any local, state,
federal, or other jurisdiction's regulations or codes. Mixsyn does not warrant that any equipment or part sold
to Purchaser, when used individually or in concert with any other part, equipment, device, component or
process, does not infringe on any patent rights of any third party. Mixsyn only warrants that it has no specific
knowledge of any such infringement.
Mixsyn makes no warranty as to any parts or equipment manufactured by others. Purchaser shall look solely
and only to the manufacturer of such parts or equipment with respect to any warranty claims. Mixsyn hereby
assigns to Purchaser the original manufacturer's warranties to all such equipment and parts, to the full
extent permitted.
THE AFORESAID WARRANTY IS IN LIEU OF ALL OTHER WARRANTIES, EXPRESS OR IMPLIED.
SPECIFICALLY THERE ARE NO WARRANTIES OF MERCHANTABILITY OR FITNESS FOR A
PARTICULAR PURPOSE, WHICH WARRANTIES ARE SPECIFICALLY DISCLAIMED.
Mixsyn shall not be liable for any loss or expense resulting from damage or accidents caused by improper
use or application of materials manufactured or sold by Mixsayn its distributors or agents.
UNDER NO CIRCUMSTANCES SHALL MIXSYN'S LIABILITY EXCEED THE AMOUNT PURCHASER
PAID FOR THE CLAIMED DEFECTIVE EQUIPMENT OR PART. UNDER NO CIRCUMSTANCES SHALL
MIXSYN BE LIABLE FOR INCIDENTAL OR CONSEQUENTIAL DAMAGES OR FOR LOST PROFITS.
No action arising from or relating to any goods manufactured by or purchased from Mixsyn may be brought
more than one (1) year after the cause of action accrues.