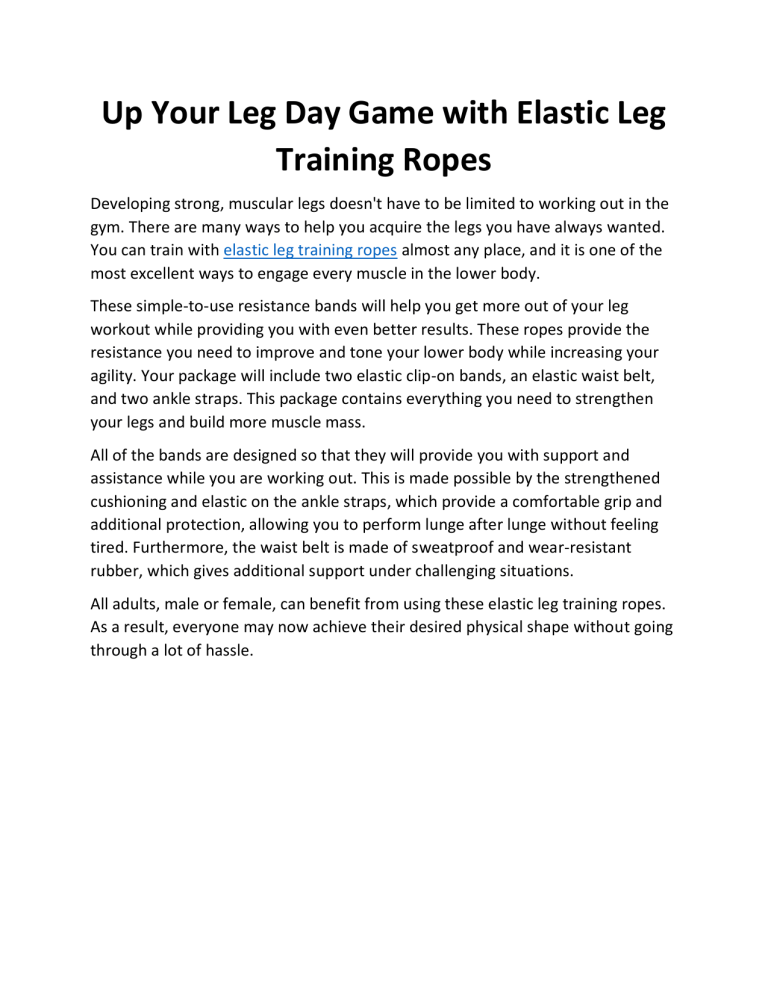 Up Your Leg Day Game with Elastic Leg
Training Ropes
Developing strong, muscular legs doesn't have to be limited to working out in the
gym. There are many ways to help you acquire the legs you have always wanted.
You can train with elastic leg training ropes almost any place, and it is one of the
most excellent ways to engage every muscle in the lower body.
These simple-to-use resistance bands will help you get more out of your leg
workout while providing you with even better results. These ropes provide the
resistance you need to improve and tone your lower body while increasing your
agility. Your package will include two elastic clip-on bands, an elastic waist belt,
and two ankle straps. This package contains everything you need to strengthen
your legs and build more muscle mass.
All of the bands are designed so that they will provide you with support and
assistance while you are working out. This is made possible by the strengthened
cushioning and elastic on the ankle straps, which provide a comfortable grip and
additional protection, allowing you to perform lunge after lunge without feeling
tired. Furthermore, the waist belt is made of sweatproof and wear-resistant
rubber, which gives additional support under challenging situations.
All adults, male or female, can benefit from using these elastic leg training ropes.
As a result, everyone may now achieve their desired physical shape without going
through a lot of hassle.