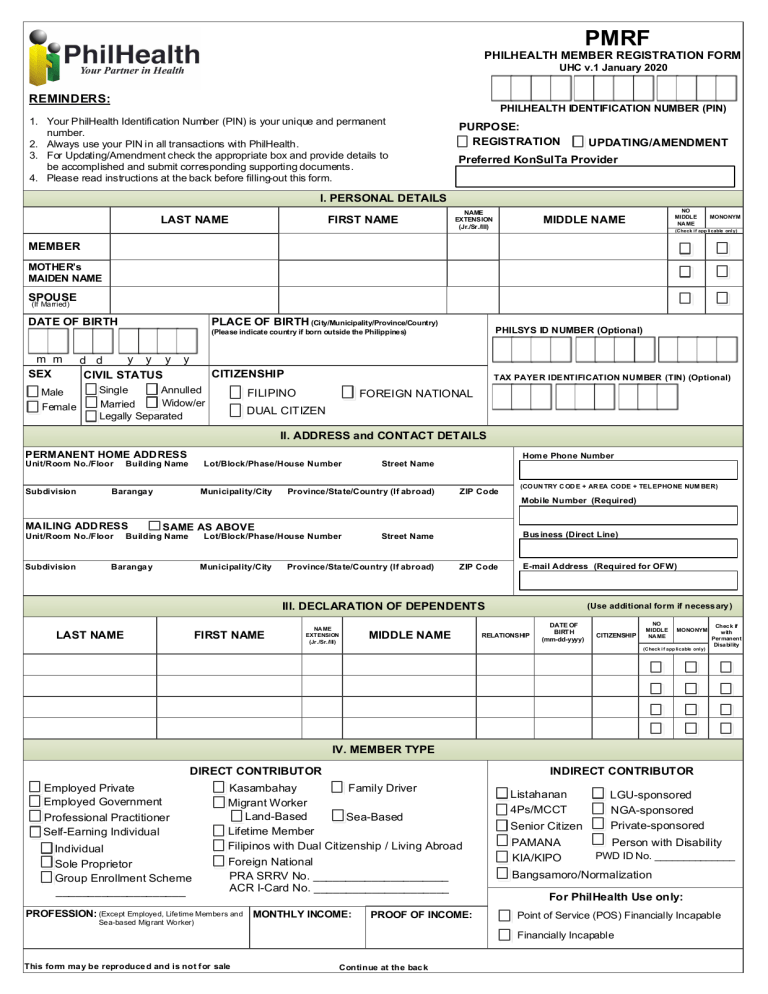 PMRF
PHILHEALTH MEMBER REGISTRATION FORM
UHC v.1 January 2020
REMINDERS:
PHILHEALTH IDENTIFICATION NUMBER (PIN)
1. Your PhilHealth Identification Number (PIN) is your unique and permanent
number.
2. Always use your PIN in all transactions with PhilHealth.
3. For Updating/Amendment check the appropriate box and provide details to
be accomplished and submit corresponding supporting documents.
4. Please read instructions at the back before filling-out this form.
PURPOSE:
REGISTRATION
UPDATING/AMENDMENT
Preferred KonSulTa Provider
I. PERSONAL DETAILS
LAST NAME
FIRST NAME
NAME
EXTENSION
(Jr./Sr./III)
NO
MIDDLE
NA ME
MIDDLE NAME
MONONYM
(Check i f app li cable onl y)
MEMBER
MOTHER's
MAIDEN NAME
SPOUSE
(If Married)
PLACE OF BIRTH (City/Municipality/Province/Country)
DATE OF BIRTH
m m
SEX
Male
Female
y y y
d d
CIVIL STATUS
(Please indicate country if born outside the Philippines)
PHILSYS ID NUMBER (Optional)
CITIZENSHIP
TAX PAYE R IDE NTIFICATION NUMBER (TIN) (Optional)
y
Single
Annulled
Widow/er
Married
Legally Separated
FILIPINO
FOREIGN NATIONAL
DUAL CITIZEN
II. ADDRESS and CONTACT DETAILS
PERMANENT HOME ADDRESS
Unit/Room No./Floor
Subdivision
Hom e Phone Number
Building Name
Lot/Block/Phase/House Number
Baranga y
Municipality/City
Street Name
Province/Sta te/Country (If abroad)
ZIP Code
(COUN TRY C OD E + AR EA CODE + TEL EPHONE NUM BER)
Mobile Number (Required)
MAILING ADDRESS
Unit/Room No./Floor
Subdivision
SAME AS ABOVE
Building Name
Lot/Block/Phase/House Number
Baranga y
Municipality/City
Bus iness (Direct Line)
Street Name
Province/Sta te/Country (If abroad)
ZIP Code
E-mail Address (Required for OFW)
III. DECLARATION OF DEPENDENTS
FIRST NAME
LAST NAME
NA ME
EXTENSION
(Jr./Sr./III)
MIDDLE NAME
(Use additional form if necess ary )
RELATIONSHIP
DATE OF
BIRT H
(mm-dd-yyyy)
CITIZENSHIP
NO
MIDDLE
NA ME
MONONYM
(Check i f app li cable onl y)
Chec k if
with
Per manent
Disa bility
IV. MEMBER TYPE
DIRECT CONTRIBUTOR
Employed Private
Employed Government
Professional Practitioner
Self-Earning Individual
Individual
Sole Proprietor
Group Enrollment Scheme
____________________
INDIRECT CONTRIBUTOR
Kasambahay
Family Driver
Migrant Worker
Land-Based
Sea-Based
Lifetime Member
Filipinos with Dual Citizenship / Living Abroad
Foreign National
PRA SRRV No. _____________________
ACR I-Card No. _____________________
PROFESSION: (Except Employed, Lifetime Members and MONTHLY INCOME:
Sea-based Migrant Worker)
PROOF OF INCOME:
Listahanan
4Ps/MCCT
Senior Citizen
PAMANA
KIA/KIPO
LGU-sponsored
NGA-sponsored
Private-sponsored
Person with Disability
PWD ID No. ______________
Bangsamoro/Normalization
For PhilHealth Use only:
Point of Service (POS) Financially Incapable
Financially Incapable
This form ma y be reproduce d and is not f or sale
Continue at the bac k
V. UPDATING/AMENDMENT
Please check:
FROM
TO
Change/Correction of Name
(Last Name, First N ame, Name Extension (Jr./Sr./III) Middle Name)
Correction of Date of Birth
Correction of Sex
Change of Civil Status
Updating of Personal Information/Address/
Telephone Number/Mobile Number/e-mail
Address
Under penalty of law, I hereby attest that the information provided, including the documents I
have attached to this form, are true and accurate to the best of my knowledge. I agree and
authorize PhilHealth for the subsequent validation, verification and for other data sharing
purposes only under the following circumstances:
 As necessary for the proper execution of processes related to the legitimate and
declared purpose;
 The use or disclosure is reasonably necessary, required or authorized by or under the
law; and,
 Adequate security measures are employed to protect my information.
FOR PHILHEALTH USE ONLY
RECEIVED BY:
Full Name:
______________________________
PRO/LHIO/Branch:
_____________________________
Date & Time:
_________________________________________________ _________________
Member's Signature over Printed Name
Date
Plea se affix right
thumbmark if unable to write
______________________________
INSTRUCTIONS
1.
All information should be written in UPPER CASE/CAPITAL LETTERS. If the information is not applicable, write "N/A."
2.
All fields are mandatory unless indicated as optional. By affixing your signature, you certify the truthfulness and accuracy of all
information provided.
3.
A properly accomplished PMRF shall be accompanied by a valid proof of identity for first time registrants, and supporting
documents to establish relationship between member and dependent/s for updating or request for amendment.
4.
On the PURPOSE, check the appropriate box if for Registration or for Updating/Amendment of information.
5.
Indicate preferred KonSulTa provider near the place of work or residence.
6.
For PERSONAL DETAILS, all name entries should follow the format given below. Check the appropriate box if registrant has no
middle name and/or with single name (mononym).
LAST NAME
SANTOS
FIRST NAME
NAME EXTENSION (Jr./Sr./III)
MIDDLE NAME
JUAN ANDRES
III
DELA CRUZ
7.
Indicate registrant's/member's name as it appears in the birth certificate.
8.
The full mother's maiden name of registrant/member must be indicated as it appears in the birth certificate.
9.
Indicate the full name of spouse if registrant/member is married.
10. Indicate the complete permanent and mailing addresses and contact numbers.
11. For updating/amendment, check the appropriate box to be updated/amended and indicate the correct data.
12. For MEMBER TYPE, check the appropriate box which best describes your current membership status.
13. For Direct Contributors, except employed, sea-based migrant workers and lifetime members, indicate the profession, monthly
income and proof of income to be submitted.
14. For Self-earning individuals, Kasambahays and Family Drivers, indicate the actual monthly income in the space provided.
15. In declaring dependents, provide the full name of the living spouse, children below 21 years old, and parents who are 60 years old
and above totally dependent to the member.
16. Dependents with disability shall be registered as principal members in accordance with Republic Act 11228 on mandatory
PhilHealth coverage for all persons with disability (PWD).
17. The registrant must affix his/her signature over printed name (or right thumbmark if unable to write) and indicate the date when the
PMRF was signed.