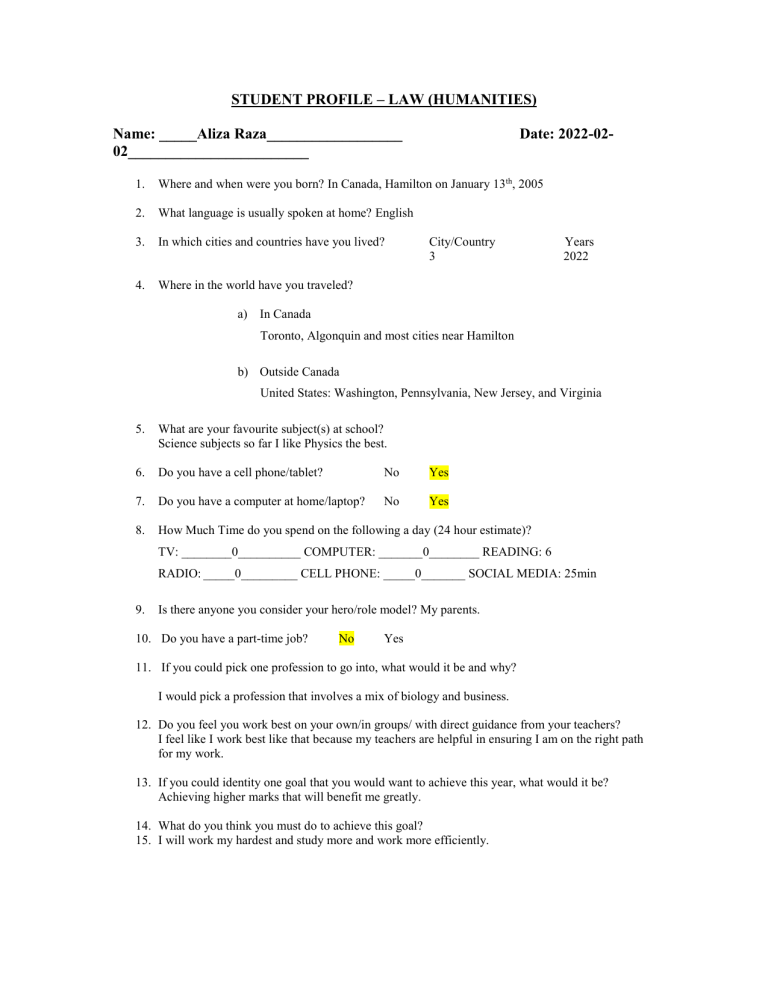 STUDENT PROFILE – LAW (HUMANITIES)
Name: _____Aliza Raza__________________
02________________________
Date: 2022-02-
1.
Where and when were you born? In Canada, Hamilton on January 13th, 2005
2.
What language is usually spoken at home? English
3.
In which cities and countries have you lived?
4.
Where in the world have you traveled?
City/Country
3
Years
2022
a) In Canada
Toronto, Algonquin and most cities near Hamilton
b) Outside Canada
United States: Washington, Pennsylvania, New Jersey, and Virginia
5.
What are your favourite subject(s) at school?
Science subjects so far I like Physics the best.
6.
Do you have a cell phone/tablet?
No
Yes
7.
Do you have a computer at home/laptop?
No
Yes
8.
How Much Time do you spend on the following a day (24 hour estimate)?
TV: ________0__________ COMPUTER: _______0________ READING: 6
RADIO: _____0_________ CELL PHONE: _____0_______ SOCIAL MEDIA: 25min
9.
Is there anyone you consider your hero/role model? My parents.
10. Do you have a part-time job?
No
Yes
11. If you could pick one profession to go into, what would it be and why?
I would pick a profession that involves a mix of biology and business.
12. Do you feel you work best on your own/in groups/ with direct guidance from your teachers?
I feel like I work best like that because my teachers are helpful in ensuring I am on the right path
for my work.
13. If you could identity one goal that you would want to achieve this year, what would it be?
Achieving higher marks that will benefit me greatly.
14. What do you think you must do to achieve this goal?
15. I will work my hardest and study more and work more efficiently.
16. Directions: Read each statement carefully and indicate how much you agree or disagree with it by
circling the appropriate number to the right
Key:
SD – Strongly Disagree; D – Disagree; U – Undecided; A – Agree; SA – Strongly agree
Criteria
I prefer to learn in a variety of ways in the classroom rather
than just the textbook
I prefer to do homework whenever I can
SD
1
D
2
U
3
A
4
SA
5
1
2
3
4
5
I think the use of technology within class is vital to learning
1
2
3
4
5
I would prefer group work over individual work
1
2
3
4
5
I would prefer writing assignments over creative projects
1
2
3
4
5
I would prefer lectures and discussion than course work from a
textbook or website
1
2
3
4
5
17. Directions: Read each statement carefully and indicate how much you agree or disagree with the
question by circling the appropriate word you associate with.
How frequently do you like coming to class?
a) Always b) Frequently
c) Sometimes
d) Rarely
e) Never
How often do you find classroom activities interesting?
a) Always b) Frequently
c) Sometimes
d) Rarely
e) Never
Do you often have good study habits?
a) Always b) Frequently
c) Sometimes
e) Never
d) Rarely
18. Answer the following questions honestly and truthfully
a) I would like to work with these students that are cooperative
b) I would like to sit next to somebody that is kind and hardworking
c) I would not like to be in a group with students that are disruptive and get distracted easily
19. What is your View on Canadian Law? On the legal system in your region?
My view on Canadian Law is all Canadians have the right to due process under Canadian law, which
means that the government must respect all your legal Rights. You also have the right to receive
Government of Canada services in either English or French.
20. Is there anything you would like to learn within this class? Or are interested in?
Case studies, debates, interesting and suspenseful content like that is what I am interested in!
21. Do you belong to any extra-curricular activities, sports, volunteering? Are there any allergies,
medical conditions, IEP information that I should know about you?
I teach at a Sunday school 2 hours per week and, I am learning at one for 2 hours per a week as well.