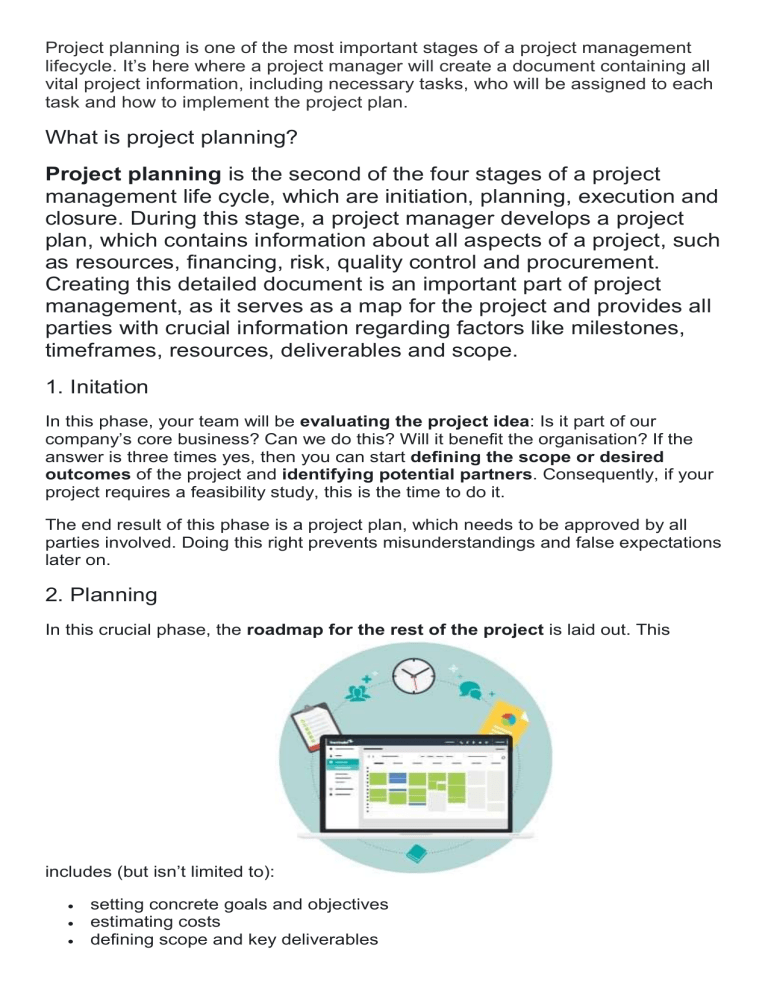 Project planning is one of the most important stages of a project management
lifecycle. It's here where a project manager will create a document containing all
vital project information, including necessary tasks, who will be assigned to each
task and how to implement the project plan.
What is project planning?
Project planning is the second of the four stages of a project
management life cycle, which are initiation, planning, execution and
closure. During this stage, a project manager develops a project
plan, which contains information about all aspects of a project, such
as resources, financing, risk, quality control and procurement.
Creating this detailed document is an important part of project
management, as it serves as a map for the project and provides all
parties with crucial information regarding factors like milestones,
timeframes, resources, deliverables and scope.
1. Initation
In this phase, your team will be evaluating the project idea: Is it part of our
company's core business? Can we do this? Will it benefit the organisation? If the
answer is three times yes, then you can start defining the scope or desired
outcomes of the project and identifying potential partners. Consequently, if your
project requires a feasibility study, this is the time to do it.
The end result of this phase is a project plan, which needs to be approved by all
parties involved. Doing this right prevents misunderstandings and false expectations
later on.
2. Planning
In this crucial phase, the roadmap for the rest of the project is laid out. This
includes (but isn't limited to):



setting concrete goals and objectives
estimating costs
defining scope and key deliverables
The project plan will contain information about the procurement of resources as
well as how to produce quality output, handle risks and unforeseen circumstances,
communicate within your team and with external stakeholders, and more. Ideally, it
also contains a clear timeline of what needs to happen when. A great way to do
this is by creating milestones: high-level goals with clear end dates.
3. Execution
In most cases, this is where the project becomes visible to the outside world. It
usually starts with a team kick-off meeting where everyone is informed of their
tasks and any relevant project details. This phase is about creating quality
deliverables. As a project manager, your task is to allocate the right resources and
keep your team members focused on their assignments. This also means that the
success of the project execution phase depends on how thorough you were in the
project planning phase.
Discover how you can take control of your projects with
Teamleader's project planning feature.
4. Monitoring and control
This phase often overlaps with the execution phase. In the course of the project,
you'll keep a close eye on the status of the deliverables, and schedule regular
team meetings to ensure that you remain on track. This is also the phase where
you'll be vigilant for 'scope creep'.
Want to keep the number of status meetings to an absolute minimum? Cloud-based
project management software allows team members to update task status in real
time.
5. Closure
A project is closed when the finished deliverable has been formally handed over,
and all stakeholders have been informed. But before that happens, it's wise to sit
down with the team and evaluate the project: what went well, and what could have
gone better? This will help you avoid similar mistakes in the future and allow you
to build stronger processes and create more efficient teams.
What to include in a project plan
A project plan is a comprehensive document that guides a project team during the execution
stage of a project. For this reason, a project manager must include detailed information in this
document so that the execution of the project can run smoothly. The project plan should
include the following:
Scope planning: This is one of the most important steps in project planning as it delineates
precisely what the team has to deliver to complete the project successfully.
Organizational planning: This aspect of the project plan incorporates the work breakdown
structure, where a project manager divides the deliverables of a project into detailed activities
and tasks. It also involves staff acquisition and assigning resources to project tasks.
Developing a schedule: This part of the project plan involves creating a milestone list,
sequencing project activities, documenting interactivity dependencies and deciding on
timelines.
Resource planning: Resource planning includes determining what resources, such as staff,
materials and equipment, you will need to complete the project, as well as estimating how
much these will cost.
Risk planning: This involves determining possible risks and how to deal with these should they
occur. Risks may include material shortages or other potentially negative outcomes.
Quality planning: The quality of the work the team delivers must adhere to certain standards.
This part of the project plan identifies those standards and states how quality control will take
place.
Budget planning: A project will not be successful if you do not deliver within budget. During
budget planning, a project manager links all project costs to key tasks and deliverables, such as
equipment, materials, salaries, travel, accommodation, consultancy fees and consumables.
Communication planning: Communication between stakeholders is key to the success of a
project. A project manager has to formalize how effective communication should take place,
which may include methods, channels and frequency.
How to plan a project
Although different project managers may have different approaches when it comes to
planning a project, there are key considerations that all project managers need to consider.
These include:
1. Set project goals
The first step you should take when creating a project plan is to identify the project sponsors
and stakeholders, such as the client and end-users, and then meet with them to establish what
their expectations and needs are. After you have documented and prioritized all relevant
parties' needs, you should determine specific project goals that address these needs and
outline the project objectives.
2. Define the project scope
The next important step involves defining the scope of the project, which means precisely
what work the team needs to complete to meet the project objectives. A project's scope
defines the limits and the boundaries of the project and serves to prevent "scope creep,"
which refers to tasks or products that fall outside of the agreed-upon scope.
Related: A Guide To Project Scope Management
3. Decide on the major deliverables
Once all parties have agreed upon the project scope, your next step will be to define the
deliverables of the project. Whereas the scope of a project refers to the whole body of work
necessary to complete the project, deliverables include all specific products or services that
the project team will be producing or delivering during the project.
4. Create the scope statement
Next, you should create the scope statement document, which includes important information
like the business needs the project will address, objectives, scope, deliverables, assumptions,
exclusions and key milestones. Once you have created this document, the sponsor and all
stakeholders should agree with the project details you have recorded in the document, to
prevent any chance of miscommunication. As this is basically a contract between the project
manager and the sponsor, the latter needs to be cognizant of, and approve, any changes that
you may request in the latter stages of the project.
5. Create a work breakdown structure, as well as schedule and cost baselines
Although you understand what the major deliverables of the project are at this stage, you'll
need to establish how to implement these deliverables. To do so involves developing a work
breakdown structure where you separate big deliverables into smaller, workable tasks.
Once you have established all the various activities that your team needs to complete to
implement deliverables, order them in a logical sequence. Then, decide how long each task
will take to complete, as well as the costs involved in executing them.
It is advisable to first create a milestone list, which are the major phases of the project, and
use this as a point of departure when deciding on timeframes for individual tasks. Once you
have established all timelines, create a project schedule that clearly indicates when each task
begins and ends.
6. Assign roles and responsibilities
The next step involves assigning specific tasks to team members so that everyone understands
their responsibilities. You may also need to source external resources and specialists for
complex tasks that require expertise or that fall outside of the skillset of your project team. For
clarity, develop a staffing plan that clearly outlines the length of time that each resource will
be involved with the project.
7. Complete a risk assessment
A risk management plan is a very important aspect of project planning, as it addresses aspects
of a project that may negatively influence its successful completion. This process involves
identifying possible risks, the probability of these occurring and the impact should they
materialize. Once you have established the risks and their gravity, develop a risk response
plan, which outlines responses and contingency plans should risk occur. Doing so minimizes
the impact any major threat may have on a project.
Tips for project planning
Effective project planning requires excellent organizational and communication skills, the
ability to consider a wide range of factors at any given time, as well as attention to detail. To
assist you in this complex process, here are a few tips:
Once your project plan is complete, ensure that all sponsors and key shareholders approve it.
In this way, you eliminate the possibility of misconceptions or miscommunication and ensure
that you have their approval and support.
Even the best project plan will inevitably undergo changes. When the plan needs to change,
you should employ the formal change control process, which allows you to properly review
changes before implementation and also document these changes in the plan.
If possible, schedule the riskiest tasks for the beginning stages of a project. In the event of
something going wrong, you will then have more time, and possibly funds, to rectify the
situation.
Involve team members in the creation of the project plan. Their expertise in various fields and
objective inputs will help you to plan more effectively and will also afford them insight into the
project.
When you create the project schedule, allow for contingency time as some tasks will inevitably
take longer than planned and will then negatively influence project deadlines.