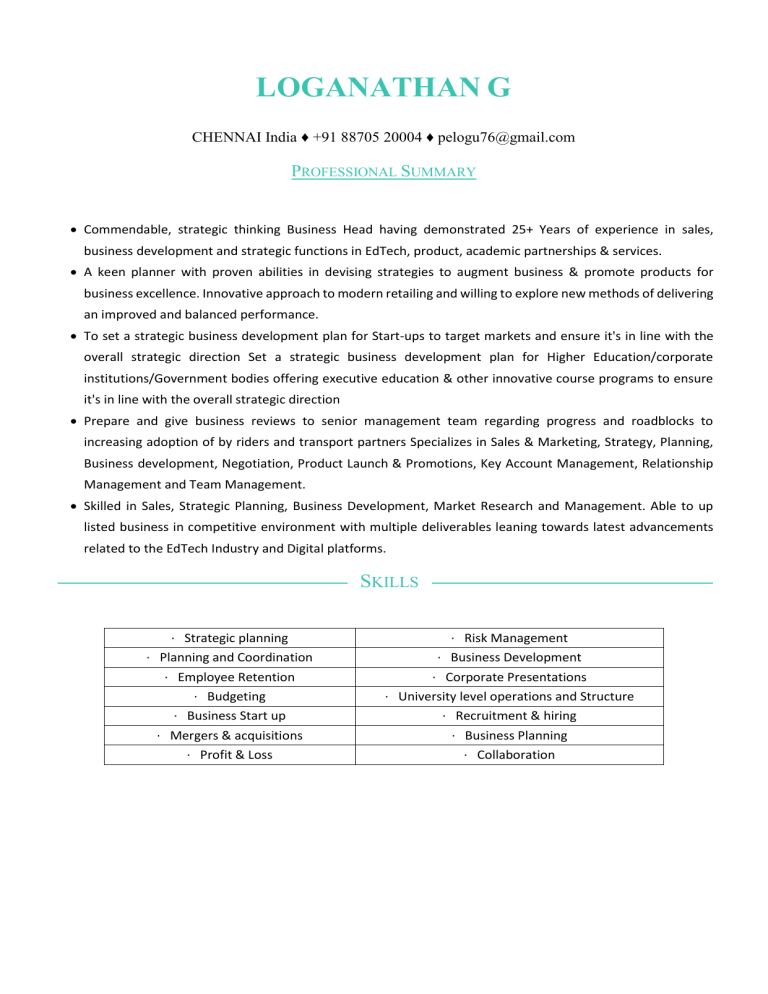 LOGANATHAN G
CHENNAI India ♦ +91 88705 20004 ♦ pelogu76@gmail.com
PROFESSIONAL SUMMARY
 Commendable, strategic thinking Business Head having demonstrated 25+ Years of experience in sales,
business development and strategic functions in EdTech, product, academic partnerships & services.
 A keen planner with proven abilities in devising strategies to augment business & promote products for
business excellence. Innovative approach to modern retailing and willing to explore new methods of delivering
an improved and balanced performance.
 To set a strategic business development plan for Start-ups to target markets and ensure it's in line with the
overall strategic direction Set a strategic business development plan for Higher Education/corporate
institutions/Government bodies offering executive education & other innovative course programs to ensure
it's in line with the overall strategic direction
 Prepare and give business reviews to senior management team regarding progress and roadblocks to
increasing adoption of by riders and transport partners Specializes in Sales & Marketing, Strategy, Planning,
Business development, Negotiation, Product Launch & Promotions, Key Account Management, Relationship
Management and Team Management.
 Skilled in Sales, Strategic Planning, Business Development, Market Research and Management. Able to up
listed business in competitive environment with multiple deliverables leaning towards latest advancements
related to the EdTech Industry and Digital platforms.
SKILLS
· Strategic planning
· Planning and Coordination
· Employee Retention
· Budgeting
· Risk Management
· Business Development
· Corporate Presentations
· University level operations and Structure
· Business Start up
· Mergers & acquisitions
· Profit & Loss
· Recruitment & hiring
· Business Planning
· Collaboration
WORK HISTORY
Senior Managing Consultant, 07/2021 to Current - i Curve Learning – Chennai, India
 Crediting for the profitability of the existing business, lead-by-example and promote the company, purpose
and values, responsible to generate and adhere to the budget
 Managing a SBU/profit center, responsible to lead a multi-location (including geographies) team / identify and
retain talent / expand the service lines
 Responsible to expand the product line, conceptually and based on market testing of ideas over conversations
with customers, contacts, and network
 Tracking budgets and negotiate contracts Hire and oversee training and L&D Specialists
Head - Alliances & Partnerships, 05/2020 to 01/2021 - LARSEN & TOURBO EduTech – Chennai, Tamilnadu
 Provide strategic & operational direction and leadership to the Sales and Marketing teams
 Develop and maintain excellent relationships with Vice Chancellors / Decision Makers / NIRF rating Institutions
/ Corporate / Government bodies (UGC/AICTE) - To detail L&T's EdTech Offerings
 Lead the development of country-level forecasts for all Higher Education Courses developed by L&T business
unit heads / marketed products (and pipeline product as relevant) (Operating expense, revenue, Sales plans)
 Assess and recommend opportunities for local lifecycle management of the courses /BU to optimize brand
growth and competitive edge
 Oversee development of business cases for new business opportunities for the BU 1 2
Head - Higher Education (Alliances), 02/2019 to 03/2020 - Times Professional Learning – Chennai, India
 Partner with premier educational institutes and employers to create strong outcome-based learning aligned
with employer needs
 Lead to deployment of the World's First-ever Distributed MBA in Finance & Accounts, and Media &
Entertainment
 Devised SWOT analysis to create and execute business plan supporting achievement of established markets.
 Established relationships with key decision-makers within customer's organization to promote growth and
retention
 Represented company and promoted products at NIRF institutions in India & Corporate and government
institution
 Collaborated with functional teams to develop new strategies to capitalize on emerging customer and market
trends.
Director, 10/2014 to 12/2018 - I Curve Learning – Chennai, India
 Identified and developed new business opportunities in B2I (Business to Institutions) segment along with B2C
& B2B.
 Developed & launched new business models (learning management solutions) across Pan India Universities.
 Directed, monitored and evaluated market research programs for emerging digital platforms, including on-line
programs, Professional courses, CollegeConnect program, etc.
 Worked closely with Content and Digital product development teams to ensure effective integration and
execution of product plans
Assistant Vice President – Higher Education, 06/2001 to 08/2014 – PEARSON – Delhi / Bangalore / Chennai /
Hyderabad, India
 P&L head for the Higher Education & Online program business. Responsible for driving revenue growth in
Higher Education businesses & Optimization and acceleration of Online Program Management businesses
through application of best practices.
 Introduced Embanet business model in Pearson and worked closely with Vice Chancellors, Syndicate members,
Directors, Deans, Professors of various government & private deemed universities for its adoption
 Developed close relationships with government sectors, state council of higher education, UGC, AICTE bodies
across country. Mentored a team of 10 vertical heads and lead operations across sales and product
development – University Specific Derivative Program, Test Preparation
 Ensured quality and timely commissioning, development and delivery of products by respective teams.
Contributed to development of the company by providing inputs related to technical, market, and customer
preferences in management meetings
 Set a strategic business development plan for India & SAARC nations to target markets and ensure it's in line
with the overall strategic direction
 Set a strategic business development plan for India Higher Education product lines to ensure it's in line with
the overall board's strategic direction
Area Sales Manager, 03/1998 to 05/1998 – McGraw Hill – Hyderabad, India

Set and achieved sales targets for Andhra Pradesh regions. Managed and motivated sales team to
increase revenue.

Conducted regular review meetings to get the maximum market share in the institutional market Led
meeting with professors, Heads of various departments to gain major market share.
EDUCATION
Publishing Strategy Program: Leadership Program, 08/2012
Indian Institute of Management - Ahmadabad
Bachelor of Commerce (B. Com): Commerce, 03/1995
Ramakrishna Mission Vivekananda College - Chennai
ACCOMPLISHMENTS

Connected 500+ institutions (Vice Chancellors, Placement Directors, CEOs, & Decision makers) &
successfully signed partnerships with the leading universities in India in a span of 6 months at L&T EduTech
online programs.

Generated revenues for Pearson Education of INR 200 million via new products developed by the University
Specific Derivative Programs (USDP), and Test preparation business units.

Supervised team of 200+ including Sales, Business development, Technology, Publishing & Editorial
divisions / Delivered consistent growth rate of 40+% at Pearson Education

Resolved Prentice Hall product issue through new product verticals. Achieved results by introducing custom
products for the institutions.