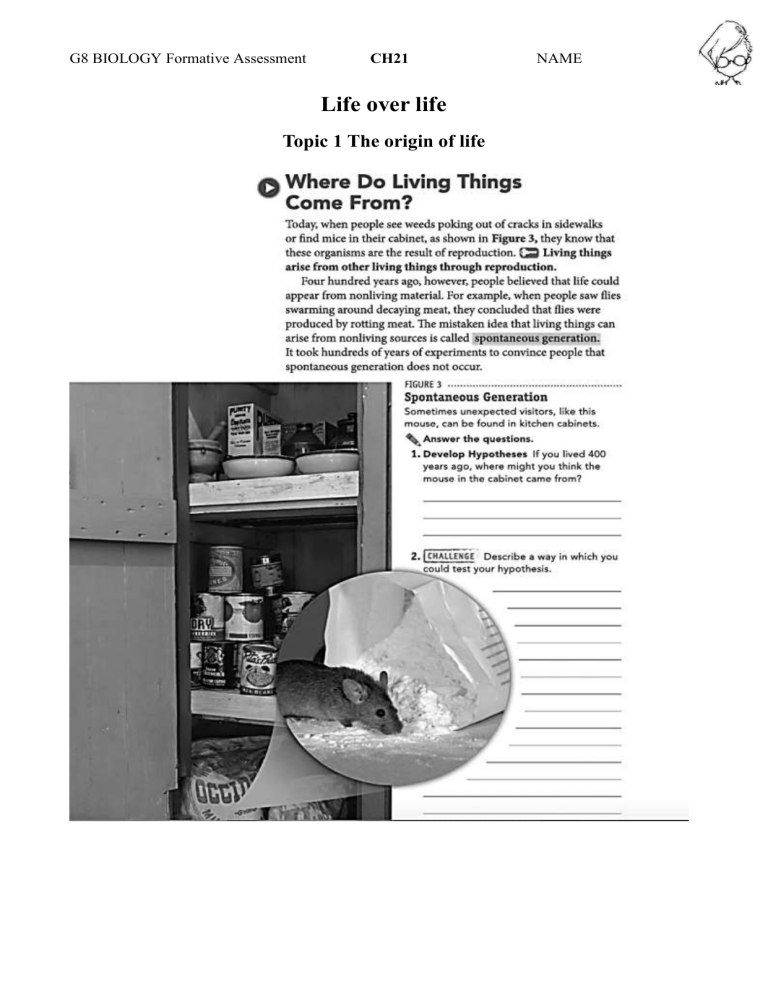 G8 BIOLOGY Formative Assessment
CH21
Life over life
Topic 1 The origin of life
NAME
G8 BIOLOGY Formative Assessment
CH21
NAME
G8 BIOLOGY Formative Assessment
CH21
NAME
G8 BIOLOGY Formative Assessment
CH21
NAME
Key content
Fill in the blanks with the words from the boxes:
Microorganisms
Vital force
s-shaped
Nonliving matter
Organisms
Spontaneously
Broth
Air
Louis Pasteur
Francesco Redi
Biogenesis
Spontaneous generation
Microscope
disproved
Early scientists believed that life arose from (18) ______________________ through a
process they called (19) ______________________. In 1668, the Italian physician (20)
______________________
conducted
an
experiment
with
flies
that
(21)
______________________ this idea. At about the same time, biologists began to use an
important new research tool, the (22) ______________________. They soon discovered
the vast world of (23) ______________________. The number and diversity of these
organisms was so great that scientists were led to believe once again that these
organisms must ave arisen (24) ______________________. By the mid-1800s, however,
(25) ________________ was able to disprove this hypothesis once and for all. He set
up an experiment, using flasks with unique (26) ______________________ necks.
These flasks allowed (27) ____________, but no organisms, to come into contact with
a broth containing nutrients. If some (28) ______________________ existed, as had
been suggested, it would be able to get into the (29) ______________________ through
the open neck of the flask. His experiment proved that organisms arise only from other
(30) ______________________. This idea is called (31) ______________________,
and it is one of the cornerstones of biology today
G8 BIOLOGY Formative Assessment
CH21
NAME
Topic 2 Theory of evolution by nature selection
Vocabulary
Wright down the Chinese /Korean word in the blank, and find the definition for the word
from the sentence below
English Word
Chinese/Korean Word
Definition
1. Spontaneous Generation
2. Biogenesis
3. Controlled Experiment
4. Fossil
5. Geologic Time Scale
6. Precambrian Time
7. Paleozoic Era
8. Mesozoic Era
9. Cenozoic Era
10. Natural Selection
11. Overpopulation/Overproduction
12. Variation
13. Adaptation
A.
B.
C.
D.
E.
F.
G.
H.
I.
J.
K.
L.
M.
Preserved evidence of an organism
The first 4 billion years of the Earth
The theory that states that Living things come from the non-living things
A chart that expresses the Earth's history
A theory of evolution
The second era of phanerozoic eon
The theory that states that living things come from the non-living things.
Individuals with in a species are different.
The first era of phanerozoic eon
A series of experiment that has only one independent variable
The third era of phanerozoic eon
Organisms make more offspring than the environment can support
Individuals with advanced traits that can survive to have offspring.
G8 BIOLOGY Formative Assessment
CH21
NAME
Key content
Charles Darwin proposed the theory of ________________________. According to this
theory, the organisms produce more offspring than that can survive. In his book, Darwin
explained
that
evolution
occurs
by
means
of
natural
selection.
_________________________________ is the process by which individuals that are
better adapted to their environment are more likely to survive and reproduce than other
members of the same species. Darwin identified a number of factors that affect the
process of natural selection: overproduction, competition, and variations.
________________________________ is when most species produce far more
offspring than can possibly survive. In many species, so may offspring are produced
that there are not enough resources like food, water and living space for all of them. For
example, each year a female sea turtle may lay more than one hundred eggs. If all of the
turtles survived, then the ocean would be full of turtles, but this doesn't happen. Why?
Because food and other resources are limited, the offspring must compete with each
other to survive. This is called ___________________. This doesn't usually involve
direct physical fights between members of a species. Some turtles may fail to find
enough to eat, and only a few turtles will survive.
You know that members of your family have different traits. Any difference between
the individuals of the same species is called a ___________________. For example,
some newly hatched sea turtles are able to swim faster than other turtles.
evolution
inheritance
overproduction
genes
competition
Natural selection
mutation
variation
G8 BIOLOGY Formative Assessment
CH21
1. Draw lines to match the terms with their meanings.
2. Look at the drawing below
a What will happen to the population of mice over time?
b Why will this happen?
NAME
G8 BIOLOGY Formative Assessment
CH21
NAME
3. The population of birds in the drawing have lived by a lake for a long time. The birds
cannot fly but wade into the water and pick up small creatures that are buried just
under the bottom of the lake.
During the course of 40 years, the water level in the lake slowly rose.
What inherited variation is shown in the drawing above?
a On the drawing below, draw in how you would expect the inherited variation of
that characteristic to have changed after 50 years.
b How would Darwin explain the evolution of this species at this lake?
G8 BIOLOGY Formative Assessment
CH21
NAME
4. The fossils of the animals that evolved into horses are found in different layers of
rock. The picture shows the fossils of the skulls of the animals that evolved into
modern horses. Different types are found in different layers.
a Which skull belongs to a modern horse?
b The second-oldest type of animal that evolved into a horse was called Mesohippus.
Which skull is from this animal?
c Write down one way in which the skulls changed over the millions of years it took
for the horse to evolve.
G8 BIOLOGY Formative Assessment
CH21
NAME
5. Tiges are adapted to hunting animals such as sambar deer.
Put the letter of the statement below in the boxes on the tiger and sambar deer to
show how they are adapted for survival.
a. Eye on the side of its head so it can see behind
b. Forward -facing eyes to spot prey and judge how far away it is.
c. Powerful legs to help run fast
d. Mele can use antlers for protection
e. Fur colour to match the surroundings for camouflage.
f. Fur pattern to provide camouflage
g. Powerful legs to help run fast
h. Sharp claws to grab prey
i. Large ears to hear danger
j. Large sharp teeth to rip flesh.