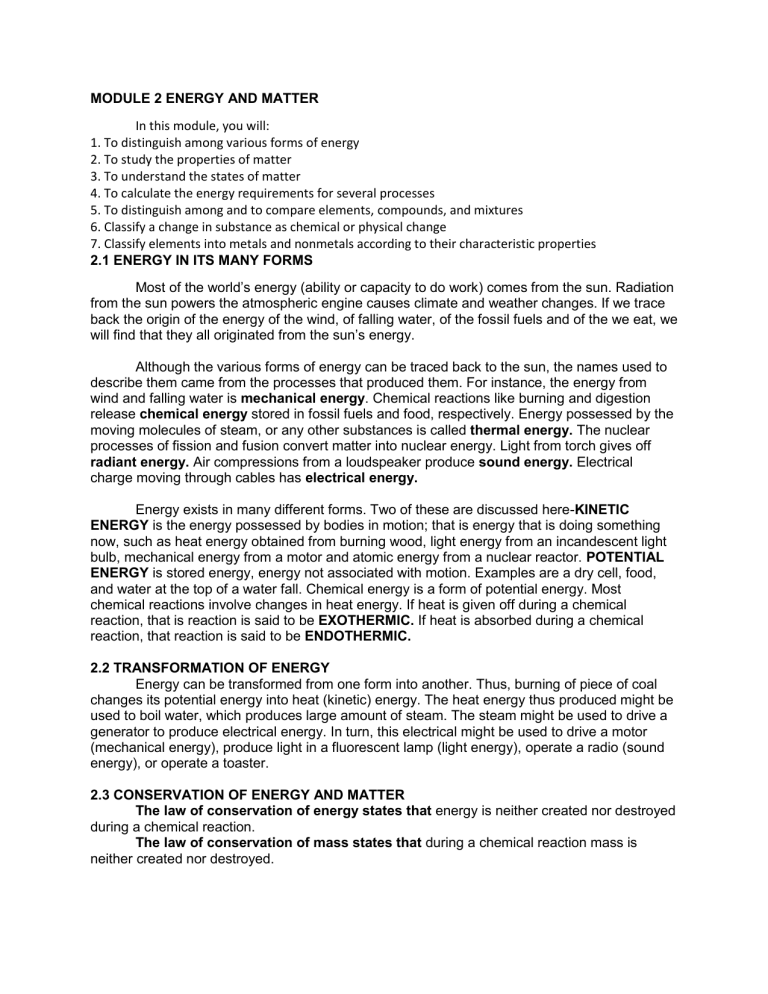 MODULE 2 ENERGY AND MATTER
In this module, you will:
1. To distinguish among various forms of energy
2. To study the properties of matter
3. To understand the states of matter
4. To calculate the energy requirements for several processes
5. To distinguish among and to compare elements, compounds, and mixtures
6. Classify a change in substance as chemical or physical change
7. Classify elements into metals and nonmetals according to their characteristic properties
2.1 ENERGY IN ITS MANY FORMS
Most of the world's energy (ability or capacity to do work) comes from the sun. Radiation
from the sun powers the atmospheric engine causes climate and weather changes. If we trace
back the origin of the energy of the wind, of falling water, of the fossil fuels and of the we eat, we
will find that they all originated from the sun's energy.
Although the various forms of energy can be traced back to the sun, the names used to
describe them came from the processes that produced them. For instance, the energy from
wind and falling water is mechanical energy. Chemical reactions like burning and digestion
release chemical energy stored in fossil fuels and food, respectively. Energy possessed by the
moving molecules of steam, or any other substances is called thermal energy. The nuclear
processes of fission and fusion convert matter into nuclear energy. Light from torch gives off
radiant energy. Air compressions from a loudspeaker produce sound energy. Electrical
charge moving through cables has electrical energy.
Energy exists in many different forms. Two of these are discussed here-KINETIC
ENERGY is the energy possessed by bodies in motion; that is energy that is doing something
now, such as heat energy obtained from burning wood, light energy from an incandescent light
bulb, mechanical energy from a motor and atomic energy from a nuclear reactor. POTENTIAL
ENERGY is stored energy, energy not associated with motion. Examples are a dry cell, food,
and water at the top of a water fall. Chemical energy is a form of potential energy. Most
chemical reactions involve changes in heat energy. If heat is given off during a chemical
reaction, that is reaction is said to be EXOTHERMIC. If heat is absorbed during a chemical
reaction, that reaction is said to be ENDOTHERMIC.
2.2 TRANSFORMATION OF ENERGY
Energy can be transformed from one form into another. Thus, burning of piece of coal
changes its potential energy into heat (kinetic) energy. The heat energy thus produced might be
used to boil water, which produces large amount of steam. The steam might be used to drive a
generator to produce electrical energy. In turn, this electrical might be used to drive a motor
(mechanical energy), produce light in a fluorescent lamp (light energy), operate a radio (sound
energy), or operate a toaster.
2.3 CONSERVATION OF ENERGY AND MATTER
The law of conservation of energy states that energy is neither created nor destroyed
during a chemical reaction.
The law of conservation of mass states that during a chemical reaction mass is
neither created nor destroyed.
2.4 MEASUREMENT OF ENERGY
HEAT is the most commonly form of energy; all other forms of energy can be converted
into heat energy. The unit of heat energy is the calorie (cal), which is defined as the amount of
heat required to raise the temperature of 1 g of water 1 K or oC. The calorie is abbreviated as
cal. It is a rather small unit of heat.
A larger unit of heat, the kilocalorie, is equal to 1000 cal. The kilocalorie is abbreviated
as kcal. The kilocalorie is used when measuring the heat energy of the body and nutritional
values of foods. The kilocalorie is also called a "large Calorie," abbreviated as Cal. The calorie
values of foods are listed in Cal.
Another unit of heat is the joule or J. Calories are used primarily as a unit of
measurement for medical work, whereas joules (kilojoules, kJ) are used in chemical work.
EXERCISE 1.1
1. It takes 2.26 kJ to convert 1.00 g of liquid water into steam. Express this value in kcal.
2. 8.4 x 102 J are required to convert 1.00 g of liquid ethyl alcohol into vapor. Express this value in
calories.
TABLE 2.1 SPECIFIC HEAT
VALUES ( in cal/g oC
GASES
Ammonia
Chlorine
Oxygen
Nitrogen
0.502
0.114
0.219
0.249
LIQUIDS
Alcohol
Chloroform
Ether
Water
0.587
0.231
0.555
1.00
SOLIDS
Aluminum
Calcium
Copper
Iron
0.215
0.156
0.092
0.106
2.5 SPECIFIC HEAT
When heat is added to a substance, its temperature rises; when heat is removed, its
temperature falls. The amount of heat required to raise the temperature of 1 g of a substance 1
K or 1 oC is called the specific heat capacity or the specific heat. From the definition of the
calorie, the specific heat of water is 1 cal/g oC.
The specific heat values of various substances are listed in TABLE 2.1. Note that water
has an abnormally high specific heat value when compared with other substances.
The amount of heat required to change the temperature of a substance is given by the
following formula:
Q = mc ΔT
Where m is the mass in grams, c is the specific heat in cal/goC, and ΔT is the change in
temperature in degrees Celsius.
EXERCISE 2.2
How many calories are required to change the temperature of 1.0 x 102 g of water from 18oC
to 19.5oC?
EXERCISE 2.3
500 calories are added to 100 g of copper at 25oC.
a. What will the final temperature be?
b. If the same amount of heat was added to an equal amount of water, what would be the
final temperature?
2. 4 WHAT IS MATTER?
Matter is anything that has mass and occupies space. It can be classified according to
the following division
:
2.4 MATTER FLOWCHART
A pure substance can either be an element or a compound. An element is a substance
that is composed of only one kind of atom while a compound is composed of two or more
elements chemically combined in definite and constant proportions.
TABLE 2.4
SOME ELEMENTS AND THEIR SYMBOLS
ELEMENT
SYMBOL
ELEMENT
SYMBOL
Aluminum
Argon
Arsenic
Barium
Calcium
Carbon
Chlorine
Chromium
Cobalt
Fluorine
Helium
Hydrogen
Iodine
Lithium
Magnesium
ELEMENT
Antimony
Copper
Gold
Iron
Lead
Mercury
Potassium
Silver
Sodium
Tin
Al
Ar
As
Ba
Ca
C
Cl
Cr
Co
F
He
H
I
Li
Mg
Manganese
Neon
Nitrogen
Oxygen
Phosphorus
Platinum
Radium
Silicon
Strontium
Sulfur
Uranium
Zinc
Mn
Ne
N
O
P[
Pt
Ra
Si
Sr
S
U
Zn
TABLE 2.5
ELEMENTS WITH IRREGULAR SYMBOLS
SYMBOL
ORIGIN
Sb
Cu
Au
Fe
Pb
Hg
K
Ag
Na
Sn
Stibium
Cuprum
Aurum
Ferrum
Plumbum
Hydrargyrum
Kalium
Argentum
Natrium
Stannum
Tungsten
W
Wolfram
Most substances found in nature are generally impure that is, they are part of a mixture. A
mixture is a physical combination of two or more substances in varying proportions. It may
either be homogeneous or heterogeneous. Materials with parts that are composed of different
properties are HETEROGENEOUS MATERIALS. The properties of one part are identical with
the properties of all the other parts. These are HOMOGENEOUS MATERIALS.
Example of heterogeneous
1. Cereal in milk is a great example of a heterogeneous mixture. It consists of a solid cereal in liquid milk.
2. Oil and water form a heterogeneous mixture.
3. Orange juice with pulp is a heterogeneous mixture. The components are unevenly distributed, plus they exist in
two phases. Juice is a liquid and pulp is a solid.
4. Sandy water is a heterogeneous mixture. It consists of two phases that readily separate .
Example of homogeneous
1.Sea water.
2.Wine.
3. Vinegar.
4. Steel.
Substances around us are subject to change. This change can either be physical or
chemical in nature. PHYSICAL CHANGE occurs when no new substance are formed while
CHEMICAL CHANGE is a change in which a new substance with new properties is formed.
TABLE 2.6
SOME PHYSICAL AND CHEMICAL CHANGES
CHEMICAL CHANGE
PHYSICAL CHANGE
Rusting of a nail
Baking a cake
Fermentation of rice washing
Tarnishing of a silver spoon
Dissolving antacid in water
Setting of a jelly
Melting butter
Boiling water
Sawing a board in half
Breaking a glass
2.7 PROPERTIES OF MATTER
One portion of matter can be distinguished from another by means of its properties. These
distinguishing properties of matter can be classified into two main types.
PHYSICAL PROPERTIES
Physical properties are classified into EXTENSIVE AND INTENSIVE PROPERTIES. Properties
that depend on the amount of material like mass, length and volume are called extensive
properties. Intensive properties are properties that depend on the quality of material. Odor,
color, specific gravity, solubility, density, boiling point, melting point, and electrical conductivity
are some examples of intensive properties.
CHEMICAL PROPERTIES
Properties such as reacting (or not reacting) in air, reacting (or not reacting) with an acid or
burning (or not burning) in a flame are chemical properties. Examples of chemical properties
include flammability, toxicity, acidity, reactivity (many types), and heat of combustion.
QUESTIONS AND PROBLEMS
1. A 500 gram cube of lead is heated from 25 °C to 75 °C. How much energy was required to heat the lead? The
specific heat of lead is 0.129 J/g°C.
2. A hot 1 kg chunk of copper is allowed to cool to 100°C. If the copper gave off 231 kJ of energy, what was the initial
temperature of the copper? The specific heat of copper is 0.385 J/g°C.
3. It takes 2.26 kJ to convert 1.00 g of liquid water into steams. Express this value in kcal.