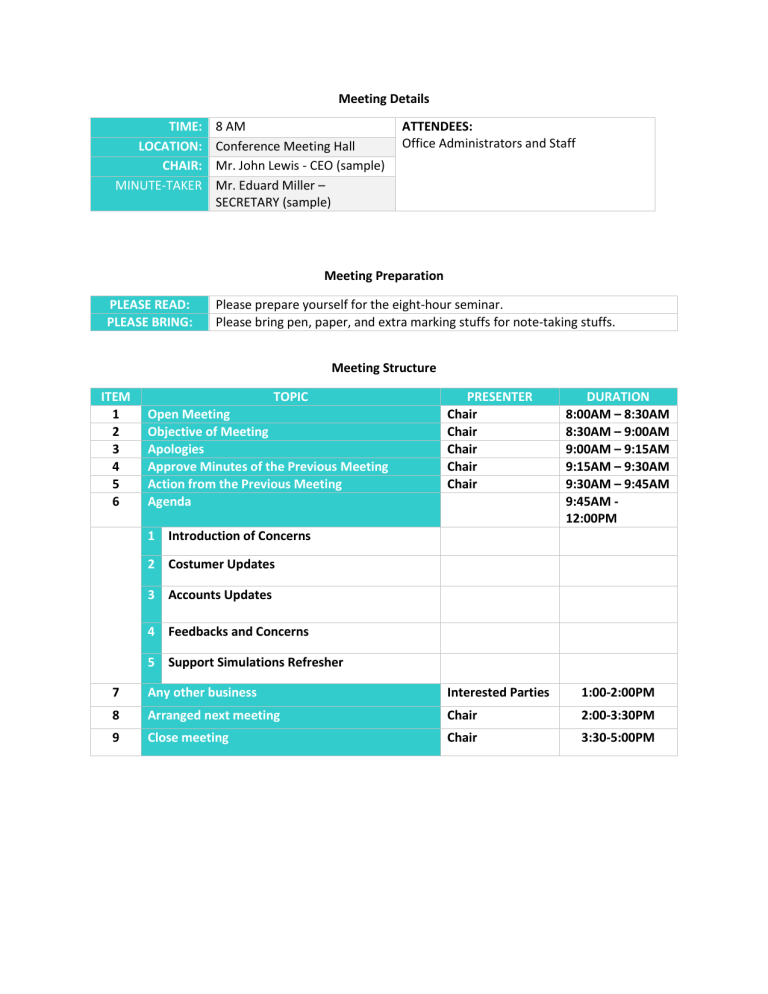 Meeting Details
TIME:
LOCATION:
CHAIR:
MINUTE-TAKER
8 AM
Conference Meeting Hall
Mr. John Lewis - CEO (sample)
Mr. Eduard Miller –
SECRETARY (sample)
ATTENDEES:
Office Administrators and Staff
Meeting Preparation
PLEASE READ:
PLEASE BRING:
Please prepare yourself for the eight-hour seminar.
Please bring pen, paper, and extra marking stuffs for note-taking stuffs.
Meeting Structure
ITEM
1
2
3
4
5
6
TOPIC
Open Meeting
Objective of Meeting
Apologies
Approve Minutes of the Previous Meeting
Action from the Previous Meeting
Agenda
PRESENTER
Chair
Chair
Chair
Chair
Chair
DURATION
8:00AM – 8:30AM
8:30AM – 9:00AM
9:00AM – 9:15AM
9:15AM – 9:30AM
9:30AM – 9:45AM
9:45AM 12:00PM
1 Introduction of Concerns
2 Costumer Updates
3 Accounts Updates
4 Feedbacks and Concerns
5 Support Simulations Refresher
7
Any other business
Interested Parties
1:00-2:00PM
8
Arranged next meeting
Chair
2:00-3:30PM
9
Close meeting
Chair
3:30-5:00PM
Email to Attendees – Meeting 2
To: washingtonarman@email.com, gemma123@gmail.com, emmanford@gmail.com,
andreat12@gmail.com
Cc: foryour.information@andreasom12.com , alsofyi@concerns.com
Bcc: simonbusinesshub@portal.com
Subject: Meeting Invitation
Date email is sent: July 22, 2021
Attachments:
The following are the contents of this email:
 Meeting Details
 Meeting Preparation
 Meeting structure
Please see these bulleted items in the attached files in this email.