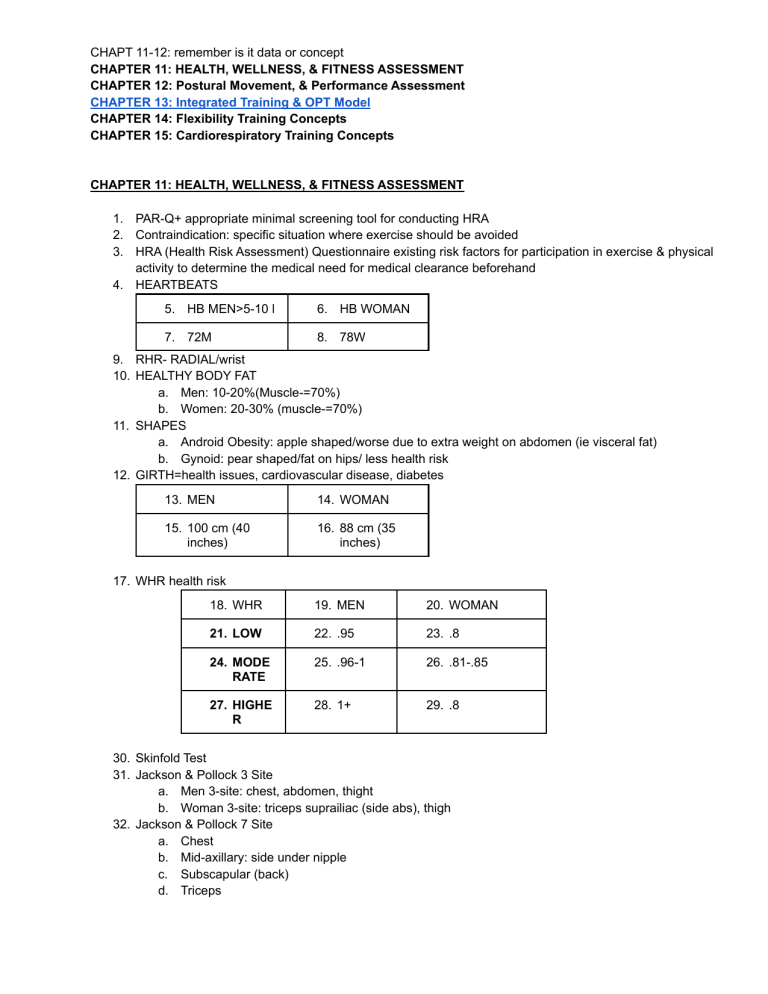 CHAPT 11-12: remember is it data or concept
CHAPTER 11: HEALTH, WELLNESS, & FITNESS ASSESSMENT
CHAPTER 12: Postural Movement, & Performance Assessment
CHAPTER 13: Integrated Training & OPT Model
CHAPTER 14: Flexibility Training Concepts
CHAPTER 15: Cardiorespiratory Training Concepts
CHAPTER 11: HEALTH, WELLNESS, & FITNESS ASSESSMENT
1. PAR-Q+ appropriate minimal screening tool for conducting HRA
2. Contraindication: specific situation where exercise should be avoided
3. HRA (Health Risk Assessment) Questionnaire existing risk factors for participation in exercise & physical
activity to determine the medical need for medical clearance beforehand
4. HEARTBEATS
5. HB MEN>5-10 l
6. HB WOMAN
7. 72M
8. 78W
9. RHR- RADIAL/wrist
10. HEALTHY BODY FAT
a. Men: 10-20%(Muscle-=70%)
b. Women: 20-30% (muscle-=70%)
11. SHAPES
a. Android Obesity: apple shaped/worse due to extra weight on abdomen (ie visceral fat)
b. Gynoid: pear shaped/fat on hips/ less health risk
12. GIRTH=health issues, cardiovascular disease, diabetes
13. MEN
14. WOMAN
15. 100 cm (40
inches)
16. 88 cm (35
inches)
17. WHR health risk
18. WHR
19. MEN
20. WOMAN
21. LOW
22. .95
23. .8
24. MODE
RATE
25. .96-1
26. .81-.85
27. HIGHE
R
28. 1+
29. .8
30. Skinfold Test
31. Jackson & Pollock 3 Site
a. Men 3-site: chest, abdomen, thight
b. Woman 3-site: triceps suprailiac (side abs), thigh
32. Jackson & Pollock 7 Site
a. Chest
b. Mid-axillary: side under nipple
c. Subscapular (back)
d. Triceps
33.
34.
35.
36.
37.
38.
e. Abdomen
f. Suprailiac (side abs)
g. Thigh
Durnin-Womersley 4-Site (M&W)
a. Biceps
b. Triceps
c. subscapular(back)
d. Suprailiac (side abs)
BIA: Bioelectrical Impedance Analysis: body fat test w/currents through muscle, go through muscle = 70%
water so less invasive
Gold standard: hydrostatic (Underwater weighing) va archimedes principle= fat buoyant (float muscle) is
dense
Archimedes Principle= volume of fluid displaced = volume of an object fully immersed in the fluid or
specific fraction of the volume below the surface
VO2max=measurement of aerobic fitness
RPE: Ratings of Perceived Exertion: 1-10 scale, how hard a client feels that they are working
a. 0-no exertion at rest
b. 10- max effort- highest possible
CHAPTER 12: Postural Movement, & Performance Assessment
Posture, muscle imbalances,
TESTS
1. 3 minute YMCA STEP TEST- aerobic test intended for older adults w/out balance/joint issues
a. 96 steps/ minute for 3 minutes
b. 11-13 rating
2. Rockport Walk Test: aerobic. 1 mile walk as fast as possible. NOT 4 FIT CLIENTS
3. 1.5 Mile Run TesT- aerobic 1.5 mile run as fast as possible score time & heart rate, 4 FIT CLIENTS
4. AEROBIC TEST: uses oxygen. Can go for a long time. Easy to Talk
5. ANAEROBIC TEST: no oxygen. Glycogen makes up for lack of oxygen. Can only workout at this rate for
so long. Cannot talk
6. VT1 Ventilatory Threshold Test/Talk Test : measures participants ability to talk & hold convo during activity
at various intensities
a. VT1 : AEROBIC client talking and breathing ⇡, talk ↓
b. VT2: ANAEROBIC TEST client can talk, client is only able to say 2 words between breaths, once
can no longer speak , client reaches VT2
POSTURE
7. Movement Assessment
a. Overhead Squat Assessment
i.
5 Kinetic Chain Checkpoint : measures strength, flexibility, neuro control
b. Single- leg Squat
8. 5 Kinetic Checkpoints
a. Feet
b. Knees
c. Hips: LPHC- Lumbo Pelvic Hip Complex
d. Shoulders
e. Head
i.
Poor
1. Feet: Poor posture ( externally rotated )
2. Knees: adducted & rotated inward
3. Lumbo-pelvic hip complex
4. shoulders : rounded and/or elevated (caused by
5. Cervical spine
1. 3-Distortion Patterns Muscle imbalance
a. Pes Planus Distortion: Foot Pronation (Flat Feet) & Adducted/Internally Rotated Knees: roll out
hip flexors
b. Lordosis: Lower Cross Syndrome: Anterior Pelvic Tilt (Heels Arch)
○ OA:
■ Gastrocnemius
■ Soleus
■ Adductors
■ Tension fascia
■ Hip flexor complex
■ Biceps femoris
○ Kyphosis: Upper Cross: Head/Shoulder Rounded
■ OA:
● Traps
● Lev Scap
● Sternocleidomastoid
● Scalenes
● Lats Dorsi
● Teres major
● Subscap
● Pectoralis
●
Valgus vs Vagus
○ Valgus- Knee Valgus, knee Falls in during OHS
■ Caused by decrease hip abductor & external rotation strength
■ INCREASE hip adductor activity & ankle dorsiflexion
○ Varus-elbow/tense ligament
PERFORMANCE TEST: Rest 2 minutes between trials
○ Push up -endurance
○ Bench-upper body strength
○ Squat-lower body strength
○ Vertical Jump-lower body vertical power
○ Broad jump- lower body horizontal power
○ LEFT test -lower body lateral speed & agility
■ 10-yards apart, stand in middle cone
■ Stand in ready position by middle cone
● 1-2, 2-3, 3-1 & ends when client passes middle cone
○ 40 year old dash -speed
○ Pro Shuttle 5-10-5 test -acceleration & deceleration
○ Considerations for special populations:
■ overweight (no single leg squat & modify OHS)
■ Young: endurance> strength, keep it fun!
■ Older: skip single leg, modify OHS, keep standing (don't go on the ground)
■ Prenatal: Modify OHS: skip single leg, standing only
OVERACTIVE/SHORTENED/TIGHT/
STRONG MUSCLE
UNDERACTIVE/WEAK/STRETCHED
●
●
●
●
●
●
●
●
●
●
●
●
●
●
●
●
●
Gastrocnemius
Solues (inner)
Adductors
Hamstring complex
Psoas
Tensor fascia latae
Rectus femoris
Piriformis (bottom booty)
Quad lumborum
Erector spinae
Pectoralis major/minor
Lat dorsi (lower back)
Teres major (bottom scap)
Upper trap
Levator scap
Sternocleidomastoid
scalenes
●
●
●
●
●
●
●
●
●
●
●
●
●
●
Anterior tibialis
Posterior tibialis
Vastus medialis oblique (VMO)
Gluteus max/ medius
Transverse Abdominis
Internal Oblique
Multifidus (spine)
Serratus Anterior (side hold for plank)
Middle/lower trap (diamond)
Rhomboids (below traps)
Teres minor (bottom scap)
Infraspinatus (over scap)
Posterior deltoid
Deep cervical flexors (neck)
QUESTIONS
1. OHSQ: clients knees buckle inward (knee valgus), which need to be strengthened? Gluteus Medius
2. What muscles are most likely tight if a client demonstrates an arching low back during OHS? Hip flexors
3. What muscles are most likely overactive & should be stretched when an athlete exhibits forward lean?
a. Soleus, gastrocnemius, hip flexor complex, abdominal complex
4. Clients' knees cave in during OHSA- overactive? Adductors complex
5. Client has pea planus (flat feet) distortion syndrome, which should be foam rolled? Hip flexor
6. Avoid if Pregnant? Single leg squat
7. Which arteries s most common for personal trainers to use? Radial nerve (upper arm)
8. Which of the following is systolic? 140
9. Undesirable body fat percentage in males? 21%
10. Contraindication during health risk assessment?
a. Client has experienced angina (pain chest- slow down of blood supply to heart)
CHAPTER 13: integrated program design & OPT MODEL 3 levels, 5 phases
SUPER Sets & Movement Patterns
●
1.
2.
SALLY STARTS HEAVY MAXIMAL PERFORMANCE TRAINING
So you know
○
psychological relief: mood
○
Body comp benefits
○
Training All planes based on results
○
Flexibility, Cardiorespiratory Training, Core, Balance, Plyometric/Reactive, Speed Agility, Resistance
SUPERSETS: Phase 2 & 5: Alternating Sets of Strength on Stable, Lower Intensity on less stable
OPT
3. LEVELS
a. STAB: sagittal plane movements, proprioceptive
i.
1-2 sets, 2-3 reps, 0-60 sec rest
ii.
Cone shuffles, agility ladder drills
b. STRENGTH: frontal plane, load & volume
i.
3-4 sets, 3- 5 reps, 0-60 sec rest,
ii.
box drill & 5-10-5 FT drill
c. POWER: all planes of motion + max effort, speed & movement
i.
3-5 sets, 3-5 reps, 0-90 sec rest time
ii.
Modified box drill & partner mirror drill
4. Repetition A/B/C or 1/2/3 format
a. A= Eccentric Phase of Motion= push down
b. B=Isometric Phase of Motion= hold
c. C=Concentric Phase of Motion= push up
d. Example: BenchPress
i.
3 sec ECCENTRIC bar in
ii.
2 sec ISO Hold
iii.
1 sec CONCENTRIC push barbell
e. Acute variables
i.
Sets
ii.
Reps
iii.
Tempo
iv.
Rest
v.
Intensity
vi.
Frequency
vii.
Core Training
5. OPT
a. Phase 1: stabilization endurance: familiarity w/ movements
b. Phase 2: strength & endurance: strength of prime movers
c. Phase 3: hypertrophy: muscle development
d. Phase 4: maximal strength:training phase
e. Phase 5: power (higher weights, lower reps) : power training phase
6.
a. Phases
i.
Phase 1: STAB Endurance: Proprioception Bosu ball, wobble board, balance disc, foam
roller, foam pad
1. Sets: 1-3 sets
2. Reps: 12-20
3. Tempo:4-2-1-1 tempo
4. Rest: 0-90 sec
ii.
iii.
iv.
v.
5. Intensity: 50-70% intensity
6. Frequency: 4-6 weeks
7. Core Training: correcting muscular imbalances, strengthen ligaments & tendons,
proprioception
Phase 2: STRENGTH ENDURANCE
1. SUPERSETS:strength > stability
a. Bench press> push up
b. Squats>step up
c. Pull up >single arm cable row
d. Military press> scapation
2. Set-s
3. Reps4. Tempo5. Rest6. Intensity7. Frequency8. Core TrainingPhase 3 HYPERTROPHY/MUSCL DEV
1. Sets- 3-6
2. Reps: 2-0-2-0 temp
3. Tempo: 0-60
4. Rest:Horizontal Loading
5. Intensity: 75-85%
6. Frequency7. Core Training-hypertrophy
Phase 4: MAX STRENGTH
1. Sets 3-5 sets
2. Reps3. Tempo: X-X-X-X
4. Rest: 3-5 min
5. Intensity 85-100%
6. Frequency7. Core TrainingPhase 5: POWER
1. HORIZONTAL LOADING abcabcabc
2. SUPERSETS:STRENGTH (1-5 reps Heavy)>Power (1-10 reps explosive)
a. Bench press 2 plymoetric push-up
b. Pull up into ball slams
c. Squats into jumps
3. Reps-1-5 reps heavy weight
4. Tempo- X-X-X-X temp
5. Rest 3-5 min
6. Intensity 85-100% heavy, 30-45% explosive
7. Frequency
8. Core Training
b.
c. Understand how
ADAPT
P1: Stabilization
P2: Strength
P3: Hypertrophy
P4:Maxi
Strength
P5: Power Training
reps
12-20
8-12
6-12
1-5
1-10
sets
1-3
2-4
3-5
4-6
3-6
tempo
4/2/1 slow
2/0/2
2/0/2
x/x/x
x/x/x
rest
0-90
0-60
0-60
3-5
3-5 mins
intensity
5--50%
70-80%
75-85% of one rep
85%-100%
10% BW
frequency
2-4 /week
2-4/week
4 weeks
2-4 times/week
2-4 times/week
duration
4-6 weeks
4 weeks
4 weeks
4 weeks
4 weeks
core
training
4/2/1
Medium
Medium
1/1/1
x/x/x
QUESTIONS
1. Most common plan of motion that people tend to train in? Sagittal
2. Which of the following is the main purpose of phase 1? stabilization
3. What is the example of a super set?