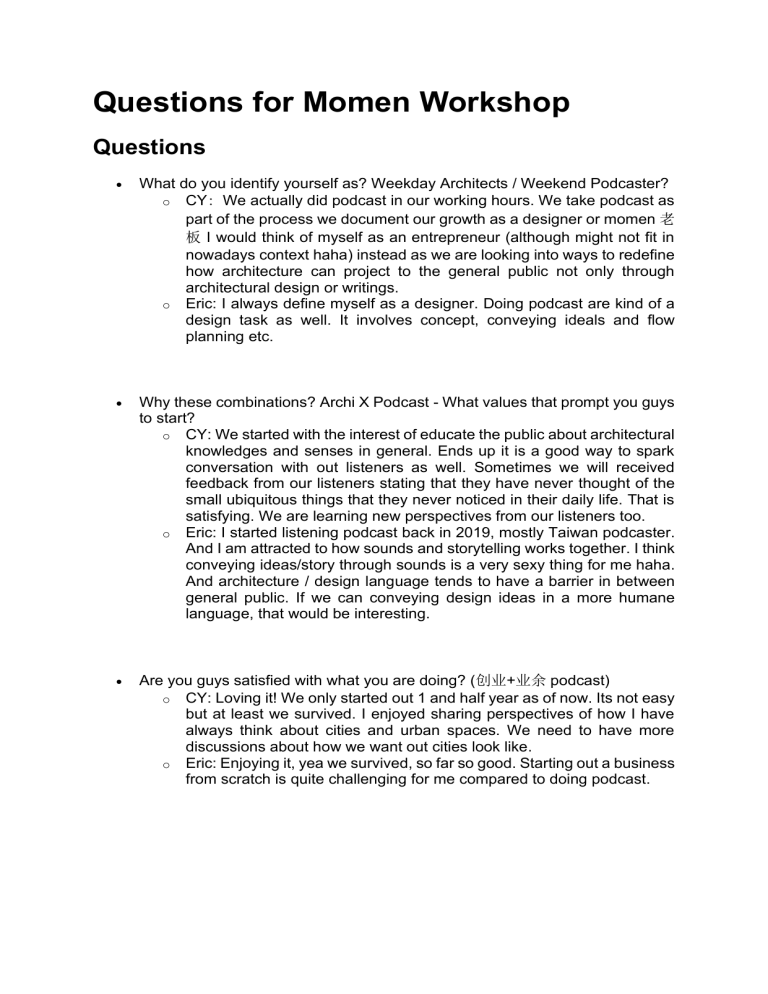 Questions for Momen Workshop
Questions
•
What do you identify yourself as? Weekday Architects / Weekend Podcaster?
o CY: We actually did podcast in our working hours. We take podcast as
part of the process we document our growth as a designer or momen 老
板 I would think of myself as an entrepreneur (although might not fit in
nowadays context haha) instead as we are looking into ways to redefine
how architecture can project to the general public not only through
architectural design or writings.
o Eric: I always define myself as a designer. Doing podcast are kind of a
design task as well. It involves concept, conveying ideals and flow
planning etc.
•
Why these combinations? Archi X Podcast - What values that prompt you guys
to start?
o CY: We started with the interest of educate the public about architectural
knowledges and senses in general. Ends up it is a good way to spark
conversation with out listeners as well. Sometimes we will received
feedback from our listeners stating that they have never thought of the
small ubiquitous things that they never noticed in their daily life. That is
satisfying. We are learning new perspectives from our listeners too.
o Eric: I started listening podcast back in 2019, mostly Taiwan podcaster.
And I am attracted to how sounds and storytelling works together. I think
conveying ideas/story through sounds is a very sexy thing for me haha.
And architecture / design language tends to have a barrier in between
general public. If we can conveying design ideas in a more humane
language, that would be interesting.
•
Are you guys satisfied with what you are doing? (创业+业余 podcast)
o CY: Loving it! We only started out 1 and half year as of now. Its not easy
but at least we survived. I enjoyed sharing perspectives of how I have
always think about cities and urban spaces. We need to have more
discussions about how we want out cities look like.
o Eric: Enjoying it, yea we survived, so far so good. Starting out a business
from scratch is quite challenging for me compared to doing podcast.
•
What is momen? Concept of momen
o CY: The term moment actually coined by Eric during one phone call
when we are still in our Masters.
o Eric: I was inspired by a drawings class during my master course –
Architecture moment drawings. My lectures trained us to observe daily
moment that happened in architecture, for example how the building
overhang extended to capture the rain, so you can sit on your balcony
to enjoy a rainy evening; how's restaurant windows position to your
dining table height so the pedestrian can have a glance of what's the
restaurant serving today. Pretty much Edward hopper and David
Hockney stuff. Good design should be able to capture daily moment.
o CY: I have always in small details in architecture. Not just the
construction of things but also how sunlight shines while you have your
dinner at the dinner hall, how low the drop is when u get into the toilets.
And I think these are the things that define the idea of Moment. We are
just being more local sikit getting rid of the "t" in Moment haha.
•
Podcast is not easy as you need to allocate time for it, it must have its
importance/value then? What motivate you guys to do this?
o CY: we are pretty much inspired by the uptrend of podcaster in Taiwan
to start with. Eric yang Ajak.
o Eric: We talked a lot. From foundation year in university until now we are
still talking about idea, nonsense, joke etc. Then podcasting came into
our mind, why don't we just record our daily conversation?
•
What is the values you guys want to convey in both architecture and podcast?
o CY: Pay attention to your surrounding. General public often doesn't
aware that they have a choice to make a different in their life. It is not
just about scrolling what you like on xiaohongshu, but how you actually
lived. I think we really want to inspire people to pay more attention of
how they lived and actually wanted to live better. Pretty marble wouldn't
make your life better. It is when your TV height is ngam ngam comfortale
to watch when you lay down on the sofa after a long day work.
o Eric: Human level design and communication. Most of the time we value
design as a prestige stuff. Is not like you must live on Bangsar to enjoy
good design. Good design could be anywhere, kopi maker in kopitiam
where they use boiling water to keep coffee hot is as smart as espresso
machine in a café. In podcast we try to make design languages more
understandable, and emphasise the importance of good design in daily
life.
•
Will you guys constantly compare yourself with people around you?
o CY: Errr I don't really do but I do appreciate learning from our peers who
running their own practice too!
o Eric: There are lots of noise out there, people told you how quick they
earn their 1st million, how many properties they own etc. Its unavoidable
to receive these information, but it all boil down to who you really wanted
to be actually. If you want to be millionaire then go for it, if you want to
be a best-known chef in the town then you work for it. Most important is
to be honest to yourself
•
What do you need to sacrifice for this kind of lifestyle?
o CY: Family
o Eric: Family too. Especially for from home haha. But in return also there
are more flexible to arrange time to gather with family.
•
How do you sustain your hobby and value?
o CY: Our worktime are usally 9-5 almost strictly. We don't really OT
unless needed to. If we wanted to be different from the system, we really
need to spend more time do things that aren't just on paper. We need to
actually lived and experience!
o Eric: I would said hobby is a must, regardless you're working for an
employer or start your own business. I am quite lucky I would say,
because I am able to work on realising my value while working, and
enjoy pure joy while doing hobby stuff.
•
Task required to balance the both? Scripting, Recording, Invite Guests/
Designing, Drawings, Site Visit, Meeting Client
o CY: I usually do the scheduling and I'll brief Eric what to do on coming
week or the month. Im quite a geek when comes to planning. I like
organizing datas, scheduling etc hahaha
o Eric: I am a messy guy haha. Usually CY will throw me bunch of
information, then I will just do whatever is urgent 1st. Killing it one by one.
Podcasting time happened quite spontaneous actually.
•
How do you manage your time?
o CY: Just fill them up!
o ERIC: I don't hahaha. But what I am learning is not to do multitasking. I
am weak in focus, and multitasking kill a lot of my time. Just do one thing
at once.
•
How is this working combination contribute to your view on financial stability?
o CY: we are always pushing toward monetisation on what we are enjoyed
doing. Podcasting might not able to contribute to our financials but I think
it is a good way for us to sharpen our vision toward architectural design
and also the world.
o Eric: I think it push me to a reality where I need to properly work out a
personal financial plan. I exposed to lots of financial knowledge from
podcast listening to podcast too. Start to invest early as I would say.
Invest in yourself 1st, then financial product – stock, bond etc
•
How is your working mode as partner?
o CY: In term of projects, we handle our own projects but we backup each
other when necessary. However, I'll oversee project scheduling and Eric
take charge of the Design outcomes. He is the design director of this
company haha.
o Eric: Backing up each other, but you must know what's your role in this
company. For me, trusting your partner / employee is the key things. If
we all agree this person would responsible for this or that, then just let
them do their best. Ask necessary question but don't micro manage
people.
•
How do you guys see yourself in 10 years? What is your vision? Where do you
see this podcast/archi going?
o I do hope we can change the landscape of not only house internally but
also the general communal experiences as well. We are keen to improve
the general livelihood of how a Taman living can be! So both podcast
and our design consultancy service will move toward this direction in
future years!
o Eric: I do hope more people will appreciated and understand how good
design will make their life a little bit better. Hopefully our podcast will
teman people through hard time, fill up their boredom, and maybe get a
little inspiration from our content hahaha
Great Points to be Highlighted
•
•
•
•
•
•
human level design
design for moment, detailing, instead of extravangent design
do we really need community design?
architecture is romanticized
architecture should be understood by aunties uncles
etc...