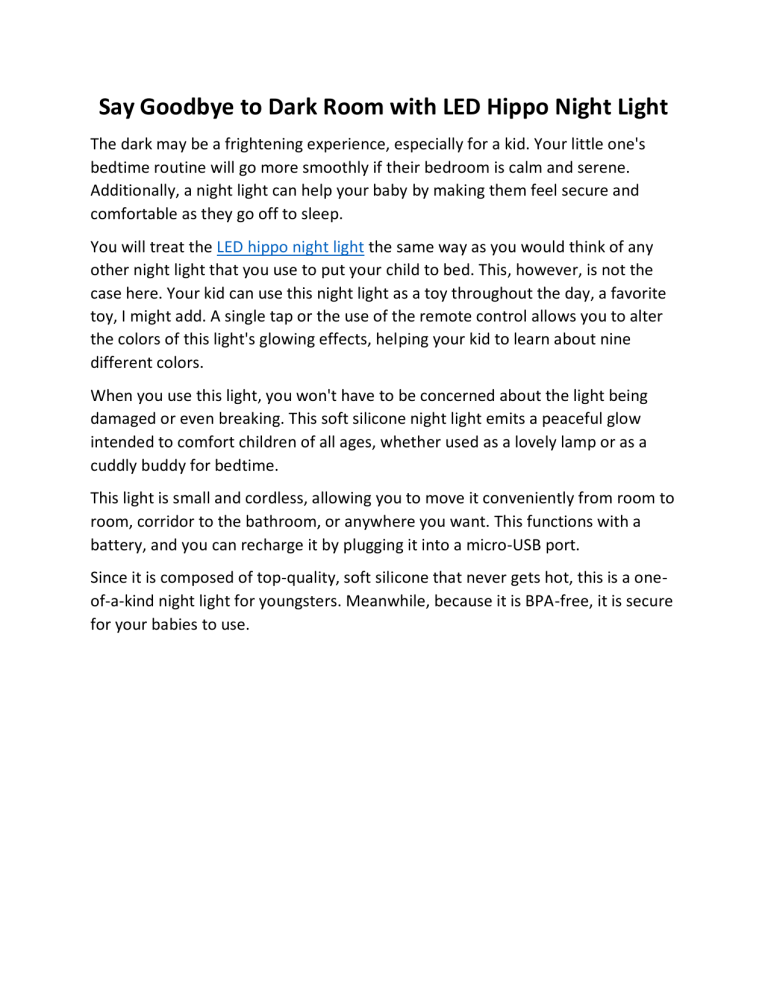 Say Goodbye to Dark Room with LED Hippo Night Light
The dark may be a frightening experience, especially for a kid. Your little one's
bedtime routine will go more smoothly if their bedroom is calm and serene.
Additionally, a night light can help your baby by making them feel secure and
comfortable as they go off to sleep.
You will treat the LED hippo night light the same way as you would think of any
other night light that you use to put your child to bed. This, however, is not the
case here. Your kid can use this night light as a toy throughout the day, a favorite
toy, I might add. A single tap or the use of the remote control allows you to alter
the colors of this light's glowing effects, helping your kid to learn about nine
different colors.
When you use this light, you won't have to be concerned about the light being
damaged or even breaking. This soft silicone night light emits a peaceful glow
intended to comfort children of all ages, whether used as a lovely lamp or as a
cuddly buddy for bedtime.
This light is small and cordless, allowing you to move it conveniently from room to
room, corridor to the bathroom, or anywhere you want. This functions with a
battery, and you can recharge it by plugging it into a micro-USB port.
Since it is composed of top-quality, soft silicone that never gets hot, this is a oneof-a-kind night light for youngsters. Meanwhile, because it is BPA-free, it is secure
for your babies to use.