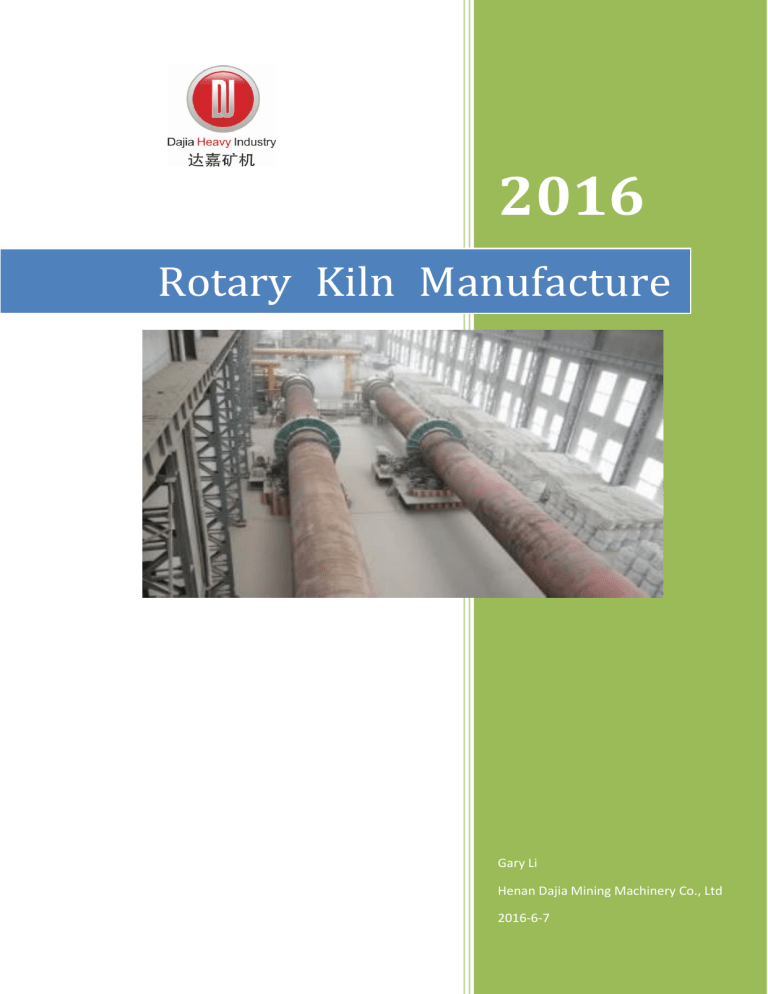 2016
Rotary Kiln Manufacture
Gary Li
Henan Dajia Mining Machinery Co., Ltd
2016-6-7
About us
Henan Dajia Mining Machinery Co., Ltd provides comprehensive field services, and extensive on-site analysis to assist
plants with achieving their goals. We specialize in design produce and install whole rotary kiln projects, offering technical
operational support in areas, which include kilns, burners, conveyor, coolers and other related areas. We offer training
programs, and innovative solutions to assist your plant in reaching its full potential.
General Service & working scope:
- Rotary kiln tire and supporter roller resurfacing (grinding)
- Rotary kiln inspection measurments
- Hot kiln alignment
- Rotary kiln maintenance
- Rotary kiln design-production and installation
- Trunnions, Rollers, and Kiln Tyres
Rotary Kiln Application
Rotary kiln is a rotating cylindrical vessel which is used for drying, calcination and sintering in a continuous process with
the use of hot gases. The hot gases may be generated in an external furnace or by a flame inside the kiln. Dajia rotary kiln
and sponge iron rotary kiln has been developed for performing drying, calcination and sintering work in a continuous
process. Widely used for cement, pet coke calcination, dolomite, bauxite, sponge iron and other materials, it uses hot gases
for the operation. Integrated with variable speed drive, process automation and instrumentation, this kiln ensures optimum
operational control. In addition to technology, its design features better inlet and outlet sealing to ensure minimum false air
entry.
Calcination Materials
Cement
Aluminate Cement
Limestone & Lime sludge
Pet coke Calcination
Minerals i.e. Bauxite and Iron Ore
Sponge Iron
Dolomite
Kaolin
Mica
LECA
Bauxite
Oil Proppant
Other materials
Specifications
Diameter: 1000mm to 4500mm
Length: 12000mm to 130 000mm
Methods of heating: Direct or indirect
Capacity: 200kg/h to 210t/h
Fuel: coal, natural gas, heavy oil, etc
Temp range: 900- 1400°C
Material: Carbon steel, Stainless steel, etc
Thickness: 12mm to 100mm
Structure Feature
Kiln shell degree of natural deflection and rotation angle of kiln supports are carefully designed, which extends the service
life of refractory lining
Kiln support rollers are equipped with floating roller bearings with large diameter and small L/D for higher reliability
Rotary kiln seals to the kiln inlet, which serve as an insulation layer and increase service life.
.
Support roller
In order to ensure uniform use of the contact surfaces between tyres and supporting rollers, as well as the girth gear and
pinion, the axial motion of the rotary kiln is controlled. The support roller mechanism counteracts the forces which are
generated by the slope of the kiln. It operates automatically and is controlled by non-contact.
Kiln Tyre
The purpose of tyres (often called riding rings) and rollers
is to support the kiln and allow it to rotate with minimal
friction. Rotary kilns are among the largest items of
permanently moving industrial machinery, the largest
examples weighing in their fully-loaded form several
thousand tonnes. Despite the challenges of their size and
their high temperature, the best examples of rotary kiln
rotate on their rollers almost frictionlessly, the power
supplied by the drive being almost entirely in order to
oppose the eccentric load of the contents of the kiln. On
cutting the power to a kiln, the kiln will "roll back" and
unless a brake is applied, will continue to swing like a
pendulum for ten or fifteen minutes before coming to a
standstill. This finely-tuned mechanical condition requires
sophisticated design of the kiln's supports.
Advantages of Roller Kiln
The unique structure design of splined tyre and shell shim plate guarantees the 100% synchronous operation of shell and
tyre; it can also transform the radial force along shell to the tangential. In this way, the deformation of shell could be
effectively restricted and the service life of refractory brick is prolonged.
Self-alignment kiln support guarantees the 100% contact of support roller and tyre and high transmission efficiency, so as to
prolong the service life of cast and forge parts.
Kiln drive via support rollers is characterized by compact layout, stable operation, reliable performance and low
maintenance.
Kiln Ring Gear
Ring Gears are also known as starter ring and comprises medium
carbon steel ring with teeth which comes fitted on periphery of
flywheel of internal combustion engine generally in automotive
applications. With the teeth driven by smaller gear (pinion) of starter
motor, its primary use is in transferring torque from starter motor
pinion to flywheel/flexplate for engine rotation.
Kiln Inlet Seal
Kiln inlet seal will be of friction type ring. Two nos. rings, carrying wear shoe segments on face, with one ring being
rotating with Kiln, slide on face to face. The wear shoes are lubricated by high temperature grease. The sliding ring have
pneumatic cylinders, distributed equally on the periphery, which always keep both the shoe rings of primary seal in contact,
even during and upward-downward movement.
Kiln Discharge Seal
Discharge end seal is made up of radially placed overlapping segmented graphite blocks. This allows movement of shell in
radial and axial direction while effectively sealing.
Various Rotary Kiln
Loading Machinery for Clients
Turnkey Plants
Cement Project
Mineral Processing Plant
Light Weight Expanded Clay Aggregate Plant
Petro-coke Calcination Plant
Sponge Iron Plant
Lime Plants
Oil Proppant Calcination Plants
Bauxite Calcination Plants
Contract / Outsource Manufacturing
……..
Henan Dajia Mining Machinery Co., Ltd
Tel: +86-371-67575157
Fax: +86-371-67571922
Mob: +86-15617816797
Mail: sell@chinadjks.com
Web: www.dajia-engineering.com
Add: 500m West, crossroad of Rizhao and
Industrial Road, Zhengzhou city, China.