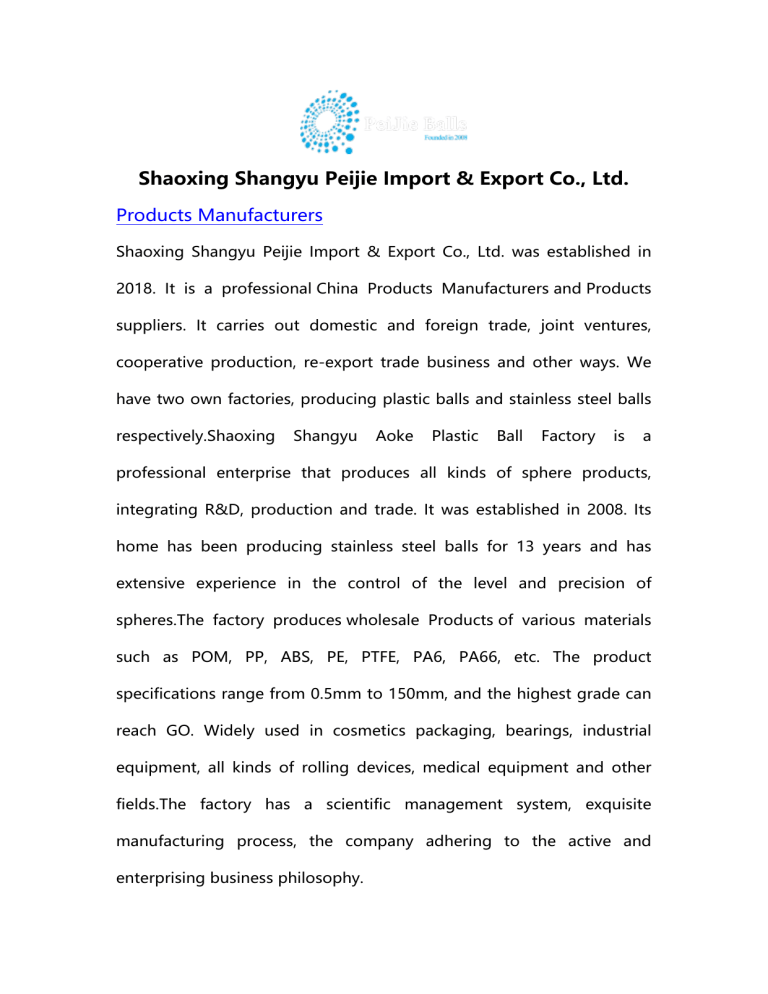 Shaoxing Shangyu Peijie Import & Export Co., Ltd.
Products Manufacturers
Shaoxing Shangyu Peijie Import & Export Co., Ltd. was established in
2018. It is a professional China Products Manufacturers and Products
suppliers. It carries out domestic and foreign trade, joint ventures,
cooperative production, re-export trade business and other ways. We
have two own factories, producing plastic balls and stainless steel balls
respectively.Shaoxing
Shangyu
Aoke
Plastic
Ball
Factory
is
a
professional enterprise that produces all kinds of sphere products,
integrating R&D, production and trade. It was established in 2008. Its
home has been producing stainless steel balls for 13 years and has
extensive experience in the control of the level and precision of
spheres.The factory produces wholesale Products of various materials
such as POM, PP, ABS, PE, PTFE, PA6, PA66, etc. The product
specifications range from 0.5mm to 150mm, and the highest grade can
reach GO. Widely used in cosmetics packaging, bearings, industrial
equipment, all kinds of rolling devices, medical equipment and other
fields.The factory has a scientific management system, exquisite
manufacturing process, the company adhering to the active and
enterprising business philosophy.
Round Low Friction PP Hollow Ball
Product Details
A large number of custom-made ball PP environmental protection
hollow balls for use on ball bottles
Material:PP hollow ball
Specification: Φ 10mm-60mm
(other
specifications
customized)
application:Ball bottle, liquid cover, sealing ball, float ball
can
also
be
Contact Us
ADD:No.1589 Renmin West Road Shangyu Shaoxing.
Phone:0086 188 5753 9999
Tel:0086 575 8267 9008
WeChat:188 5753 9999
Fax:0086 575 8928 7635
E-mail:yanke@263.net
Web:https://www.peijieballs.com/
As
a
famous China
Round
Low
Friction
PP
Hollow
Ball
Suppliers and Round Low Friction PP Hollow Ball Factory,Shaoxing
Shangyu Peijie Import & Export Co., Ltd offer kinds of Round Low
Friction PP Hollow Ball for sale,Our aim is to provide the market and the
customers with customized solutions,Whatever a single product or
complete sets of equipment.For any inquiries from the customers,we
will reply with the most professional and most reasonable price in
time.Welcome !