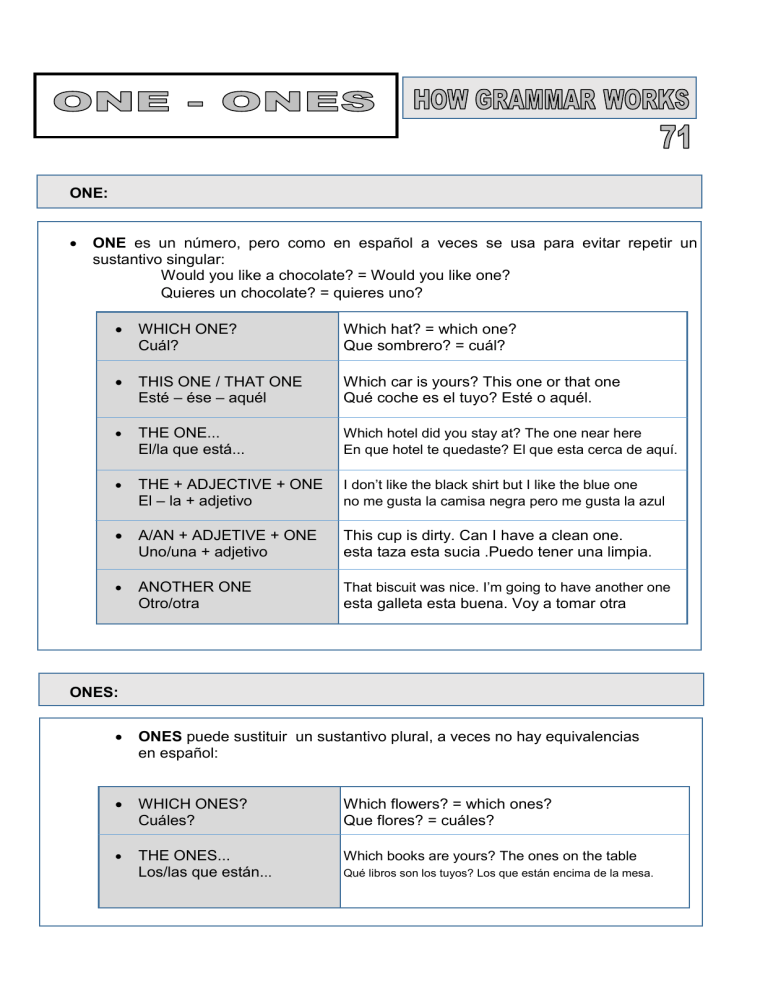 ONE:
•
ONE es un número, pero como en español a veces se usa para evitar repetir un
sustantivo singular:
Would you like a chocolate? = Would you like one?
Quieres un chocolate? = quieres uno?
•
WHICH ONE?
Cuál?
Which hat? = which one?
Que sombrero? = cuál?
•
THIS ONE / THAT ONE
Esté – ése – aquél
Which car is yours? This one or that one
Qué coche es el tuyo? Esté o aquél.
•
THE ONE...
El/la que está...
Which hotel did you stay at? The one near here
En que hotel te quedaste? El que esta cerca de aquí.
•
THE + ADJECTIVE + ONE
El – la + adjetivo
I don't like the black shirt but I like the blue one
no me gusta la camisa negra pero me gusta la azul
•
A/AN + ADJETIVE + ONE
Uno/una + adjetivo
This cup is dirty. Can I have a clean one.
esta taza esta sucia .Puedo tener una limpia.
•
ANOTHER ONE
Otro/otra
That biscuit was nice. I'm going to have another one
esta galleta esta buena. Voy a tomar otra
ONES:
•
ONES puede sustituir un sustantivo plural, a veces no hay equivalencias
en español:
•
WHICH ONES?
Cuáles?
Which flowers? = which ones?
Que flores? = cuáles?
•
THE ONES...
Los/las que están...
Which books are yours? The ones on the table
Qué libros son los tuyos? Los que están encima de la mesa.
•
•
THE + ADJECTIVE + ONES I don't like the black shoes but I like the red ones
los – las + adjetivo
no me gusta los zapatos negra pero me gusta los rojos
•
SOME + ADJETIVE + ONES These cups are dirty. Can I have some clean ones.
Unos/unas + adjetivo
estas tazas estan sucias .Puedo tener unas limpia.
Utilizamos ONE – ONES para no hacer repetición de palabras.
I want a bike – a new green one.
Which biscuits do you like? The chocolate ones.
•
•
Si el sustantivo es Singular entonces tendrás que remplazarlo por ONE.
Si el sustantivo es Plural entonces tendrás que remplazarlo por ONES.
•
No se utiliza ONE – ONES con sustantivos incontables (milk – money...):
I like brown bread but not white.
•
No se puede utilizar un adjetivo a solas con un artículo A – AN este tiene que estar
precedido de ONE – ONES:
Which man is your father? The tall one.
•
En preguntas y respuestas cortas podemos utilizar ONE – ONES para no hacer
redundancia:
Which one? That one. There, near the tree.
•
Podemos utilizar THIS/THAT/THESE/THOSE + ONE/ONES pero no es necesario poner
ONE/ONES:
Which apples do you want? I want these (ones) here.
•
Podemos utilizar Which + (ONE/ONES):
Which (ones) are you going to buy?
•
Podemos utilizar el pronombre ONE cuando queremos decir la gente en general,
incluyéndonos a nosotros mismos. ONE es formal e impersonal. Si utilizamos ONE en
una oración, debemos seguir utilizándolo en el resto de la oración o párrafo.
When one gets home alone late at night, one feels lonely.
One should never forget one's manners.