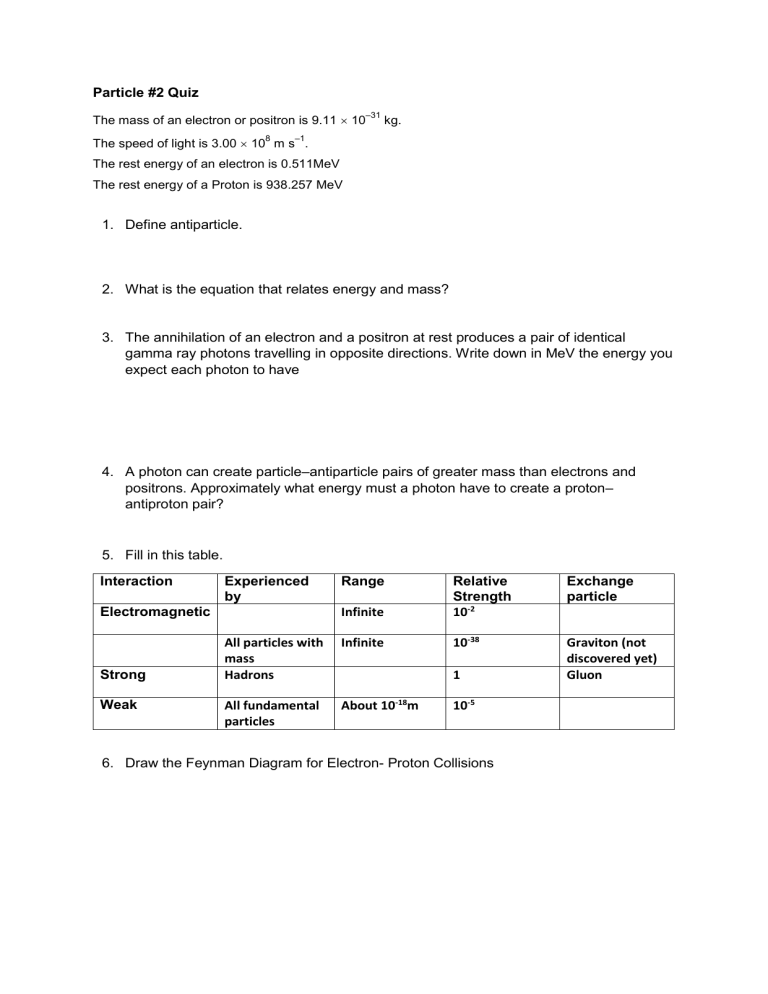 Particle #2 Quiz
–31
The mass of an electron or positron is 9.11  10
8
kg.
–1
The speed of light is 3.00  10 m s .
The rest energy of an electron is 0.511MeV
The rest energy of a Proton is 938.257 MeV
1. Define antiparticle.
2. What is the equation that relates energy and mass?
3. The annihilation of an electron and a positron at rest produces a pair of identical
gamma ray photons travelling in opposite directions. Write down in MeV the energy you
expect each photon to have
4. A photon can create particle–antiparticle pairs of greater mass than electrons and
positrons. Approximately what energy must a photon have to create a proton–
antiproton pair?
5. Fill in this table.
Interaction
Experienced
by
Exchange
particle
Infinite
Relative
Strength
10-2
All particles with
mass
Hadrons
Infinite
10-38
Graviton (not
discovered yet)
Gluon
All fundamental
particles
About 10-18m
Electromagnetic
Strong
Weak
Range
1
10-5
6. Draw the Feynman Diagram for Electron- Proton Collisions
7. Define a fundamental particle
8. Fill in the table with the missing names and symbols
Quarks
charm (c)
top (t)
bottom (b)
Leptons
tau (τ)
tau-neutrino (υτ)
9. What are the different groups of Hadrons?
10. List the quark structure of the following particles
Proton
Antineutron
π+
K°
11. This is an impossible reaction. Show me which conservation rule fails.
n  p + e- + e
12. This reaction is possible. Show me the conservation rules to prove this.
+  + + 
13. Which fundamental force is responsible for this interaction?