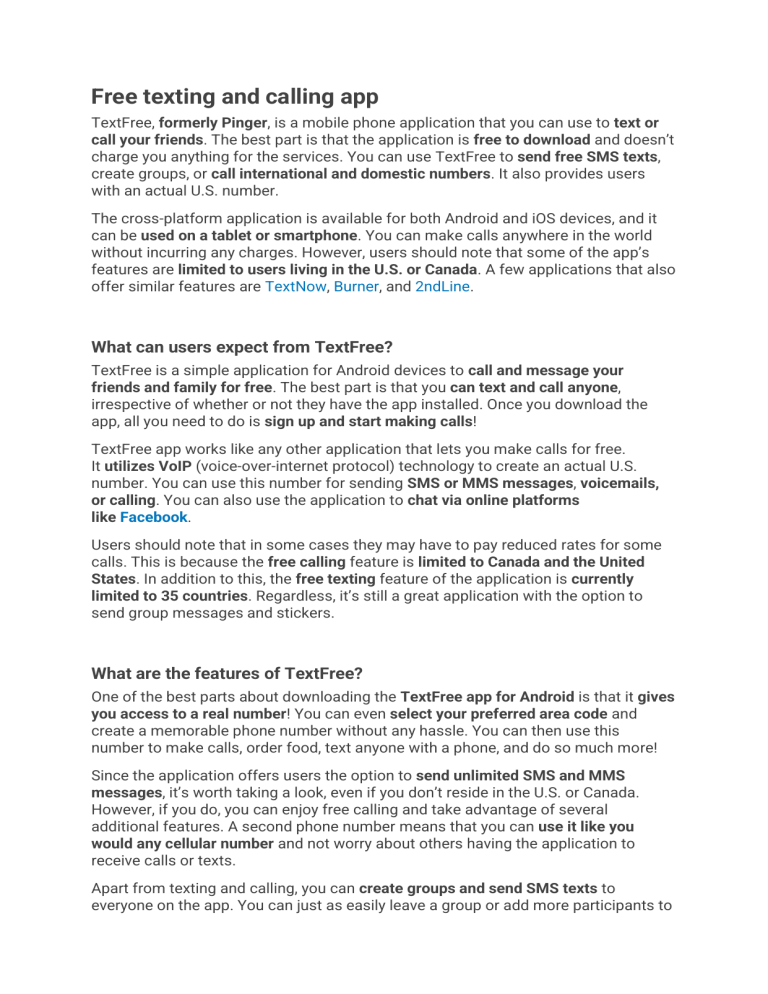 Free texting and calling app
TextFree, formerly Pinger, is a mobile phone application that you can use to text or
call your friends. The best part is that the application is free to download and doesn't
charge you anything for the services. You can use TextFree to send free SMS texts,
create groups, or call international and domestic numbers. It also provides users
with an actual U.S. number.
The cross-platform application is available for both Android and iOS devices, and it
can be used on a tablet or smartphone. You can make calls anywhere in the world
without incurring any charges. However, users should note that some of the app's
features are limited to users living in the U.S. or Canada. A few applications that also
offer similar features are TextNow, Burner, and 2ndLine.
What can users expect from TextFree?
TextFree is a simple application for Android devices to call and message your
friends and family for free. The best part is that you can text and call anyone,
irrespective of whether or not they have the app installed. Once you download the
app, all you need to do is sign up and start making calls!
TextFree app works like any other application that lets you make calls for free.
It utilizes VoIP (voice-over-internet protocol) technology to create an actual U.S.
number. You can use this number for sending SMS or MMS messages, voicemails,
or calling. You can also use the application to chat via online platforms
like Facebook.
Users should note that in some cases they may have to pay reduced rates for some
calls. This is because the free calling feature is limited to Canada and the United
States. In addition to this, the free texting feature of the application is currently
limited to 35 countries. Regardless, it's still a great application with the option to
send group messages and stickers.
What are the features of TextFree?
One of the best parts about downloading the TextFree app for Android is that it gives
you access to a real number! You can even select your preferred area code and
create a memorable phone number without any hassle. You can then use this
number to make calls, order food, text anyone with a phone, and do so much more!
Since the application offers users the option to send unlimited SMS and MMS
messages, it's worth taking a look, even if you don't reside in the U.S. or Canada.
However, if you do, you can enjoy free calling and take advantage of several
additional features. A second phone number means that you can use it like you
would any cellular number and not worry about others having the application to
receive calls or texts.
Apart from texting and calling, you can create groups and send SMS texts to
everyone on the app. You can just as easily leave a group or add more participants to
an existing one. Furthermore, if you don't want to use the application on your phone,
you can easily download it on your Windows or macOS computer and convert it into
a phone that makes calls and sends texts without needing a SIM.
Is TextFree actually free?
The TextFree application is free to download and use. However, the application does
have a few limitations. For starters, it isn't free for users living outside the United
States or Canada. It also limits the number of countries you can send texts
messages for free.
Should I download TextFree?
If you're looking for a free calling and texting application, then check out TextFree.
It's an easy-to-use application that you can download on your Android device and
make calls to anyone, anywhere. It provides you with a free U.S. number so that you
can easily call or text any person, regardless of whether or not they have the app
installed.
Unfortunately, the features of this application are limited to users living in the United
States and Canada. This means, if you're living outside of these two countries, you
will incur some charges when making calls. Furthermore, you might also not be able
to text other people for free. It's a good application, but users should wait for the app
to include more countries on its list.