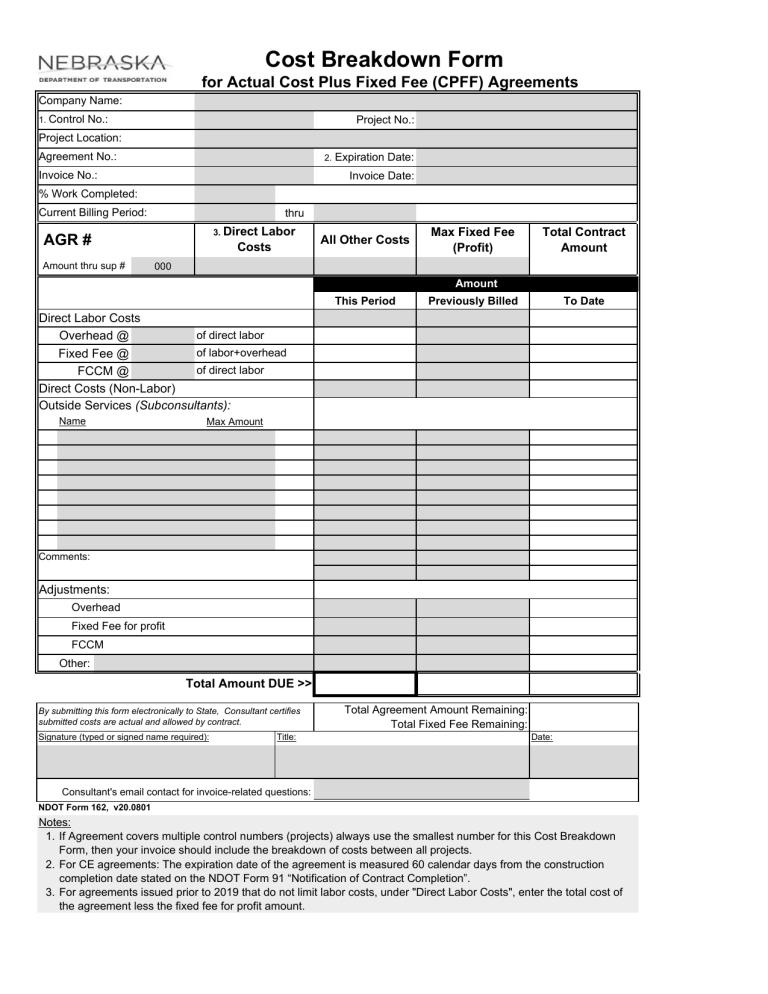 Cost Breakdown Form
for Actual Cost Plus Fixed Fee (CPFF) Agreements
Company Name:
1. Control
No.:
Project No.:
Project Location:
Agreement No.:
2.
Invoice No.:
Expiration Date:
Invoice Date:
% Work Completed:
Current Billing Period:
thru
3. Direct
Labor
Costs
AGR #
Amount thru sup #
All Other Costs
Max Fixed Fee
(Profit)
This Period
Previously Billed
Total Contract
Amount
000
Amount
To Date
Direct Labor Costs
of direct labor
Overhead @
of labor+overhead
Fixed Fee @
of direct labor
FCCM @
Direct Costs (Non-Labor)
Outside Services (Subconsultants):
Name
Max Amount
Comments:
$0.00
$0.00
Adjustments:
Overhead
Fixed Fee for profit
FCCM
Other:
Total Amount DUE >>
By submitting this form electronically to State, Consultant certifies
submitted costs are actual and allowed by contract.
Signature (typed or signed name required):
Title:
Total Agreement Amount Remaining:
Total Fixed Fee Remaining:
Date:
Consultant's email contact for invoice-related questions:
NDOT Form 162, v20.0801
Notes:
1. If Agreement covers multiple control numbers (projects) always use the smallest number for this Cost Breakdown
Form, then your invoice should include the breakdown of costs between all projects.
2. For CE agreements: The expiration date of the agreement is measured 60 calendar days from the construction
completion date stated on the NDOT Form 91 "Notification of Contract Completion".
3. For agreements issued prior to 2019 that do not limit labor costs, under "Direct Labor Costs", enter the total cost of
the agreement less the fixed fee for profit amount.