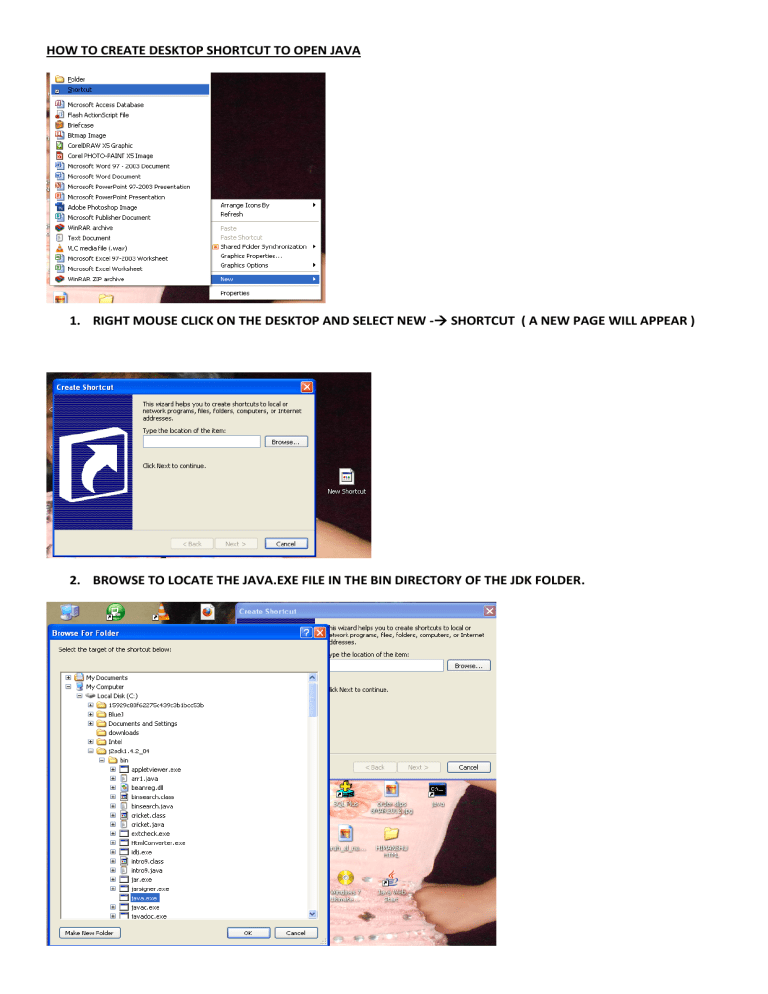 HOW TO CREATE DESKTOP SHORTCUT TO OPEN JAVA
1. RIGHT MOUSE CLICK ON THE DESKTOP AND SELECT NEW - SHORTCUT ( A NEW PAGE WILL APPEAR )
2. BROWSE TO LOCATE THE JAVA.EXE FILE IN THE BIN DIRECTORY OF THE JDK FOLDER.
3. CLICK NEXT AFTER LOCATING THE JAVA.EXE FILE.
4. TYPE A SUITABLE NAME FOR YOUR SHORTCUT. HERE WE HAVE TYPED JAVA.
5. RIGHT MOUSE CLICK ON THE JAVA SHORTCUT ICON  GO TO PROPERTIES WINDOW.
6. CHANGE THE TARGET CODE FROM C: \ J2SDK1.4.2_04\BIN\JAVA.EXE TO
%windir%\system32\cmd.exe
AND THE START IN CODE REMAINS UNCHANGED CLICK ON AND ENJOT USING JAVA IN SHORT CUT WAY.