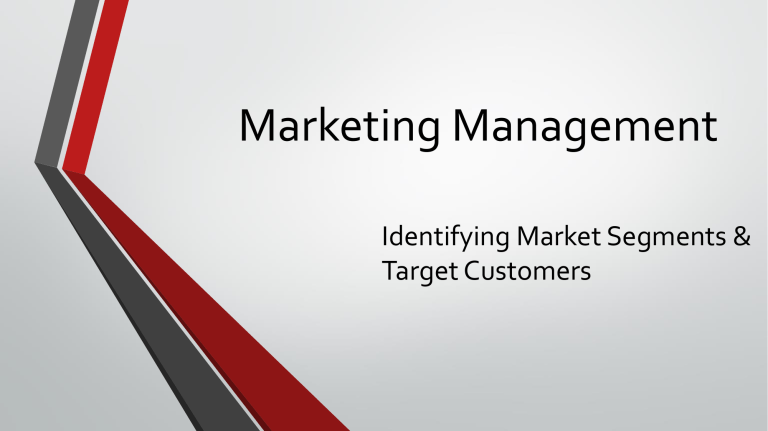 Marketing Management
Identifying Market Segments &
Target Customers
Questions
❑ What are the different levels of market segmentation?
❑ How can a company divide a market into segments?
❑ How should a company choose the most attractive
target markets?
❑ What are the requirements for effective
segmentation?
Market Segmentation
Market segmentation is the process of aggregating
prospective buyers into groups or segments with common
needs and who respond similarly to a marketing action.
Market segmentation enables companies to target different
categories of consumers who perceive the full value of
certain products and services differently from one another.
Marketing Paradigm shift – From mass to segments
Effective Targeting Requires…
Identify and profile distinct groups of buyers who differ
in their needs and preferences
Select one or more market segments to enter
Establish and communicate the distinctive benefits of
the market offering
Four levels of Micromarketing
Segments
Niches
Local areas
Individuals
What is a Market Segment?
A market segment consists of a group of customers
who share a similar set of needs and wants.
Flexible Marketing Offerings
• Naked solution:
Product and service
elements that all
segment members
value
• Discretionary
options: Some
segment members
value options but not
all
Preference Segments
Homogeneous preferences exist when consumers want
the same things
Diffused preferences exist when consumers want very
different things
Clustered preferences reveal natural segments from
groups with shared preferences
Gather.com: A Niche Social Networking Site
Niche Marketers
Enterprise Rent-A-Car
targets the insurancereplacement market
Baskin Robbins Focuses on
Local Marketing
Bharat Matrimony - Local Marketing
The Long Tail
Chris Anderson explains the long tail equation:
▪ The lower the cost of distribution, the more you
can economically offer without having to predict
demand;
▪ The more you can offer, the greater the chance
that you will be able to tap latent demand for
minority tastes; and
▪ Aggregate enough minority taste, and you may
find a new market.
Individual Marketing - Customerization
Customerization combines operationally driven mass
customization with customized marketing in a way that
empowers consumers to design the product and service
offering of their choice.
Individual Marketing - Customerization
Segmenting Consumer Markets
Geographic
Demographic
Psychographic
Behavioral
Geographic Segmentation
✓ Rural Vs Urban markets
✓ Town and Country framework by Madison media
✓ Socio-economic Rural segments classification
•
•
•
•
Landlord farmers (R1)
Rich farmers (R2)
Marginal farmers (R3)
Agricultural labourers (R4)
• MICA's Rural market ratings framework
Demographic Segmentation
Age and Life Cycle
Life Stage
Gender
Income
Generation
Social Class
Demographic Segmentation
❖ Claritas' Prizm
✓
✓
✓
✓
✓
Education and affluence
Family life cycle
Urbanization
Race and ethnicity
Mobility
Toyota Scion
Targets Gen Y Consumers
Dove Targets Women
Psychographic Segmentation
The VALS framework Psychographic Segmentation
The VALS Framework
✓ Innovators: Successful, sophisticated, active, "take-charge" people with high self
esteem. Purchases often reflect cultivated tastes for relatively upscale, niche-oriented
products and services.
✓ Thinkers: Mature, satisfied, and reflective people who are motivated by ideals and who
value order, knowledge, and responsibility. They seek durability, functionality, and value in
products.
✓ Achievers: Successful, goal-oriented people who focus on career and family. They
favor premium products that demonstrate success to their peers.
✓ Experiencers: Young, enthusiastic, impulsive people who seek variety and
excitement. They spend a comparatively high proportion of income on fashion,
entertainment, and socializing.
The VALS Framework
✓ Believers: Conservative, conventional, and traditional people with concrete beliefs.
They prefer familiar, U.S. products and are loyal to established brands.
✓ Strivers: Trendy and fun-loving people who are resource constrained. They favor stylish
products that emulate the purchases of those with greater material wealth.
✓ Makers: Practical, down-to-earth, self sufficient people who like to work with their
hands. They seek U.S.-made products with a practical or functional purpose.
✓ Survivors: Elderly, passive people who are concerned about change. They are loyal to
their favorite brands.
Behavioral Segmentation
Decision Roles
• Initiator
• Influencer
• Decider
• Buyer
• User
Behavioral Variables
• Occasions
• Benefits
• User Status
• Usage Rate
• Buyer-Readiness
• Loyalty Status
• Attitude
The Brand Funnel Illustrates Variations in the
Buyer-Readiness Stage
• Aware
• Ever tried
• Recent trial
• Occasional user
• Regular user
• Most often used
Loyalty Status
Hard-core
Split loyals
Shifting loyals
Switchers
Behavioral Segmentation Breakdown
The Conversion Model
Convertible
Shallow
Users
Strongly
unavailable
Weakly
unavailable
Average
Entrenched
Nonusers
Ambivalent
Available
The Conversion Model
❑ Strength of Commitment
✓
✓
✓
✓
Convertible
Shallow
Average
Entrenched
❑ Balance of Disposition
✓
✓
✓
✓
Strongly unavailable
Weakly unavailable
Ambivalent
Available
Segmenting for Business Markets
Demographic
Operating Variable
Purchasing Approaches
Situational Factors
Personal
Characteristics
Steps in Segmentation Process
Needs-based segmentation
Segment identification
Segment attractiveness
Marketing-Mix
Strategy
Segment profitability
Segment positioning
Segment acid test
Effective Segmentation Criteria
Measurable
Substantial
Accessible
Differentiable
Actionable
Patterns of Target Market Selection
Patterns of Target Market Selection
Patterns of Target Market Selection
Segment-by-Segment Invasion Plan
Pepsi used Mega-marketing in India
Questions?