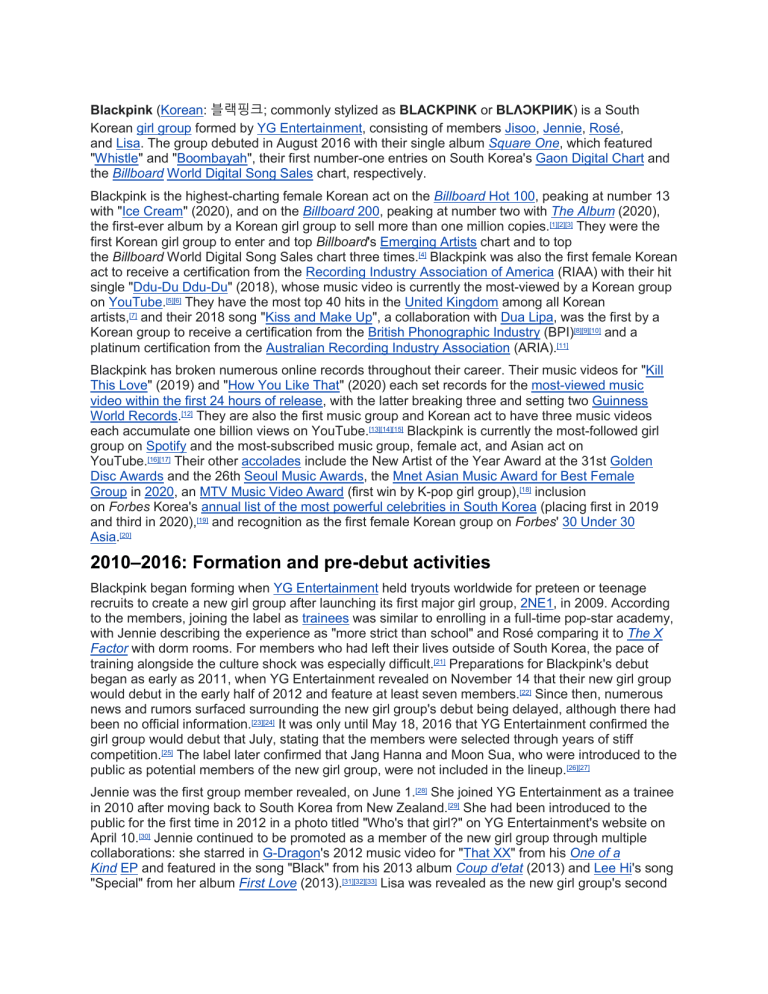 Blackpink (Korean: 블랙핑크; commonly stylized as BLACKPINK or BLΛƆKPIИK) is a South
Korean girl group formed by YG Entertainment, consisting of members Jisoo, Jennie, Rosé,
and Lisa. The group debuted in August 2016 with their single album Square One, which featured
"Whistle" and "Boombayah", their first number-one entries on South Korea's Gaon Digital Chart and
the Billboard World Digital Song Sales chart, respectively.
Blackpink is the highest-charting female Korean act on the Billboard Hot 100, peaking at number 13
with "Ice Cream" (2020), and on the Billboard 200, peaking at number two with The Album (2020),
the first-ever album by a Korean girl group to sell more than one million copies.[1][2][3] They were the
first Korean girl group to enter and top Billboard's Emerging Artists chart and to top
the Billboard World Digital Song Sales chart three times.[4] Blackpink was also the first female Korean
act to receive a certification from the Recording Industry Association of America (RIAA) with their hit
single "Ddu-Du Ddu-Du" (2018), whose music video is currently the most-viewed by a Korean group
on YouTube.[5][6] They have the most top 40 hits in the United Kingdom among all Korean
artists,[7] and their 2018 song "Kiss and Make Up", a collaboration with Dua Lipa, was the first by a
Korean group to receive a certification from the British Phonographic Industry (BPI)[8][9][10] and a
platinum certification from the Australian Recording Industry Association (ARIA).[11]
Blackpink has broken numerous online records throughout their career. Their music videos for "Kill
This Love" (2019) and "How You Like That" (2020) each set records for the most-viewed music
video within the first 24 hours of release, with the latter breaking three and setting two Guinness
World Records.[12] They are also the first music group and Korean act to have three music videos
each accumulate one billion views on YouTube.[13][14][15] Blackpink is currently the most-followed girl
group on Spotify and the most-subscribed music group, female act, and Asian act on
YouTube.[16][17] Their other accolades include the New Artist of the Year Award at the 31st Golden
Disc Awards and the 26th Seoul Music Awards, the Mnet Asian Music Award for Best Female
Group in 2020, an MTV Music Video Award (first win by K-pop girl group),[18] inclusion
on Forbes Korea's annual list of the most powerful celebrities in South Korea (placing first in 2019
and third in 2020),[19] and recognition as the first female Korean group on Forbes' 30 Under 30
Asia.[20]
2010–2016: Formation and pre-debut activities
Blackpink began forming when YG Entertainment held tryouts worldwide for preteen or teenage
recruits to create a new girl group after launching its first major girl group, 2NE1, in 2009. According
to the members, joining the label as trainees was similar to enrolling in a full-time pop-star academy,
with Jennie describing the experience as "more strict than school" and Rosé comparing it to The X
Factor with dorm rooms. For members who had left their lives outside of South Korea, the pace of
training alongside the culture shock was especially difficult.[21] Preparations for Blackpink's debut
began as early as 2011, when YG Entertainment revealed on November 14 that their new girl group
would debut in the early half of 2012 and feature at least seven members.[22] Since then, numerous
news and rumors surfaced surrounding the new girl group's debut being delayed, although there had
been no official information.[23][24] It was only until May 18, 2016 that YG Entertainment confirmed the
girl group would debut that July, stating that the members were selected through years of stiff
competition.[25] The label later confirmed that Jang Hanna and Moon Sua, who were introduced to the
public as potential members of the new girl group, were not included in the lineup.[26][27]
Jennie was the first group member revealed, on June 1.[28] She joined YG Entertainment as a trainee
in 2010 after moving back to South Korea from New Zealand.[29] She had been introduced to the
public for the first time in 2012 in a photo titled "Who's that girl?" on YG Entertainment's website on
April 10.[30] Jennie continued to be promoted as a member of the new girl group through multiple
collaborations: she starred in G-Dragon's 2012 music video for "That XX" from his One of a
Kind EP and featured in the song "Black" from his 2013 album Coup d'etat (2013) and Lee Hi's song
"Special" from her album First Love (2013).[31][32][33] Lisa was revealed as the new girl group's second
member on June 8, 2016.[34] She was the only individual among 4,000 applicants to pass the 2010
YG Entertainment audition in her native Thailand and became the label's first foreign trainee in
2011.[29] She was first introduced in 2012 in a video that was posted on YG Entertainment's YouTube
channel, titled "Who's That Girl???".[34] Lisa also appeared in the music video for Taeyang's "Ringa
Linga" in 2013. She became a spokesperson for street-wear brand Nona9on in 2015 and cosmetics
brand Moonshot in 2016.[35]
On June 15, Jisoo was revealed to be the new group's third member. She joined YG Entertainment
as a trainee in July 2011 and appeared in several advertisements and music videos in her pre-debut
years, including "Spoiler + Happy Ending" (2014) from Epik High's studio album Shoebox and Hi
Suhyun's music video "I'm Different" (2014). She also made a cameo appearance in 2015
drama The Producers.[36] Rosé was the final member to be revealed, on June 22, 2016. She ranked
first among 700 applicants in the 2012 YG Entertainment audition in Australia, after which she
signed a trainee contract with the label and moved to Seoul to begin training.[29] She featured in GDragon's track "Without You" (2012) from One of a Kind, credited as "? from YG New Girl Group"
until her official public introduction.[37]
On June 29, YG Entertainment confirmed that the new girl group would have four members instead
of the originally planned nine and revealed its official name as Blackpink.[38] According to a label
representative, the group's name meant "pretty isn't everything" and symbolized that "they are a
team that encompasses not only beauty, but also great talent."[39] Jisoo later disclosed in a press
conference that other group names under consideration included Pink Punk, Baby Monster, and
Magnum.[40] Blackpink released their first dance practice video on July 6, which garnered much public
attention.[41] On July 29, YG Entertainment confirmed that Blackpink's debut would be on August 8,
2016.[42]
2016–2017: Debut, rising popularity, and commercial success
Promotions for their debut began in the first week of August 2016 with the release of teaser images,
videos, and advertisements.[43][44] The first girl group to debut under YG Entertainment in seven
years,[45] Blackpink released their debut single album, Square One, on August 8, 2016, consisting of
tracks "Boombayah" and "Whistle".[45] They charted at number one and two on the Billboard World
Digital Song Sales chart, making Blackpink the fastest act to achieve such a feat and the third
Korean artist to hold the top two positions simultaneously, after label mates Psy and Big
Bang.[46] "Whistle" quickly topped the Gaon digital, download, streaming, and mobile charts.[47][48] The
group also reached number one on the weekly, popularity, music video, and K-pop music video
charts of China's biggest music-streaming service, QQ Music.[49] Blackpink's first music show
performance aired on August 14, 2016 on SBS's Inkigayo.[50] They won first place
on Inkigayo thirteen days after their debut, breaking the record for the shortest time for a girl group to
win on a music program after debut. They wrapped up promotions for Square One on September 11,
2016, with another win on Inkigayo.
Blackpink released their second single album, Square Two, consisting of tracks "Playing with Fire"
and "Stay", on November 1, 2016. The group began their promotions on Inkigayo on November 6
and on Mnet's M Countdown on November 10.[51] "Playing with Fire" was Blackpink's second single
to reach number one on the Billboard World Digital Song Sales chart and the first K-pop girl group
song to chart on the Canadian Hot 100.[52][53] In South Korea, "Playing with Fire" peaked at number
three while "Stay" placed in the top ten.[54] Blackpink's commercial success in their first five months
earned them several rookie awards at major Korean year-end music award shows, including
the Asia Artist Awards,[55] Melon Music Awards,[56] Golden Disc Awards,[57] Seoul Music
Awards,[58] and Gaon Chart Music Awards.[59] Additionally, Billboard named them one of the best new
K-pop groups of 2016.[60] On January 17, 2017, Blackpink revealed the name of their fan club—
"Blink", a portmanteau of "black" and "pink."[61] On June 22, the group released their first standalone
digital single, "As If It's Your Last". It was described as a "mixed genre of music" and a change of
sound from their previous releases.[62] The song debuted at number one on Billboard's World Digital
Song Sales chart one day after release, making it their third number-one hit on the chart.[63] The
music video for the song later went on to break the record for the most-liked music video by a
Korean girl group on YouTube as well as the most-viewed K-pop group music video in the first 24
hours of release.[64][65] On July 20, 2017, Blackpink held a showcase at Nippon Budokan in Tokyo,
which was attended by more than 14,000 people, with as many as 200,000 people attempting to
purchase tickets.[66][67] The group made their Japanese debut on August 30, 2017, with the release of
a self-titled Japanese extended play that included Japanese versions of their previous
singles.[68][69] The EP debuted and peaked at the top of the Oricon Albums Chart.[70] Blackpink ranked
among YouTube's Global Top 25 Songs of the Summer for 2017 with "As If It's Your Last".[71]