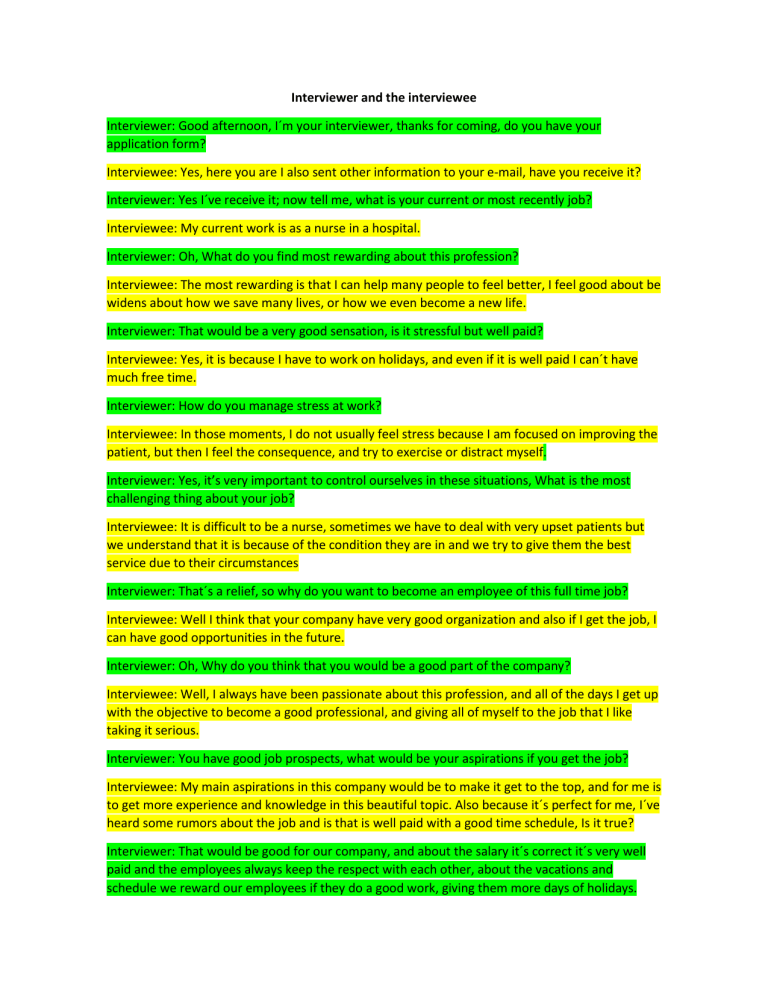 Interviewer and the interviewee
Interviewer: Good afternoon, I´m your interviewer, thanks for coming, do you have your
application form?
Interviewee: Yes, here you are I also sent other information to your e-mail, have you receive it?
Interviewer: Yes I´ve receive it; now tell me, what is your current or most recently job?
Interviewee: My current work is as a nurse in a hospital.
Interviewer: Oh, What do you find most rewarding about this profession?
Interviewee: The most rewarding is that I can help many people to feel better, I feel good about be
widens about how we save many lives, or how we even become a new life.
Interviewer: That would be a very good sensation, is it stressful but well paid?
Interviewee: Yes, it is because I have to work on holidays, and even if it is well paid I can´t have
much free time.
Interviewer: How do you manage stress at work?
Interviewee: In those moments, I do not usually feel stress because I am focused on improving the
patient, but then I feel the consequence, and try to exercise or distract myself.
Interviewer: Yes, it's very important to control ourselves in these situations, What is the most
challenging thing about your job?
Interviewee: It is difficult to be a nurse, sometimes we have to deal with very upset patients but
we understand that it is because of the condition they are in and we try to give them the best
service due to their circumstances
Interviewer: That´s a relief, so why do you want to become an employee of this full time job?
Interviewee: Well I think that your company have very good organization and also if I get the job, I
can have good opportunities in the future.
Interviewer: Oh, Why do you think that you would be a good part of the company?
Interviewee: Well, I always have been passionate about this profession, and all of the days I get up
with the objective to become a good professional, and giving all of myself to the job that I like
taking it serious.
Interviewer: You have good job prospects, what would be your aspirations if you get the job?
Interviewee: My main aspirations in this company would be to make it get to the top, and for me is
to get more experience and knowledge in this beautiful topic. Also because it´s perfect for me, I´ve
heard some rumors about the job and is that is well paid with a good time schedule, Is it true?
Interviewer: That would be good for our company, and about the salary it´s correct it´s very well
paid and the employees always keep the respect with each other, about the vacations and
schedule we reward our employees if they do a good work, giving them more days of holidays.
Interviewee: Excellent, I have a question about the contract, it is stable or only for a couple of
years?
Interviewer: No, It isn't stable, if you want to continue working on our company you need to
renew the contract after four years. Do you have any other question?
Interviewee: No, thank you for consider me in the interview.
Interviewer: Thanks for coming, we´ll call you back later.