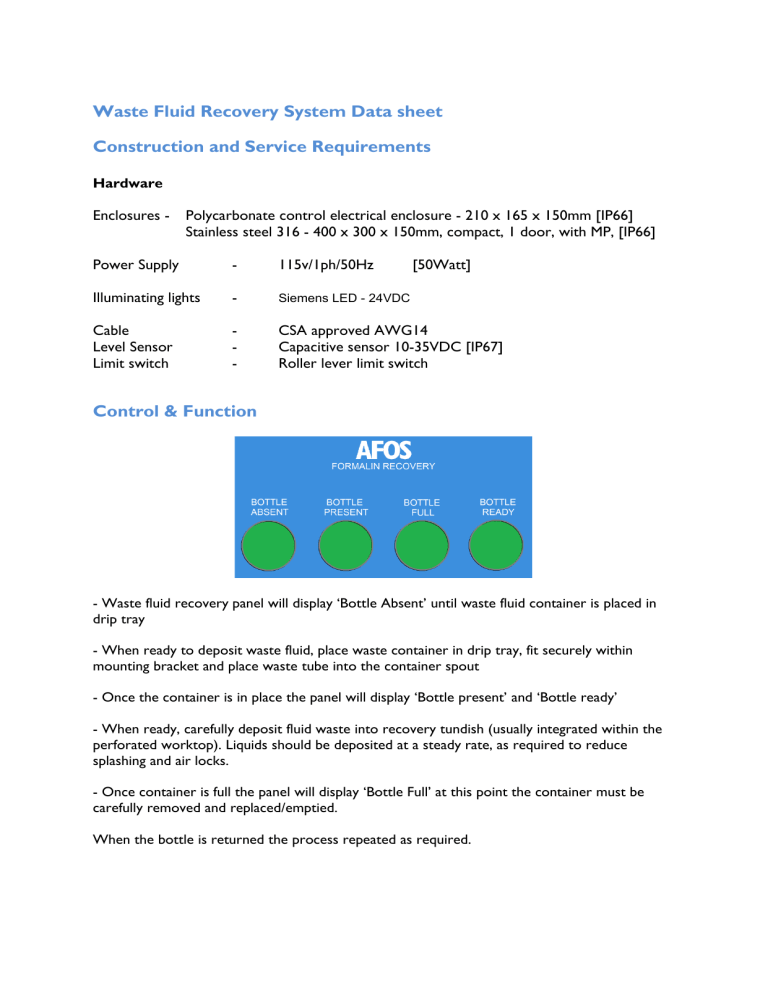 Waste Fluid Recovery System Data sheet
Construction and Service Requirements
Hardware
Enclosures -
Polycarbonate control electrical enclosure - 210 x 165 x 150mm [IP66]
Stainless steel 316 - 400 x 300 x 150mm, compact, 1 door, with MP, [IP66]
Power Supply
-
115v/1ph/50Hz
[50Watt]
Illuminating lights
-
Siemens LED - 24VDC
Cable
Level Sensor
Limit switch
-
CSA approved AWG14
Capacitive sensor 10-35VDC [IP67]
Roller lever limit switch
Control & Function
- Waste fluid recovery panel will display 'Bottle Absent' until waste fluid container is placed in
drip tray
- When ready to deposit waste fluid, place waste container in drip tray, fit securely within
mounting bracket and place waste tube into the container spout
- Once the container is in place the panel will display 'Bottle present' and 'Bottle ready'
- When ready, carefully deposit fluid waste into recovery tundish (usually integrated within the
perforated worktop). Liquids should be deposited at a steady rate, as required to reduce
splashing and air locks.
- Once container is full the panel will display 'Bottle Full' at this point the container must be
carefully removed and replaced/emptied.
When the bottle is returned the process repeated as required.