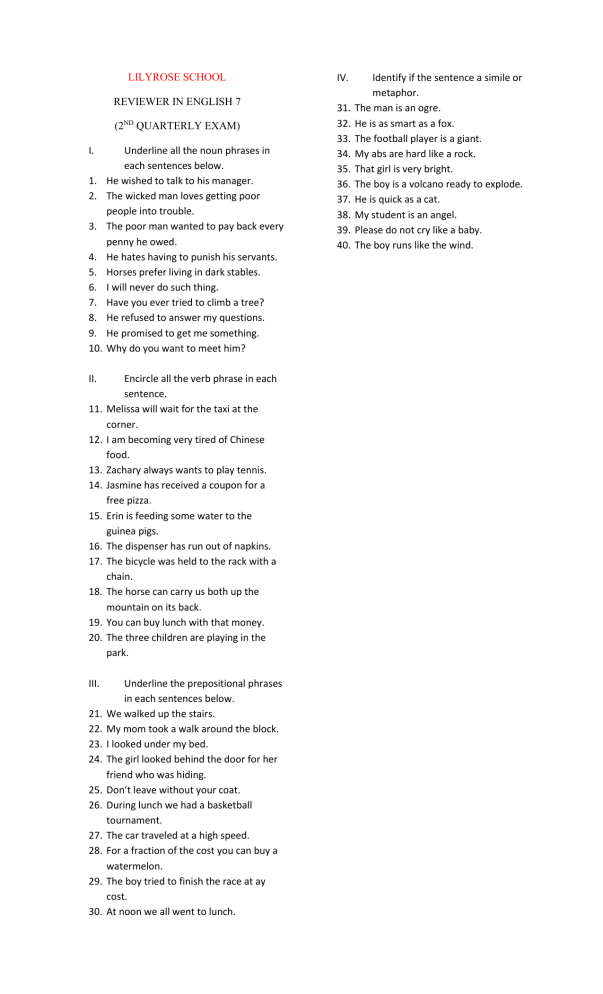 LILYROSE SCHOOL
REVIEWER IN ENGLISH 7
ND
(2
I.
1.
2.
3.
4.
5.
6.
7.
8.
9.
10.
II.
11.
12.
13.
14.
15.
16.
17.
18.
19.
20.
III.
21.
22.
23.
24.
25.
26.
27.
28.
29.
30.
QUARTERLY EXAM)
Underline all the noun phrases in
each sentences below.
He wished to talk to his manager.
The wicked man loves getting poor
people into trouble.
The poor man wanted to pay back every
penny he owed.
He hates having to punish his servants.
Horses prefer living in dark stables.
I will never do such thing.
Have you ever tried to climb a tree?
He refused to answer my questions.
He promised to get me something.
Why do you want to meet him?
Encircle all the verb phrase in each
sentence.
Melissa will wait for the taxi at the
corner.
I am becoming very tired of Chinese
food.
Zachary always wants to play tennis.
Jasmine has received a coupon for a
free pizza.
Erin is feeding some water to the
guinea pigs.
The dispenser has run out of napkins.
The bicycle was held to the rack with a
chain.
The horse can carry us both up the
mountain on its back.
You can buy lunch with that money.
The three children are playing in the
park.
Underline the prepositional phrases
in each sentences below.
We walked up the stairs.
My mom took a walk around the block.
I looked under my bed.
The girl looked behind the door for her
friend who was hiding.
Don't leave without your coat.
During lunch we had a basketball
tournament.
The car traveled at a high speed.
For a fraction of the cost you can buy a
watermelon.
The boy tried to finish the race at ay
cost.
At noon we all went to lunch.
IV.
31.
32.
33.
34.
35.
36.
37.
38.
39.
40.
Identify if the sentence a simile or
metaphor.
The man is an ogre.
He is as smart as a fox.
The football player is a giant.
My abs are hard like a rock.
That girl is very bright.
The boy is a volcano ready to explode.
He is quick as a cat.
My student is an angel.
Please do not cry like a baby.
The boy runs like the wind.