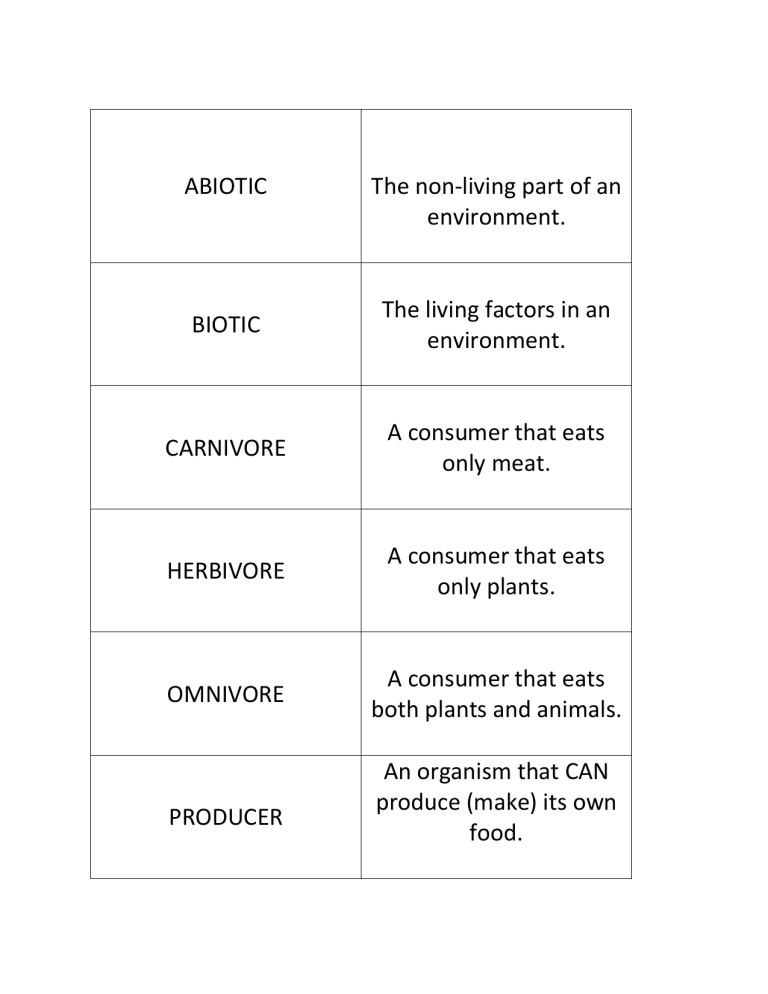 ABIOTIC
The non-living part of an
environment.
BIOTIC
The living factors in an
environment.
CARNIVORE
A consumer that eats
only meat.
HERBIVORE
A consumer that eats
only plants.
OMNIVORE
A consumer that eats
both plants and animals.
PRODUCER
An organism that CAN
produce (make) its own
food.
CONSUMER
ECOLOGY
SYMBIOSIS
HETEROTROPHS
AUTOTROPHS
DECOMPOSER
(DETROVORES)
An animal that CANNOT
produce its own food
and must eat plants or
other animals to obtain
their energy.
The study of the
interaction of living
organisms with one
another and with their
environment.
The interaction
(relationship) between
two different organisms
living in close physical
contact.
An organism that has to
get its energy from
another organism
(consumer).
An organism that can
produce its own food
(producer).
An organism that feels
upon the dead tissue of
other organisms.
COMMENSALISM
PARASITISM
MUTUALISM
PREDATOR
PREY
The relationship
between two organisms
in which one benefits
and the other organism
neither benefits or is
harmed.
The relationship in which
one species benefits and
the other species is
harmed.
A relationship that is
beneficial to both
organisms involved in
the relationship.
An animal that does the
hunting of another
animal for food.
An animal that is hunted
by another animal for
food.
COMPETITION
The relationship
between organisms that
compete for the same
resource in the same
place at the same time.