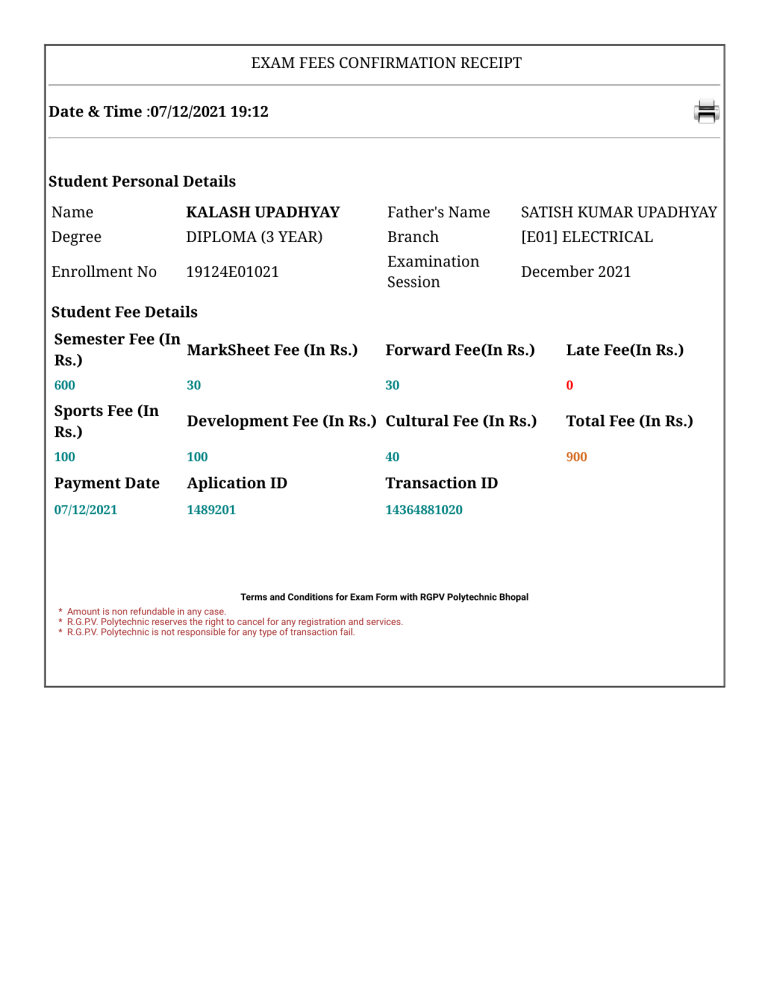 EXAM FEES CONFIRMATION RECEIPT
Date & Time :07/12/2021 19:12
Student Personal Details
Name
KALASH UPADHYAY
Father's Name
SATISH KUMAR UPADHYAY
Degree
DIPLOMA (3 YEAR)
Branch
[E01] ELECTRICAL
Enrollment No
19124E01021
Examination
Session
December 2021
Student Fee Details
Semester Fee (In
MarkSheet Fee (In Rs.)
Rs.)
Forward Fee(In Rs.)
Late Fee(In Rs.)
600
30
30
0
Sports Fee (In
Rs.)
Development Fee (In Rs.) Cultural Fee (In Rs.)
Total Fee (In Rs.)
100
100
40
900
Payment Date
Aplication ID
Transaction ID
07/12/2021
1489201
14364881020
Terms and Conditions for Exam Form with RGPV Polytechnic Bhopal
* Amount is non refundable in any case.
* R.G.P.V. Polytechnic reserves the right to cancel for any registration and services.
* R.G.P.V. Polytechnic is not responsible for any type of transaction fail.