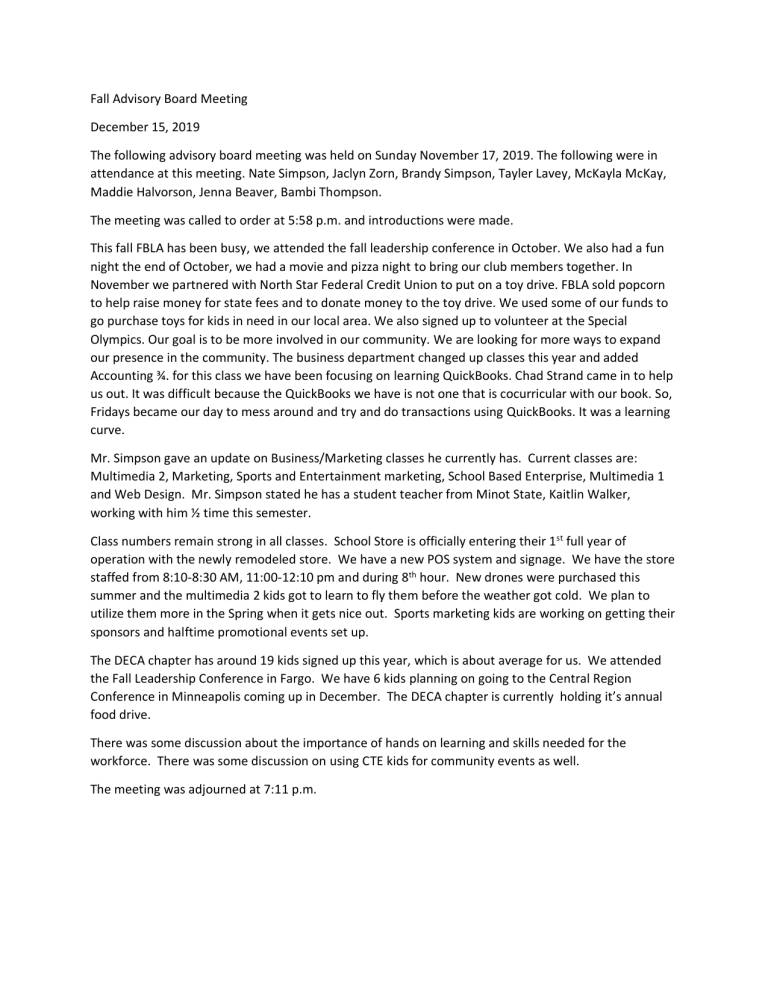 Fall Advisory Board Meeting
December 15, 2019
The following advisory board meeting was held on Sunday November 17, 2019. The following were in
attendance at this meeting. Nate Simpson, Jaclyn Zorn, Brandy Simpson, Tayler Lavey, McKayla McKay,
Maddie Halvorson, Jenna Beaver, Bambi Thompson.
The meeting was called to order at 5:58 p.m. and introductions were made.
This fall FBLA has been busy, we attended the fall leadership conference in October. We also had a fun
night the end of October, we had a movie and pizza night to bring our club members together. In
November we partnered with North Star Federal Credit Union to put on a toy drive. FBLA sold popcorn
to help raise money for state fees and to donate money to the toy drive. We used some of our funds to
go purchase toys for kids in need in our local area. We also signed up to volunteer at the Special
Olympics. Our goal is to be more involved in our community. We are looking for more ways to expand
our presence in the community. The business department changed up classes this year and added
Accounting ¾. for this class we have been focusing on learning QuickBooks. Chad Strand came in to help
us out. It was difficult because the QuickBooks we have is not one that is cocurricular with our book. So,
Fridays became our day to mess around and try and do transactions using QuickBooks. It was a learning
curve.
Mr. Simpson gave an update on Business/Marketing classes he currently has. Current classes are:
Multimedia 2, Marketing, Sports and Entertainment marketing, School Based Enterprise, Multimedia 1
and Web Design. Mr. Simpson stated he has a student teacher from Minot State, Kaitlin Walker,
working with him ½ time this semester.
Class numbers remain strong in all classes. School Store is officially entering their 1st full year of
operation with the newly remodeled store. We have a new POS system and signage. We have the store
staffed from 8:10-8:30 AM, 11:00-12:10 pm and during 8th hour. New drones were purchased this
summer and the multimedia 2 kids got to learn to fly them before the weather got cold. We plan to
utilize them more in the Spring when it gets nice out. Sports marketing kids are working on getting their
sponsors and halftime promotional events set up.
The DECA chapter has around 19 kids signed up this year, which is about average for us. We attended
the Fall Leadership Conference in Fargo. We have 6 kids planning on going to the Central Region
Conference in Minneapolis coming up in December. The DECA chapter is currently holding it's annual
food drive.
There was some discussion about the importance of hands on learning and skills needed for the
workforce. There was some discussion on using CTE kids for community events as well.
The meeting was adjourned at 7:11 p.m.