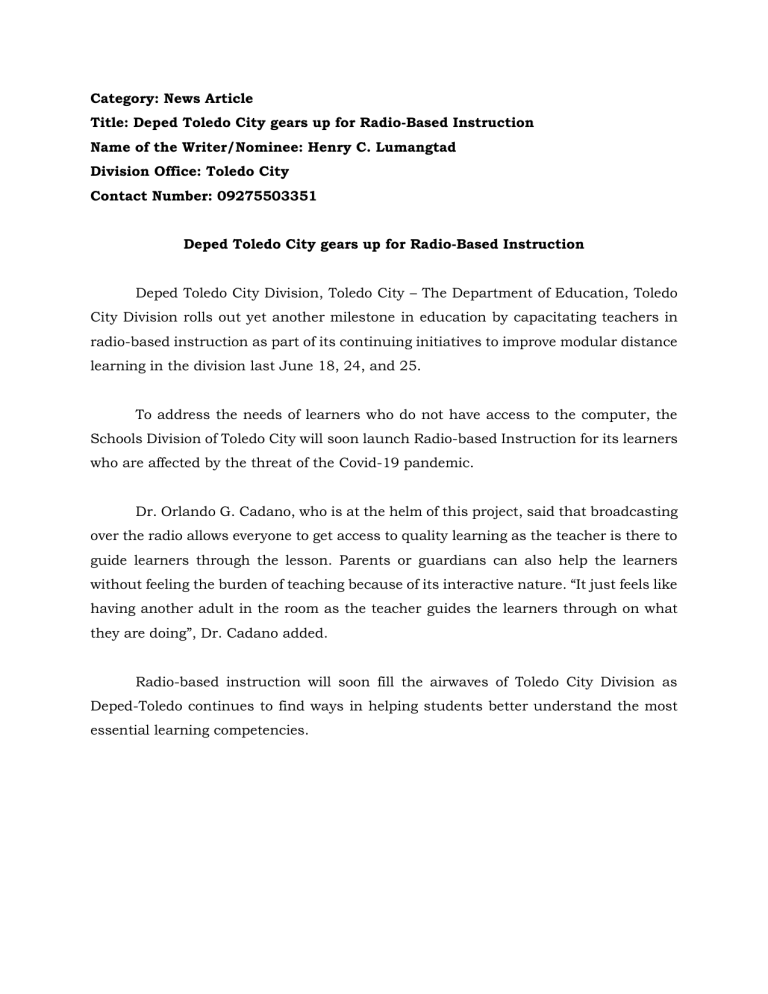 Category: News Article
Title: Deped Toledo City gears up for Radio-Based Instruction
Name of the Writer/Nominee: Henry C. Lumangtad
Division Office: Toledo City
Contact Number: 09275503351
Deped Toledo City gears up for Radio-Based Instruction
Deped Toledo City Division, Toledo City – The Department of Education, Toledo
City Division rolls out yet another milestone in education by capacitating teachers in
radio-based instruction as part of its continuing initiatives to improve modular distance
learning in the division last June 18, 24, and 25.
To address the needs of learners who do not have access to the computer, the
Schools Division of Toledo City will soon launch Radio-based Instruction for its learners
who are affected by the threat of the Covid-19 pandemic.
Dr. Orlando G. Cadano, who is at the helm of this project, said that broadcasting
over the radio allows everyone to get access to quality learning as the teacher is there to
guide learners through the lesson. Parents or guardians can also help the learners
without feeling the burden of teaching because of its interactive nature. "It just feels like
having another adult in the room as the teacher guides the learners through on what
they are doing", Dr. Cadano added.
Radio-based instruction will soon fill the airwaves of Toledo City Division as
Deped-Toledo continues to find ways in helping students better understand the most
essential learning competencies.