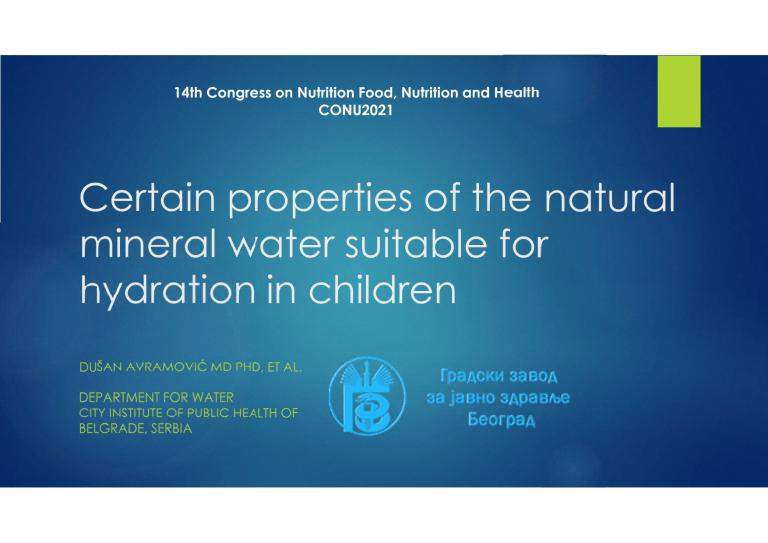 14th Congress on Nutrition Food, Nutrition and Health
CONU2021
Certain properties of the natural
mineral water suitable for
hydration in children
DUŠAN AVRAMOVIĆ MD PHD, ET AL.
DEPARTMENT FOR WATER
CITY INSTITUTE OF PUBLIC HEALTH OF
BELGRADE, SERBIA
The water in the human body

all metabolic processes,

all cells, organs and systems,

helps maintain normal body temperature
(thermoregulation) as core component of
physiological homeostasis and survival.[1]

in newborn babies, the percentage of
water in the body is up to 75%

in the adult male to about 60% and in
women to 50-55%.[2]
vast majority of organs and
tissues in human body contain
60-90% of water
MUSCLE MASS = "THE ONLY
COGNITIVE VARIABLE BODY
WATER STORAGE"
red marrow, water 40%:
yellow marrow, water 15%
*percentages on infographic are for presentataion illustrative purposes only, may vary in human
Water from the body is lost !!

Water is lost through urine, stool, sweat, during breathing and through the
skin.

These processes are under very precise control of the internal organs,
especially the kidneys which the corresponding response time is caused by
changes in the concentration of the body fluids of some 1-2%. (avg. 75 kg
person 400 – 800 ml) 2-4 glasses of water

greatly influenced by:

climate and microclimate conditions, age, the adequacy of clothes, the type of
activities performed, as well as the general health of the body, including the
proper functioning of each system and organ in our body.
Grandjean, A. Water requirements: Impinging factors and recommended intakes. In World Health Organization (Ed.), Nutrients in drinking water. Geneva, Switzerland: World Health
Organization 2005
Woulnerable groups – young, old,
athletes, pregnant....

In infants and children at an early age there is a significant water loss through
the skin,

infants up to 6 months of age should intake 100 to 190 ml of fluid per kilogram
of body weight (BW) per day;

from 6 to 12 months of age 0.8 to 1.0 l / day.

During the second year of life1.1 to 1.2 liters of fluid every day. Values
appropriate for water intake for boys and girls aged 2 to 3 years are
estimated to be 1.3 l per day.

as well, the adult and senior age individuals frequently expose themselves to
a high risk of dehydration due to insufficient daily intake of fluids (especially
water) while on chronic blood pressure-lowering therapy, often with diuretic
component
Avramović DD et al. Daily fluid intake habit among adult and senior visitors of Belgrade Health Fairs. 13th International Congress of Nutrition, Belgrade.2016
European Food Safety Authority (EFSA). Scientific Opinion on Dietary Reference Values for water. EFSA Journal;8(3):1459.2010
Aim of the study

To compare basic physical and chemical characteristics of
analyzed samples of natural mineral water and drinking water from
public water supply system

To identify potential benefits of natural mineral water for
consumption during childhood
Material and Methods

The natural mineral water and tap water samples were collected according
to applicable standards (SRPS ISO 5667-5, SRPS ISO 5667-11).

We compared the results of analysis of chemical and physical properties of
water samples performed in the ISO 17025 accredited laboratory of City
Institute of Public Health (Belgrade, Serbia) following standards and methods
stated for every parameter listed.

national regulations :

Regulation on Hygienic Standards of Drinking Water ("Official Gazette FRY, nº
42/98 and 44/99", and " Official Gazette RS", nº 28/2019)

Regulation on quality and other demands for natural mineral waters, natural
spring waters and still waters ("Official Gazette SCG, nº 53/05 and 43/13").
Results and Discussion

On the basis of the reports of the results of the laboratory analysis of water
samples, in terms of the studied physico-chemical parameters, we found that
the analyzed sample of natural mineral water, compared to drinking water
from public water supply system, contains a moderate levels of mineral
substances with a slightly increased content of calcium and bicarbonates
600
Tap water – public drinking
water
Tap water
550
NMW
500
NMW – natural mineral water
400
388.5
370
347
300
TDS- total dissolved solids at
105oC, in mg/l
EC – electroconductivity at
20oC, in μS/cm
252
187.9
200
88.9
100
17.2
68.7
Hardness – total hardness, in
odH
Calcium – Ca2+, in mg/l
11.8
0
TDS at 105oC
EC at 20oC
Hardness
Calcium
Bicarbonates
Bicarbonates- as HCO3, in mg/l
Total Dissolved Solids (TDS) mineralisation
400
347
350

Concentrations of TDS from natural sources have
been found to vary from less than 30 mg/l to as much
as 6000 mg/l (5), depending on the solubilities of
minerals in different geological regions.

an optimum level for total dissolved salts (250-500
mg/L for bicarbonate water);

Drinking water is NOT only H2O
300
250
252
200
150
100
50
0
TDS at 105oC
Tap water
NMW
Kozisek F.: WHO: HEALTH RISKS FROM DRINKING DEMINERALISED WATER at https://www.who.int/water_sanitation_health/dwq/nutrientschap12.pdf
Electrical Conductivity of water
Electro conductivity

EC or Electrical Conductivity of water is its ability to
conduct an electric current.

Salts or other chemicals that dissolve in water can break
down into positively and negatively charged ions.

These free ions in the water conduct electricity, so the
water electrical conductivity depends on the
concentration of ions.

Salinity and total dissolved solids (TDS) are used to
calculate the EC of water, which helps to indicate the
water's purity.

The purer the water the lower the conductivity.- but taste
and potential health effects?
600
500
400
300
200
100
0
EC at 20oC
Tap water
NMW
EC and TDS
effects of "purer" water low in TDS (e.g. < 100 mg/L) on water
and mineral homeostasis in human body
Low-mineral water markedly:

increased diuresis (almost by 20%, on average), body water volume, and
serum sodium concentrations,

decreased serum potassium concentration, and

increased the elimination of sodium, potassium, chloride, calcium and
magnesium ions from the body.

due to osmotic changes in the blood plasma
Kozisek F.: WHO: HEALTH RISKS FROM DRINKING DEMINERALISED WATER at https://www.who.int/water_sanitation_health/dwq/nutrientschap12.pdf
Hardness in Drinking-water
Hardness (dH)
20

Calculated according to presence of Ca, Mg ions

Although hardness is caused by cations, it may also
be discussed in terms of carbonate (temporary) and
non-carbonate (permanent) hardness.

Not considered a health hazard.

potentially improves some of the gastrointestinal
functions allowing better digestibility.
18
16
14
12
10
8
6
4
2
0
Hardness
Tap water
NMW
Pohl, U., Auinger, A., Bothe, G., Uebelhack, R. Pilot Trial on the Efficacy and Safety of a Natural Mineral Water
Rich in Hydrogen Carbonate on Functional Dyspepsia and Heartburn. Open Journal of Gastroenterology, 6, 8896. http://dx.doi.org/10.4236/ojgas.2016.63012.2016
Calcium in Drinking-water
Calcium (Ca)
100
90

Water containing calcium carbonate at
concentrations

below 60 mg/l is generally considered as soft;

60–120 mg/l, moderately hard;

120–180 mg/l, hard; and more than 180 mg/l, very hard
(McGowan, 2000).

micronutrient important for proper development and
functioning of the musculoskeletal system

improves prefered taste of water*
80
70
60
50
40
30
20
10
0
Calcium mg/l
Tap water NMW
Bicarbonates (HCO3-) in Drinkingwater
Bicarbonates (HCO3-)

in mineral water, bicarbonates are present due to
natural processes

there is no maximum or minimum defined by the
quantity,

maintenance of acid-base balance in the body,

form part of the bicarbonate buffer system in the body,
(important in prevention of metabolic acidosis)
450
400
350
300
250
200
150
100
50
0
Bicarbonates mg/l
Tap water
NMW
Liquids consumption - Taste is a vital

Taste is a vital sensory process that
facilitates the ingestion of nutritive
substances and the avoidance of toxins.

It is not surprising, then, that the perception
of taste stimuli is highly informed by the
homeostatic state of the organism, as well
as

prior experiences

88% of those surveyed stated taste as their
primary reason for buying a product

taste is central to the second moment of
truth - the most important re-purchase driver
Jacobs et al., 1988; Morton et al., 2006
Chang and Scott, 1984; McCaughey et al., 1997
https://www.taste-institute.com/en/resources/blog/importance-of-taste-in-product-development 2021, Oct
Taste is the effect

Taste is the effect of chemical reaction
between substances in mouth with the taste
receptor cells.

Humans detect taste with taste receptor cells.
Taste can be of various forms like sweet, salty,
bitter, sour, etc.

We cannot identify taste of sample or solution
unless and until it is tasted by human tongue.

The dissolved molecules and ions of a solution
will decide the pH and conductivity of that
solution.
Joshi, Kushal & Satpute, Suresh & Khutale, Abhitab & Mudhalwadkar, R.. (2016). pH and conductivity based taste identification. 1963-1967. 10.1109/ICEEOT.2016.7755032.
The preferred bottled and tap water

six important nutrients (Ca2+, Mg2+, Na+, K+, HCO−3, Cl−)

The preferred bottled and tap water samples were associated with
moderate (relatively to the parameters mean values) contents of total
dissolved solids and with relatively high concentrations of HCO₃⁻, SO₄²⁻, Ca²⁺
and Mg²⁺ as well as with relatively high pH values.

High concentrations of Na⁺, K⁺ and Cl⁻ were scored low by many of the
panelists,

while residual chlorine did not affect the ratings, but did enable the panel to
distinguish between bottled mineral water and tap water samples
Platikanov S, Garcia V, Fonseca I, Rullán E, Devesa R, Tauler R. Influence of minerals on the taste of bottled and tap water: a chemometric approach. Water Res. 2013 Feb 1;47(2):693-704. doi:
10.1016/j.watres.2012.10.040. Epub 2012 Nov 9. PMID: 23200507.
Bacteriological analysis

Reports from the results of the bacteriological analysis performed by
laboratory GZZJZ Belgrade (Serbia) have shown the complete absence of
specific pathogenic bacteria in analyzed water samples

It might indicate the satisfying level of water spring protection, as well as the
quality management of the processes that influence the sanitary and
hygienic state of facilities for the filling and storage of the finished product
(bottled water), as well as vehicles for transport.

residual chlorine in tap water (MAC for RCl=0.5mg/l)
SGS laboratory. Natural mineral water sample from Banjica well IEBKos-2 Galovići, Kosjerić. sample analysis report. 2017
City Institute of Public Health of Belgrade GZZJZ. Natural mineral water sample from Banjica well IEBKos-2. Galovići, Kosjerić. sample analysis report.
Unpublished data.2016
Conclusions

For fluid replacement in infants and children through the drinks taken daily,
the best choice is to provide sufficient quantities of safe drinking water with a
moderate mineral content of the abovementioned properties, such as:

TDS, EC, moderatly elevated calcium (Ca) and bicarbonates (HCO3-),

natural mineral water, with moderate mineralization (similar to local tap
water), could be suitable for regular daily intake and oral rehydration in all
healthy individuals including children,

in the daily amounts according to the EFSA document, stated for each age
group.
Drink water – keep a child in yourself!

Conflict of Interests
The authors declare no competing interests
regarding this presentation.

Acknowledgements
All authors would like to thank to all colleagues
involved in field water sampling and laboratory
team members who performed water samples
analysis. All opinions and statements expressed
by authors in this article are solely individual and
do not neccessarily represent affiliated
institutions' official positions.
"BIG THANK YOU" for CONU 2021 organizers and all participants!