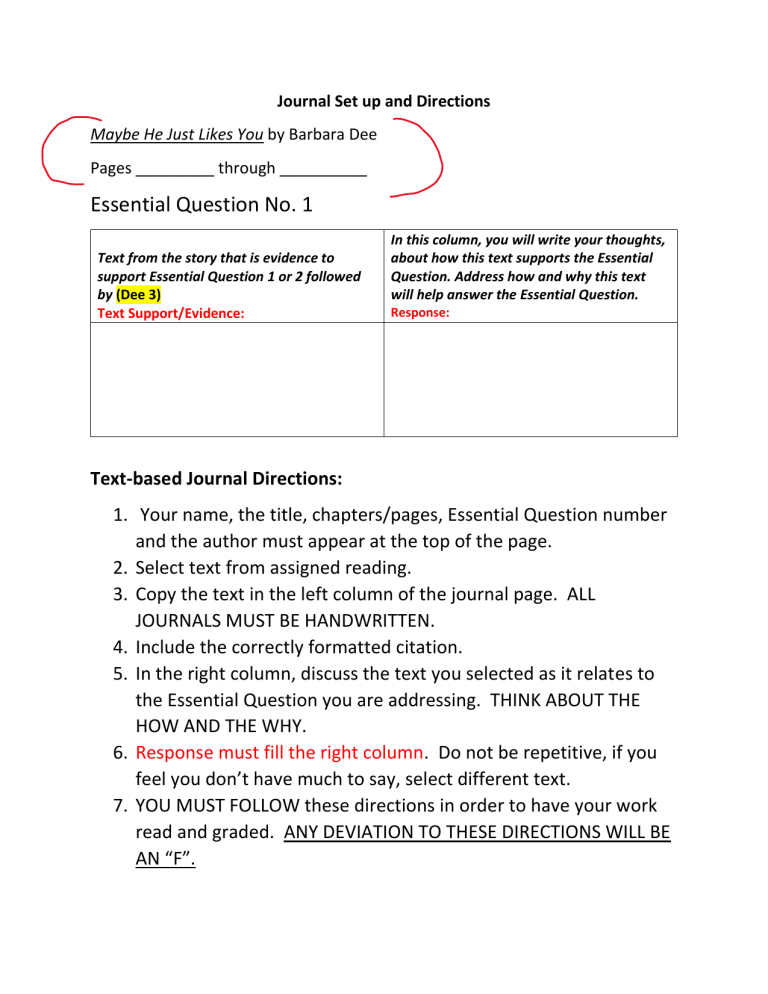 Journal Set up and Directions
Maybe He Just Likes You by Barbara Dee
Pages _________ through __________
Essential Question No. 1
Text from the story that is evidence to
support Essential Question 1 or 2 followed
by (Dee 3)
Text Support/Evidence:
In this column, you will write your thoughts,
about how this text supports the Essential
Question. Address how and why this text
will help answer the Essential Question.
Response:
Text-based Journal Directions:
1. Your name, the title, chapters/pages, Essential Question number
and the author must appear at the top of the page.
2. Select text from assigned reading.
3. Copy the text in the left column of the journal page. ALL
JOURNALS MUST BE HANDWRITTEN.
4. Include the correctly formatted citation.
5. In the right column, discuss the text you selected as it relates to
the Essential Question you are addressing. THINK ABOUT THE
HOW AND THE WHY.
6. Response must fill the right column. Do not be repetitive, if you
feel you don't have much to say, select different text.
7. YOU MUST FOLLOW these directions in order to have your work
read and graded. ANY DEVIATION TO THESE DIRECTIONS WILL BE
AN "F".