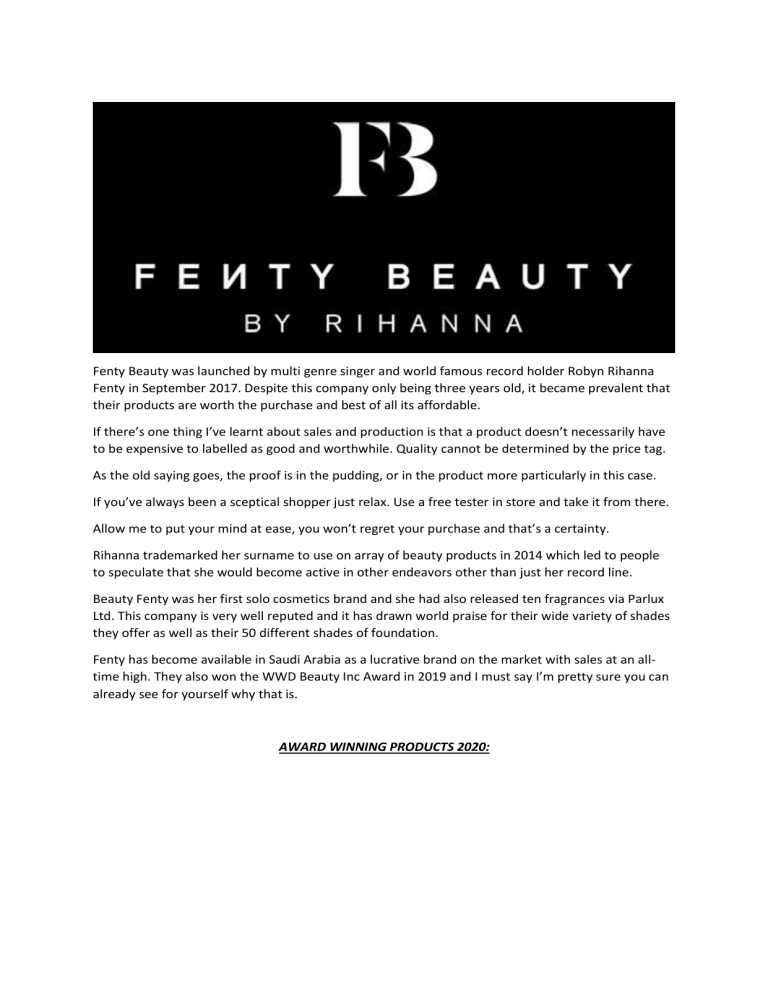 Fenty Beauty was launched by multi genre singer and world famous record holder Robyn Rihanna
Fenty in September 2017. Despite this company only being three years old, it became prevalent that
their products are worth the purchase and best of all its affordable.
If there's one thing I've learnt about sales and production is that a product doesn't necessarily have
to be expensive to labelled as good and worthwhile. Quality cannot be determined by the price tag.
As the old saying goes, the proof is in the pudding, or in the product more particularly in this case.
If you've always been a sceptical shopper just relax. Use a free tester in store and take it from there.
Allow me to put your mind at ease, you won't regret your purchase and that's a certainty.
Rihanna trademarked her surname to use on array of beauty products in 2014 which led to people
to speculate that she would become active in other endeavors other than just her record line.
Beauty Fenty was her first solo cosmetics brand and she had also released ten fragrances via Parlux
Ltd. This company is very well reputed and it has drawn world praise for their wide variety of shades
they offer as well as their 50 different shades of foundation.
Fenty has become available in Saudi Arabia as a lucrative brand on the market with sales at an alltime high. They also won the WWD Beauty Inc Award in 2019 and I must say I'm pretty sure you can
already see for yourself why that is.
AWARD WINNING PRODUCTS 2020:
LIP BOMB UNIVERSAL LIP LUMINIZER:
This is a must-have nourishing lip gloss with a universal
finishing touch and addictive shine which stays in effect
for hours. It feels as good as it looks and it is the essential
finishing touch to your beautiful face. This gloss comes in
seven different shades which has been handpicked by
Rihanna herself to become the ultimate finishing touch to
any look. Introducing Cheeky, a brand new gloss with a
shimmering orange red ring to it, is exclusively available
on FentyBeauty.com.
PRO FILT'R SOFT MATTE
LONGWEAR FOUNDATION:
I'm going to be honest and say that
this a rather interesting product.
This foundation provides cover that
lasts all day and best of all, it
doesn't rub off since it has been
described as transfer-resistant. The
only way it's going to come off is if
you use a makeup remover or wash
it off. This is a foundation which
instantaneously gives you a smooth finish and diminishes the appearance of visible pores.
Just in case you were wondering, this product was made with an oil-free formula and climate
adaptive technology making it extremely durable. It has a long-lasting texture which is featherweight
and also made with a formulation that doesn't clog your pores. If you happen to be looking for a
matte foundation which is sweat and moisture resistant and undetectable on the skin then you're in
luck. This is the perfect product for you.