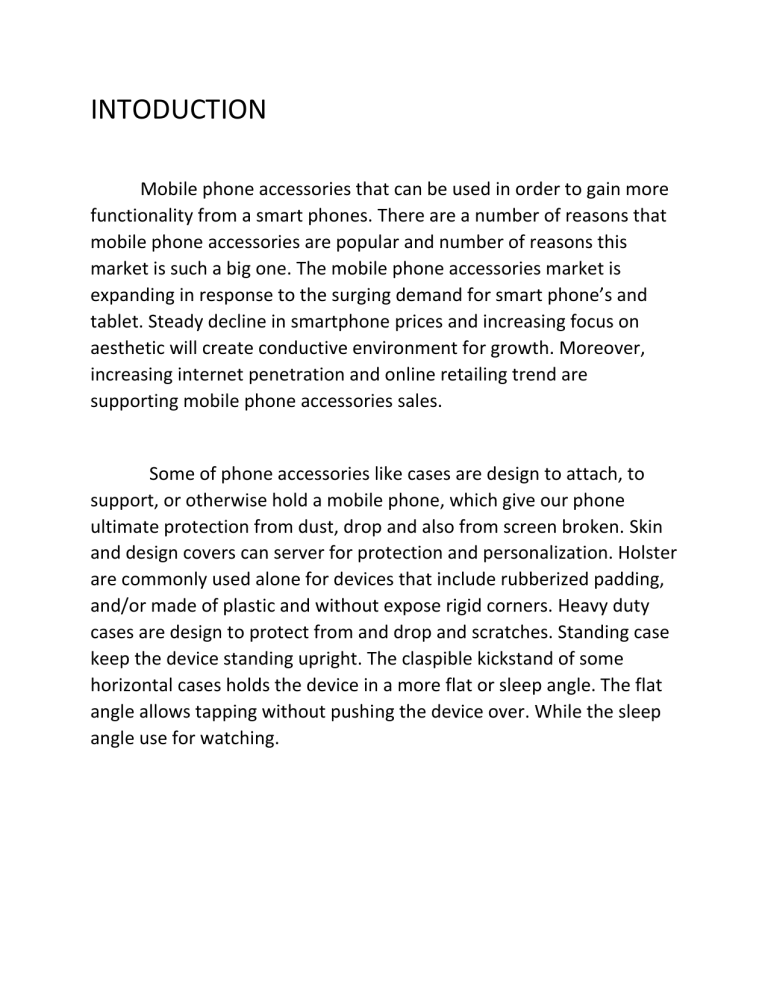 INTODUCTION
Mobile phone accessories that can be used in order to gain more
functionality from a smart phones. There are a number of reasons that
mobile phone accessories are popular and number of reasons this
market is such a big one. The mobile phone accessories market is
expanding in response to the surging demand for smart phone's and
tablet. Steady decline in smartphone prices and increasing focus on
aesthetic will create conductive environment for growth. Moreover,
increasing internet penetration and online retailing trend are
supporting mobile phone accessories sales.
Some of phone accessories like cases are design to attach, to
support, or otherwise hold a mobile phone, which give our phone
ultimate protection from dust, drop and also from screen broken. Skin
and design covers can server for protection and personalization. Holster
are commonly used alone for devices that include rubberized padding,
and/or made of plastic and without expose rigid corners. Heavy duty
cases are design to protect from and drop and scratches. Standing case
keep the device standing upright. The claspible kickstand of some
horizontal cases holds the device in a more flat or sleep angle. The flat
angle allows tapping without pushing the device over. While the sleep
angle use for watching.
Raine's Collection was started on January, 2018. She's selling
Mobile phone accessories thru online. Raine's Collection offer the best
quality of any kind of phone case's like; Pouches and Sleeve, Holsters,
Fitted cases, Drop and Shock resistance, Slim and gel case, Bumper
case, Folio or wallet case, Tough case and Battery case. Raine's
collection also offer anti-lost device, Anti lose keychains can easily
locate smart phone using GPS and Bluetooth low energy antenna's of
the phone. We also have charger and external batteries. Smartphone
chargers have gone through a diverse evolution that has included
cradles, plug-in cords and obscure connector Customers can easily buy
the item they want and get it on home deliver for low shipping fee.
We at Raine's collection plan to have more customer for having a
Facebook page. On this page customer can easily find the case and
design they want People here in Tanay don't need to go outside and go
to malls to buy phone cases. So that they can avoid transmission of
virus.
SIGNIFICANCE
This Business Enterprise Simulation gives great importance to
the following beneficiaries;
1. To the consumer, they can use best quality of phone
accessories that can protect their phone on taking damage.
2. To future online seller who want to start online business. This
may serve as a guide to them as they put up a business. And
they can used this as advantages to their competitors because
it will give them head start about the challenges that they may
encounter during the operation of their business.
3. To the community, Since online selling business was started
they don't need to go to mall just to buy one mobile phone
accessories its very useful right now because of pandemic.
4. To Raine's Collection to promote the business and may use this
as an instrument to facilitate their decision making, further
improve existing products and develop new ones. This also may
help them to achieve the enhancement of the business and to
be one of the successfull online business in online business
industry.
BUSINESS ARTICLE
The Global Mobile Phone Accessories Market size valued to USD
228.57 billion in 2019, is predicted to reach USD 328.69 billion by 2030
with a CAGR of 3.30% from 2020-2030.
The global digitalization is leading towards higher dependency on smart
gadgets, especially mobile phones. The enhanced connectivity
spectrum tends to higher adoption of mobile phones at individual level,
hence resulting to a consequent growth of mobile phone accessories
market.
North America shows a higher dominance on the global mobile
phone accessories market, accounting for the highest market shares.
This is attributed to factors such as increased adoption of wireless
accessories, presence of advanced technology and higher inclination
towards digitalization.
Asia-Pacific is projected a rapid development in the global mobile
phone accessories market, growing with the highest CAGR, due to
higher internet penetration, increasing adoption of smartphones, and
their reduced prices. Increased per-capita income and advancements in
product technologies, are further leading to supplement the market
growth in this region.
The headphones sensors segment held the highest revenue of
$8.56billion in 2019 and contributed a major part in the Europe mobile
phone accessories market size. The offline Europe mobile phone
accessories segment held the highest revenue share of the market in
2019, generating$27.85 billion as per the Europe mobile phone
accessories market analysis. The premium range segment held the
highest revenue share of the market in 2019, generating $21.71billion.
Eastern Europe is expected to dominate the market, garnering a major
share during the forecast period .