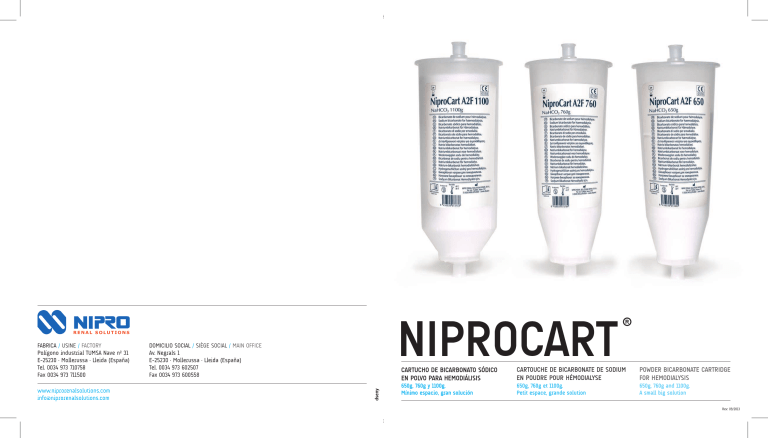 RENAL SOLUTIONS
FABRICA / USINE / FACTORY
Polígono industrial TUMSA Nave nº 31
E-25230 · Mollerussa · Lleida (España)
Tel. 0034 973 710758
Fax 0034 973 711500
www.niprorenalsolutions.com
info@niprorenalsolutions.com
DOMICILIO SOCIAL / SIÈGE SOCIAL / MAIN OFFICE
Av. Negrals 1
E-25230 · Mollerussa · Lleida (España)
Tel. 0034 973 602507
Fax 0034 973 600558
NIPROCART
®
CARTUCHO DE BICARBONATO SÓDICO
EN POLVO PARA HEMODIÁLISIS
CARTOUCHE DE BICARBONATE DE SODIUM
EN POUDRE POUR HÉMODIALYSE
POWDER BICARBONATE CARTRIDGE
FOR HEMODIALYSIS
650g, 760g y 1100g.
Mínimo espacio, gran solución
650g, 760g et 1100g.
Petit espace, grande solution
650g, 760g and 1100g.
A small big solution
Rev: 09/2013
NIPROCART
®
Envase desechable de polipropileno en distintas presentaciones (650g, 760g y 1100g) de bicarbonato sódico en polvo, para la producción
en línea de concentrado bicarbonato líquido
para hemodiálisis.
Récipient jetable en polypropylène, qui vient
sous diverses présentations (650g, 760g et
1100g) de bicarbonate de sodium en poudre,
pour la production en ligne du concentré bicarbonate liquide pour hémodialyse.
Disposable cartridge made of polypropylene in
different sizes (650g, 760g, and 1100g) for
powder sodium bicarbonate for online production of liquid bicarbonate concentrate for hemodialysis.
Diseño ergonómico compatible con monitores
adaptados a realizar hemodiálisis con cartuchos de bicarbonato en polvo.
Dessin ergonomique compatible avec des moniteurs adaptés pour la réalisation des séances
d'hémodialyse utilisant des cartouches de bicarbonate en poudre.
Its ergonomic design suits all machines adapted for hemodialysis with powder bicarbonate
cartridges.
Perforado por la parte inferior, y opcional por
la parte superior, facilita la adaptación al monitor de hemodiálisis.
Incorpora tapones que evitan el drenaje de los
restos de solución a la retirada del cartucho
del monitor.
Perforé sur la partie inférieure et en option sur
la partie supérieure, il permet l'adaptation au
moniteur d'hémodialyse.
For easier placement in the machine, the cartridge connector is perforated at the lower
part, upper part perforation is optional.
Il inclut des couvercles qui évitent le drainage
des restes de solution, lorsque la cartouche
est retirée du moniteur.
This cartridge includes two caps which prevent any leakage from the remains of the solution when the cartridge is taken out of the machine.
Produit à usage unique.
One use only.
Chaque Niprocart est capable de produire une
solution de bicarbonate pour une séance
d'hémodialyse.
Each Niprocart has the capacity to produce a
bicarbonate solution for one complete Hemodialysis session.
Le bicarbonate employé comme matière première
pour la production de NiproCart est conforme à la
Pharmacopée Européenne (Ph. Eur.) et le produit
fini est soumis à des contrôles chimiques, microbiologiques et d'endotoxines.
The bicarbonate used as raw material for the
manufacture of NiproCart complies with European Pharmacopoeia (Ph. Eur.) The final product
undergoes different chemical, microbiological
and endotoxins analysis.
Pour utiliser avec le concentré acide SÉRIE 300
ou semblable.
To be used along with the 300 SERIES Acid Concentrate or similar.
COMPOSICIÓN QUÍMICA:
COMPOSITION CHIMIQUE:
CHEMICAL COMPOSITION:
Bicarbonato sódico (calidad Ph. Eur.):
650g, 760g y 1100g.
Bicarbonato sódico en polvo para preparar
concentrado de bicarbonato líquido en
concentraciones variables según el ajuste del
monitor de hemodiálisis.
Bicarbonate de sodium (qualité Ph. Eur.): 650g,
760g et 1100g.
Bicarbonate de sodium en poudre, pour la
préparation du concentré de bicarbonate
liquide, en concentrations variables suivant le
réglage du moniteur d'hémodialyse.
Sodium Bicarbonate (Ph. Eur. quality): 650g,
760g and 1100g.
Powder Sodium Bicarbonate to prepare liquid
bicarbonate concentrate in different concentrations depending on calibration of equipment used.
Producto de un solo uso.
Cada NiproCart tiene capacidad para producir
una solución de bicarbonato para una sesión
de hemodiálisis.
El bicarbonato utilizado como materia prima
para la fabricación de NiproCart cumple Farmacopea Europea (Ph. Eur.), y el producto final
es sometido a controles químicos, microbiológicos y de endotoxinas.
Para emplear junto con concentrado ácido
SERIE 300 o similar.