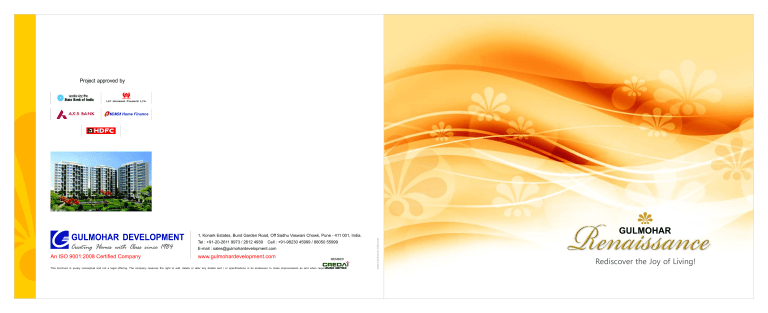 Project approved by
Tel : +91-20-2611 9973 / 2612 4939
Cell : +91-98230 45999 / 88050 55999
E-mail : sales@gulmohardevelopment.com
An ISO 9001:2008 Certified Company
www.gulmohardevelopment.com
This brochure is purely conceptual and not a legal offering. The company reserves the right to add, delete or alter any details and / or specifications in its endeavour to make improvements as and when required.
MEMBER
www.numerouno-india.com
1, Konark Estates, Bund Garden Road, Off Sadhu Vaswani Chowk, Pune - 411 001, India.
Rediscover the Joy of Living!
There comes a stage in our life when beauty
and nature hold hands with design and function.
In a place that holds a bright future;
in a manner that adds panache to your dreams.
It feels like being revived.
'Gulmohar Renaissance' is an example of refinement and quality, complemented by a lifestyle
that will change the way you live. The location advantage, thoughtful planning, quality
construction, sophisticated layout, tranquil environs, natural beauty and exclusive leisure
amenities will bring about a makeover of your life. 'Gulmohar Renaissance' is the place where
you will rediscover the joy of living!
Rejoice, reinvent and relive every moment of your life
in a place that celebrates the revival of a new you!
Rediscover the Joy of Living!
2 Bedroom Premium Terrace Apartments
WAGHOLI
The expectation of a home is a combination of various aspects of space, design, amenities and
affordability. 'Gulmohar Renaissance' presents homes with contemporary design along with
modern amenities to revive the pleasure of stylish living.
The 2 bedroom premium terrace apartments at 'Gulmohar Renaissance' come with top
specifications and quality construction. Pleasing elevation and beauty in architecture are
evident from its classy layout. A host of amenities like pool, clubhouse, gymnasium, sports
and garden suit the lifestyle you seek from a modern home. The project also comes with
safety features like intercom, 24x7 security and fire fighting system. All these combine to
give refinement and peace of mind in a place you will love to call home.
Advantage Wagholi:
Advantage 'Gulmohar Renaissance':
n
Most upcoming
Exclusive
n
residential enclave with 24x7 security.
Spacious well-designed 2 bedroom terrace apartments.
n
Thoughtful apartment layout.
n
Ample natural light and ventilation.
n
Grand entrance lobbies and two automatic elevators for each building.
n
Fully landscaped project.
n
and promising locale of East Pune.
n
Only 10 minutes drive from Pune Airport.
n
Many leading schools and educational institutes nearby.
n
Proximity to industrial areas of Ranjangaon, Sanaswadi, Shikrapur and Chakan.
Close to Kharadi IT hub and shopping & entertainment centres.
n
Wagholi soon to have better and smoother connectivity to Kharadi.
n
Rediscover the Joy of Living!
Airport
Gulmohar Cottages
Air Force
Station
Gulmohar Galaxy
Aga Khan
Palace
Phoenix
Hyatt Market City
Bishops'
School
Gulmohar Glades
Inorbit
Mall
Pune
Central Mall
Hotel
Sun-n-Sand
Taj Blue
Diamond
Inlaks &
Budhrani
Hospital
E-Square
Cybage
Gulmohar
Court
Central
School K.V.
Chandan
Nagar
Gulmohar
Helios
Gulmohar
Parkview
PUNE-NAGAR HIGHWAY
Gulmohar
Orchids
Jyotirmay
School
Gulmohar
Privilege
Gulmohar
Queenstown
Mall & Multiplex
EON IT Park
Reliance Mart
Housefull
Zensar
Saffron
Restaurant
WAGHOLI
Nirmala
Convent
Gulmohar School
City
KHARADI
Wagheshwar
Temple
Law College
To Ahmednagar
Lexicon School
Gulmohar
Gardens
Ivy Estate
The progress of the 'present' determines the 'future' of a location. A home at
'Gulmohar Renaissance' rates high on this factor of livability. Life at 'Gulmohar
Gulmohar
Goldcoast
GULMOHAR
RENAISSANCE
Renaissance' is a rejoicement of easy living at an exclusive residential address.
Situated in the quaint yet rapidly developing Wagholi, the project is nestled in the
premium residential area on BAIF Road. The tranquil, green environs devoid of
Koregaon Park
Plaza Mall
pollution, make it an ideal location for your home. Just off Nagar Road, 'Gulmohar
Mula-Mu
tha River
Renaissance' is highly accessible; with the airport, IT hub of Kharadi and elite
Satellite
Towers
locales of Kalyani Nagar and Koregaon Park at close distance. Within easy reach are
KOREGAON PARK
famous malls, entertainment avenues, reputed schools & colleges, star hotels &
Amanora Mall
Kumar Planet IT
To Railway
Station
Present progressive,
Future perfect!
Gulmohar
Primrose
ABC Restaurant
Westin
Osho
Commune
International
9 BRD
Kothari Hyundai Showroom
Petrol
Pump
Petrol Pump
Lifestyle
Gold Adlabs MSource
Park Central
Gulmohar
Palace
E-Space
Gulmohar
Centre Point
KALYANI NAGAR
HSBC
Gigaspace
BAIF Road
Gunjan
Cinema GE Plaza
Gulmohar Regency
VIMAN NAGAR
Radisson
Gulmohar
Manor
Magarpatta
Cyber City
Turf Club
restaurants, clinics & hospitals and other social infrastructure. Wagholi's proximity
PUNE-SOLAPUR HIGHWAY
To Solapur
to Kharadi and industrial areas like Sanaswadi, Ranjangaon and Chakan make it a
To Camp
AFMC
RSI
Big
ASPT
Bazaar
Hadapsar
IBM
preferred destination of Pune. So, a home at 'Gulmohar Renaissance' will prove
LOCATION
to be a wise decision and sound investment.
Rediscover the Joy of Living!
AMENITIES
Swimming
n
Designer
n
Pool with Baby Pool
Clubhouse
Fully-equipped
n
Single
n
Gymnasium
Pole Basketball Area
Badminton
n
Children's
n
Walking
n
Court
Play Area
Track
Beautifully
n
Landscaped Garden
Automatic
n
Sewage
n
Water
n
Elevators
Treatment Plant
Treatment Plant (Reverse Osmosis Plant for Purified Drinking Water)
Rain Water
n
Intercom
n
Harvesting and Water Recycling
Facility
Fire Fighting
n
Power
n
System
Backup for Lifts and Common Areas
Compound
n
Wall to the periphery of project
PROJECT LAYOUT
Rediscover the Joy of Living!
MULBERRY
BLUE BELLS
SUNFLOWER
SPECIFICATIONS
STRUCTURE
TOILET
Earthquake-resistant
n
Chromium
n
Good
n
Marble
n
R.C.C. frame structure.
quality brickwork with bricks / blocks.
Steel and concrete as per I.S. code.
n
KITCHEN
n
Kitchen
platform with granite top and
stainless steel sink.
n
Provision for fitting exhaust fan in the kitchen.
n
Glazed dado tiles upto 3' above kitchen platform.
plated C.P. fittings.
/ granite door frame.
Anti-skid flooring and coloured tile dado upto 7' height.
n
n
European WC and wash hand basin of standard make.
n
Bathing area with hot and cold water mixer and
provision for fixing boiler.
PLUMBING
n
Concealed,
insulated and chemically tested plumbing.
FLOORING
PLASTER & PAINTING
n
Vitrified
n
External
tile flooring for the entire apartment
with skirting.
n
Anti-skid tile flooring for toilets and terraces.
DOORS & WINDOWS
door with decorative laminated finish
with lock, eye peephole and name plate.
n
All internal flush doors with mortise / cylindrical locks
for bedrooms, bathrooms and kitchen terrace.
n
Powder-coated aluminium windows.
sand-faced plaster & textured finish and
internal walls with gypsum finish.
n
Superior paint finish for internal walls in oil bound
distemper and superior quality paint in Acrylic Emulsion
for external walls.
n
Main entrance
ELEVATION
n
Exclusively
designed elevation of buildings.
ENTRANCE LOBBY
n
Plush
entrance lobby for each building.
ELECTRIFICATION
Adequate
n
LUCERNE
JASMINE
This layout is purely conceptual. The company reserves the right to add, delete or alter any details and / or specifications in its endeavour to make improvements as and when required.
number of lights, fans and power plug points
with concealed copper wiring with MCB controls and
modern switches.
Concealed and underground cabling of telephone, T.V.
n
and electricity lines through conduits and pipes,
to ensure no overhead lines.
n
Generator backup for lifts, common lighting in the
buildings and pumps.
n
T.V. and telephone points in the living room and
master bedroom.
INTERNAL ROADS
Roads
n
in Tremix concrete / Asphalt / paving blocks with
decorative street lighting.
SAFETY & SECURITY
Decorative
n
safety wall surrounding the entire perimeter
of the project.
Impressive main gate for the complex with security cabin.
n
Intercom security system.
n
Fire fighting system for each building.
n
2 Bedroom Apartment Plan
Rediscover the Joy of Living!
The furniture and fixtures shown in the apartment layout are for mere representation & concept and the same shall not be provided by the Developers.
2 Bedroom Apartment Plan
Rediscover the Joy of Living!
With Gulmohar Development, you get more than a home.
You get the confidence of making the right decision. Trust and
Quality are the pillars of Gulmohar Development. With landmark
residential and commercial projects completed with uncompromising
dedication towards infrastructure and design, the Group is one of
Pune's premier real estate developers. Which is why when you buy a
GULMOHAR PRIMROSE
Wagholi
GULMOHAR ORCHIDS
Kharadi
GULMOHAR CITY
Kharadi
GULMOHAR PRIVILEGE
Kharadi
home with us; you buy a great lifestyle with happiness.
Some of our Prestigious Projects
GULMOHAR QUEENSTOWN
Kharadi
GULMOHAR HELIOS
Kharadi
GULMOHAR GOLDCOAST
Kharadi
GULMOHAR PARKVIEW
Kharadi
KUMAR GULMOHAR
Salunkhe Vihar Road
GULMOHAR COURT
Koregaon Park
GULMOHAR HABITAT
Wanowrie
GULMOHAR COTTAGES
Viman Nagar
Rediscover the Joy of Living!