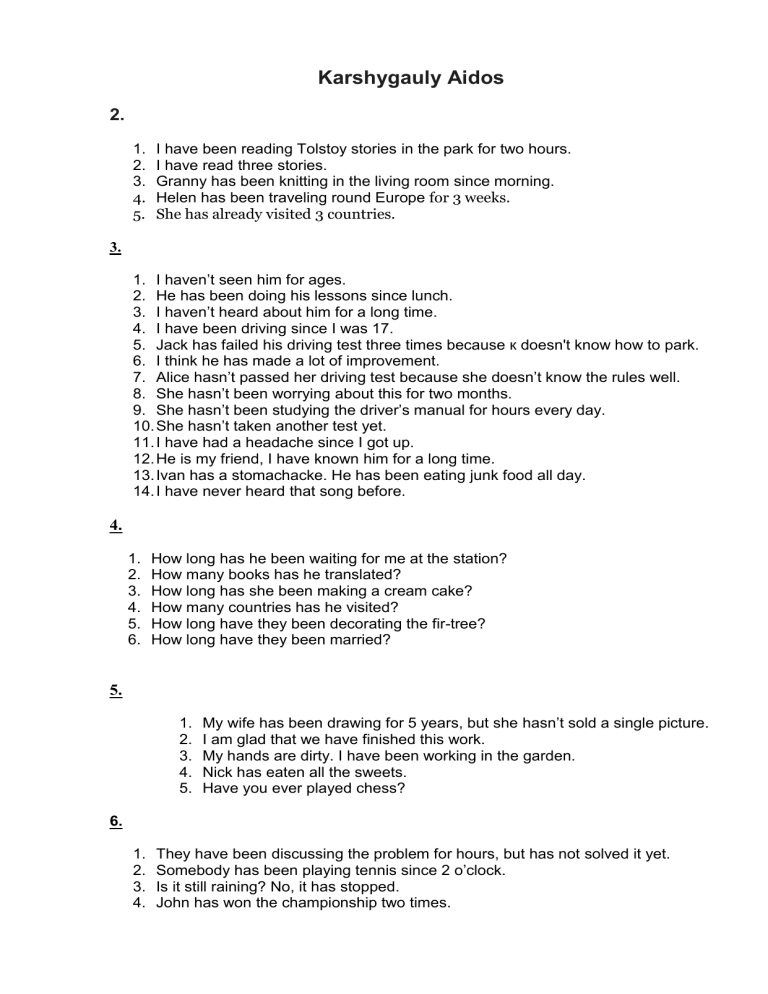 Karshygauly Aidos
2.
1.
2.
3.
4.
5.
I have been reading Tolstoy stories in the park for two hours.
I have read three stories.
Granny has been knitting in the living room since morning.
Helen has been traveling round Europe for 3 weeks.
She has already visited 3 countries.
3.
1. I haven't seen him for ages.
2. He has been doing his lessons since lunch.
3. I haven't heard about him for a long time.
4. I have been driving since I was 17.
5. Jack has failed his driving test three times because к doesn't know how to park.
6. I think he has made a lot of improvement.
7. Alice hasn't passed her driving test because she doesn't know the rules well.
8. She hasn't been worrying about this for two months.
9. She hasn't been studying the driver's manual for hours every day.
10. She hasn't taken another test yet.
11. I have had a headache since I got up.
12. He is my friend, I have known him for a long time.
13. Ivan has a stomachacke. He has been eating junk food all day.
14. I have never heard that song before.
4.
1.
2.
3.
4.
5.
6.
How long has he been waiting for me at the station?
How many books has he translated?
How long has she been making a cream cake?
How many countries has he visited?
How long have they been decorating the fir-tree?
How long have they been married?
5.
1.
2.
3.
4.
5.
My wife has been drawing for 5 years, but she hasn't sold a single picture.
I am glad that we have finished this work.
My hands are dirty. I have been working in the garden.
Nick has eaten all the sweets.
Have you ever played chess?
6.
1.
2.
3.
4.
They have been discussing the problem for hours, but has not solved it yet.
Somebody has been playing tennis since 2 o'clock.
Is it still raining? No, it has stopped.
John has won the championship two times.
5. The boys have been fishing for 3 hours.
6. How many books have you written?
7. Mike has invited many friends to his birthday party.
8. He has hated oranges since his childhood.
9. They have taken the dog for a walk.
10. Irene has left for the airport.