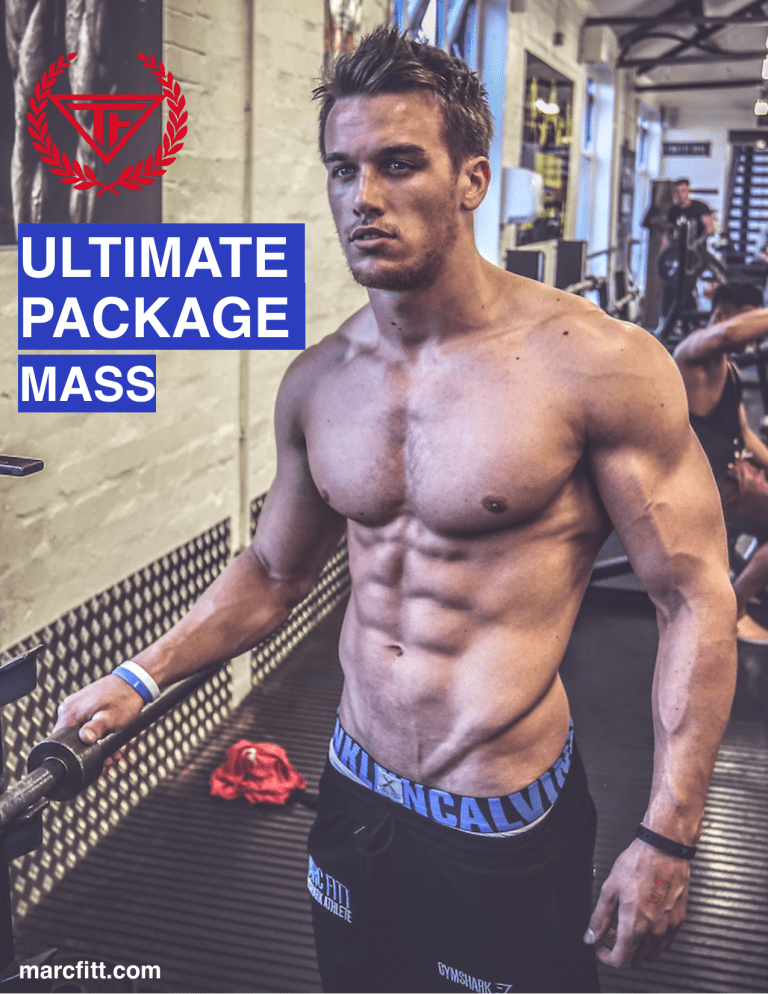 Page 1 of 4
ULTIMATE
PACKAGE
MASS
© Copyright Marc Fitt. All Rights Reserved Marc Fitt inc.
marcfitt.com
Page 2 of 4
Ultimate
Package
Mass
Congratulations on the purchase of your
Ultimate Package! Before we begin, here's
a quick reminder of what you're getting in
this package:
• A personalized mass workout,
just for you
• The Supreme Abs Workout
• The Nutrition Planner
You've got everything you need to get in the best shape of your life right here. So let's
get started!
Read the instructions and tips below for your plan, and head to the gym!
Your Workouts
You will find your personalized workout plan in the attached files (in PDF form).
I always suggest you do abs for about 10–15 minutes at the end of every workout.
Simply choose a different routine from the Supreme Abs Workout after each workout
you do!
If you are unsure how to perform an exercise included in your personal plan, I suggest
you check YouTube, or Bodybuilding.com — both have high quality instructional videos
for almost every exercise. If you can't find it, contact us by email, and we'll help you out
as best as we can.
© Copyright Marc Fitt. All Rights Reserved Marc Fitt inc.
Page 3 of 4
The Nutrition Planner
In this Ultimate Package, I've given you the tool I personally use to create diets for my
clients. The Nutrition Planner is easy to use when you've practiced, but if you don't
watch the tutorial videos (which are only about 10 minutes in total length), it can be little
difficult to manoeuvre. So, before starting to use it, I encourage you to watch these
videos I've made for you. For your convenience, here's the link!
Even More Stuff to Help You Succeed
I want to see you achieve everything you want with your newest fitness endeavour!
That's why I've created such a rich library of free content that you can use at any time
you may have a question — no matter what the topic, I've got you covered!
On the next page, check out some of the best resources you can use to learn more
about exercise, diet, supplementation, and so much more!
Fitt Talk
Fitt Talk is your go-to podcast with everything you need to know about health, fitness,
and lifestyle. Created by Matt Waugh and myself, you're sure to learn a lot, and have a
blast doing it!
Here are some of the episodes I think you'll find particularly useful:
•
•
•
•
•
Episode 05 – Beyond Supplements (with Sean Kent)
Episode 21 – Bulk the Right Way
Episode 35 – Optimize Your Sleep
Episode 39 – Creatine & Caffeine
Episode 46 – Tips for the Hardgainer
These are just a handful of the many episodes we've produced — and with a new
episode released every week, there's always something new to learn! Of course, should
you ever want to revisit past sessions, you can visit www.FittTalk.com to tune in and
listen to any episode at any time.
The Fitt Blog
The Fitt Blog is where you can find free weekly articles about training, nutrition,
motivation and anything else we can create to help you improve your life, mentally and
physically. Visit the blog often because it's where we post all the free content. It is
© Copyright Marc Fitt. All Rights Reserved Marc Fitt inc.
Page 4 of 4
always our pleasure to take your comments about what you want to learn about so we
can create something new for you!
A few articles I think you'll really enjoy are:
•
•
•
•
•
"Sleep is for suckers, or champions?"
"Top 5 foods for good carbs"
"When to take a day off"
"How to change up your training"
"Control your cortisol"
Again, this is just a taste of some of the content you'll find. You can easily access the
blog at any time by visiting www.marcfitt.com/blog! From there, you can peruse all of
the articles we've written — there's no shortage of them!
Final Thoughts
Enjoy your personal plan and the great results it will bring! Keep me posted on your
progress by emailing me your pictures at marcfittwebsite@gmail.com!
And remember — everything is possible!
—
Marc Fitt
© Copyright Marc Fitt. All Rights Reserved Marc Fitt inc.