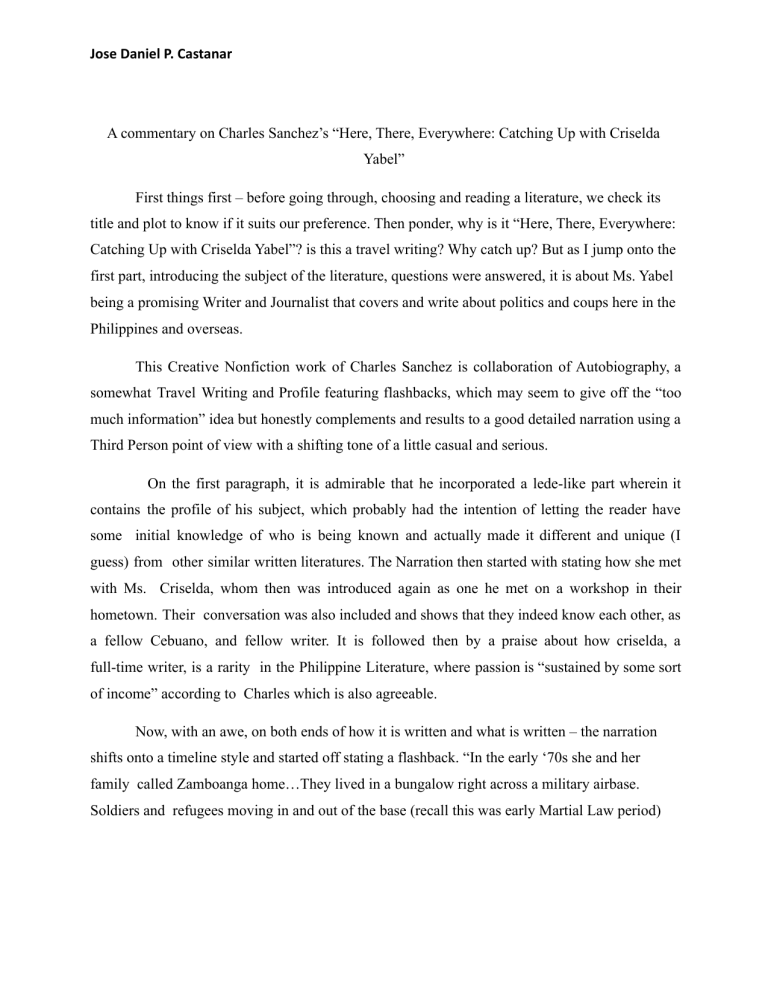 Jose Daniel P. Castanar
A commentary on Charles Sanchez's "Here, There, Everywhere: Catching Up with Criselda
Yabel"
First things first – before going through, choosing and reading a literature, we check its
title and plot to know if it suits our preference. Then ponder, why is it "Here, There, Everywhere:
Catching Up with Criselda Yabel"? is this a travel writing? Why catch up? But as I jump onto the
first part, introducing the subject of the literature, questions were answered, it is about Ms. Yabel
being a promising Writer and Journalist that covers and write about politics and coups here in the
Philippines and overseas.
This Creative Nonfiction work of Charles Sanchez is collaboration of Autobiography, a
somewhat Travel Writing and Profile featuring flashbacks, which may seem to give off the "too
much information" idea but honestly complements and results to a good detailed narration using a
Third Person point of view with a shifting tone of a little casual and serious.
On the first paragraph, it is admirable that he incorporated a lede-like part wherein it
contains the profile of his subject, which probably had the intention of letting the reader have
some initial knowledge of who is being known and actually made it different and unique (I
guess) from other similar written literatures. The Narration then started with stating how she met
with Ms. Criselda, whom then was introduced again as one he met on a workshop in their
hometown. Their conversation was also included and shows that they indeed know each other, as
a fellow Cebuano, and fellow writer. It is followed then by a praise about how criselda, a
full-time writer, is a rarity in the Philippine Literature, where passion is "sustained by some sort
of income" according to Charles which is also agreeable.
Now, with an awe, on both ends of how it is written and what is written – the narration
shifts onto a timeline style and started off stating a flashback. "In the early '70s she and her
family called Zamboanga home…They lived in a bungalow right across a military airbase.
Soldiers and refugees moving in and out of the base (recall this was early Martial Law period)
were a common sight to her in those days." which then gave birth to her book The Boys from the
Barracks (1991), which is believed to be a chronicle of the post-Martial Law coup attempt.
On the following paragraphs, supporting her journey as writer and journalist for the
people during the regimen of a dictator. After publishing her first book, she flew to France for a
year-long journalism fellowship, and was tasked to cover stories across Europe.
Her journey of writing such stories is undeniably interesting. The next thing she did was
stay in Greece and work on her essay collection. But due to some personal reason, she did a
couple of light travel stories and collaborative book project, a "somewhat" travel writing about
Palawan with her first-hand experience. They story then shifted to her (Criselda) flying back to
France and stayed there for the next Six years with her husband.
Through a long talk, their conversation shifted from (Yabel) gradually sharing her writing
journey to Charles suggesting 2 other stories, Below the Crying Mountain and Sarena's Story: The
loss of a Kingdom which took home and was awarded on Gawad Likhaan: UP Centennial Literary
Award, of Criselda to be elaborated. These stories were once again based on her firsthand
experience and information.
Thereafter, it was also shared that Ms. Yabel is, back then, currently working on a book
about the Marawi coup/encounter with, again, her being there on the Military set up base to
gather first hand information. So throughout reading and knowing the journey of Ms. Criselda
Yabel, there will be an awe, admiration and aspiration for the readers.
All in all, content wise, structure wise, and all, it is a good one. The flow is not confusing
and the statement of scenario, in the light of imagery, is well-written. Relatively, the structure of
Mr. Charles' writing is admirable where the transition run smoothly in accordance to consistent
use of good point-of-view.