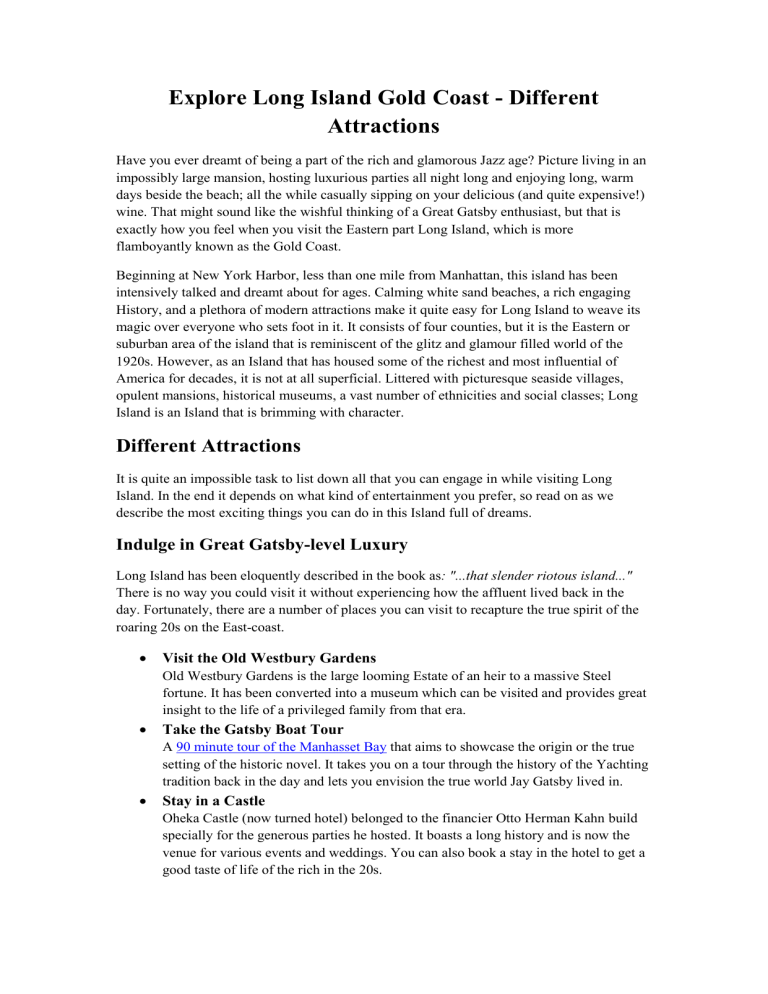 Explore Long Island Gold Coast - Different
Attractions
Have you ever dreamt of being a part of the rich and glamorous Jazz age? Picture living in an
impossibly large mansion, hosting luxurious parties all night long and enjoying long, warm
days beside the beach; all the while casually sipping on your delicious (and quite expensive!)
wine. That might sound like the wishful thinking of a Great Gatsby enthusiast, but that is
exactly how you feel when you visit the Eastern part Long Island, which is more
flamboyantly known as the Gold Coast.
Beginning at New York Harbor, less than one mile from Manhattan, this island has been
intensively talked and dreamt about for ages. Calming white sand beaches, a rich engaging
History, and a plethora of modern attractions make it quite easy for Long Island to weave its
magic over everyone who sets foot in it. It consists of four counties, but it is the Eastern or
suburban area of the island that is reminiscent of the glitz and glamour filled world of the
1920s. However, as an Island that has housed some of the richest and most influential of
America for decades, it is not at all superficial. Littered with picturesque seaside villages,
opulent mansions, historical museums, a vast number of ethnicities and social classes; Long
Island is an Island that is brimming with character.
Different Attractions
It is quite an impossible task to list down all that you can engage in while visiting Long
Island. In the end it depends on what kind of entertainment you prefer, so read on as we
describe the most exciting things you can do in this Island full of dreams.
Indulge in Great Gatsby-level Luxury
Long Island has been eloquently described in the book as: "...that slender riotous island..."
There is no way you could visit it without experiencing how the affluent lived back in the
day. Fortunately, there are a number of places you can visit to recapture the true spirit of the
roaring 20s on the East-coast.

Visit the Old Westbury Gardens
Old Westbury Gardens is the large looming Estate of an heir to a massive Steel
fortune. It has been converted into a museum which can be visited and provides great
insight to the life of a privileged family from that era.

Take the Gatsby Boat Tour
A 90 minute tour of the Manhasset Bay that aims to showcase the origin or the true
setting of the historic novel. It takes you on a tour through the history of the Yachting
tradition back in the day and lets you envision the true world Jay Gatsby lived in.

Stay in a Castle
Oheka Castle (now turned hotel) belonged to the financier Otto Herman Kahn build
specially for the generous parties he hosted. It boasts a long history and is now the
venue for various events and weddings. You can also book a stay in the hotel to get a
good taste of life of the rich in the 20s.
Learning Culture and History
For those interested in the history of pre-WWII America and the seemingly perfect world of
the twenties, Long Island's museum are the best source of information.

Lose yourself in Art
Located in Huntington, the Heckscher Museum of Art is built in Heckscher Park. It
houses mostly American and European art from the nineteenth to twenty first century
including modernism. Other noteworthy art museums include the Nassau County
Museum of Art and the Parrish Art museum. An arts center called Staller center for
arts also hosts professional shows related to dance, film, theatre, visual arts etc.

Visit Theodore Roosevelt's Summer House
Sagamore Hill was home to Theodore Roosevelt and he spent many summers of his
young life in this mansion. The house is not a national historic site and contains the
Theodore Roosevelt Museum.

The three in one Vanderbilt Mansion
The Vanderbilt mansion is known to be a mansion, museum and a Planetarium. The
mansion provides a deep look at the life of an elite family from the 1920s and the
Planetarium is known to be one of the most advanced in the USA.

Visit Walt Whitman
Walt Whitman's home turned museum is also located on Long Island and it is a mustvisit for all poetry lovers his work has inspired.
Fly Sky High
Long Island boasts an extensive history of aviation and has a number of opportunities for ones
interested in astronomy, and aeronautics.

Fun in the Cradle of Aviation
Aptly known as the cradle of aviation, a trip to this air and space museum can be
highly immersive and educational especially for children. It guides you through 100
years of aerospace and also wows with a dome theatre that displays astronomy films.

Learn in American Air Power Museum
The museum houses a number of static displays of aircrafts and also flies some of
them! All in all, perfect for people who wish to expand their knowledge of historic
aircrafts.

Dine on Mars
Located in the previously mentioned Cradle of Aviation museum The Red Planet
Cafe lets you enjoy the landscape of Mars and feast on Martian Cuisine.
A little Bit of Adventure
Long Island is not all about art, history and culture. There is a little something for everyone,
and definitely no shortage of adventure!

Step into Adventureland
Adventureland is the biggest amusement park in Long Island, providing exciting
rides, attractions and games to families since 1962. A trip to this crazy Adventure
filled park should be a must especially for kids and adrenaline junkies!

Racing at Belmont Park
Belmont Park is one of the oldest horse racing facility in New York. It is an ideal
picnic spot for all the horse racing fans out there. So if there is a race scheduled for
when you are around, don't forget to visit and cheer for your favorite horse from the
sidelines!

Explore the Marine life
A trip to the Long Island Aquarium is enough to acquaint yourself with the marine
life in the area. It provides interesting and interactive activities such as encounter with
a penguin, selfie with a sea lion, pirate themed snorkeling adventure and the most
exhilarating of all, shark dive!

Embark on a historical Adventure
The long island heritage trail combines history with intrigue and adventure to create
an unique experience. Following a trail found on the map, the people on the mission
can discover the well-hidden secrets of the Gold Coast, heritage of the colonial spies
and even bootlegging sites!
The attractions we just mentioned are only the tip of the iceberg! Once you enter the Island,
there is no shortage of entertainment. You can relax at the beach, buy fresh seafood from
seaside vendors, go on an adventure on the heritage trail, a splash in the water park or indulge
your palate with some of the finest eateries in town. If you are a wine enthusiast, Long Island
is also home to wineries which host tours all year round.
Visiting this "slender riotous island" is the only way to experience its magnificence. So, if you
are planning to tour or move to the Big Apple anytime in the near future, Long Island is the
place to be!