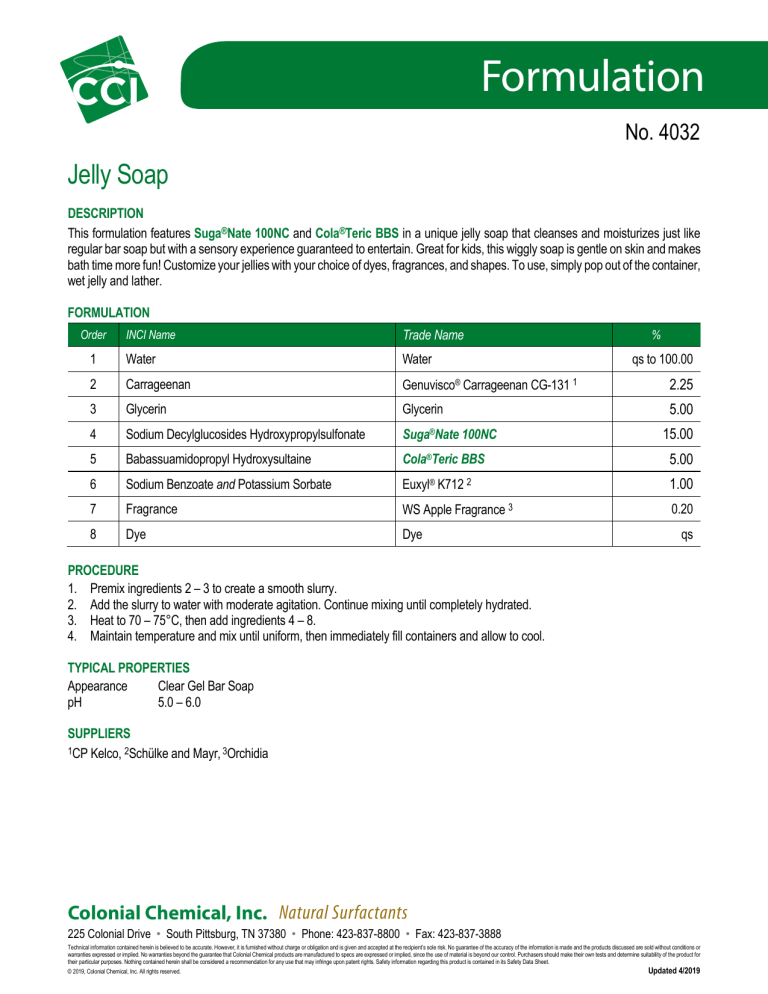 Formulation
No. 4032
Jelly Soap
DESCRIPTION
This formulation features Suga®Nate 100NC and Cola®Teric BBS in a unique jelly soap that cleanses and moisturizes just like
regular bar soap but with a sensory experience guaranteed to entertain. Great for kids, this wiggly soap is gentle on skin and makes
bath time more fun! Customize your jellies with your choice of dyes, fragrances, and shapes. To use, simply pop out of the container,
wet jelly and lather.
FORMULATION
INCI Name
Trade Name
1
Water
Water
2
Carrageenan
Genuvisco® Carrageenan CG-131 1
2.25
3
Glycerin
Glycerin
5.00
4
Sodium Decylglucosides Hydroxypropylsulfonate
Suga®Nate 100NC
5
Babassuamidopropyl Hydroxysultaine
Cola®Teric BBS
5.00
6
Sodium Benzoate and Potassium Sorbate
Euxyl® K712 2
1.00
7
Fragrance
WS Apple Fragrance 3
0.20
8
Dye
Dye
Order
%
qs to 100.00
15.00
qs
PROCEDURE
1. Premix ingredients 2 – 3 to create a smooth slurry.
2. Add the slurry to water with moderate agitation. Continue mixing until completely hydrated.
3. Heat to 70 – 75°C, then add ingredients 4 – 8.
4. Maintain temperature and mix until uniform, then immediately fill containers and allow to cool.
TYPICAL PROPERTIES
Appearance
Clear Gel Bar Soap
pH
5.0 – 6.0
SUPPLIERS
1CP Kelco, 2Schülke and Mayr, 3Orchidia
Colonial Chemical, Inc. Natural Surfactants
225 Colonial Drive • South Pittsburg, TN 37380 • Phone: 423-837-8800 • Fax: 423-837-3888
Technical information contained herein is believed to be accurate. However, it is furnished without charge or obligation and is given and accepted at the recipient's sole risk. No guarantee of the accuracy of the information is made and the products discussed are sold without conditions or
warranties expressed or implied. No warranties beyond the guarantee that Colonial Chemical products are manufactured to specs are expressed or implied, since the use of material is beyond our control. Purchasers should make their own tests and determine suitability of the product for
their particular purposes. Nothing contained herein shall be considered a recommendation for any use that may infringe upon patent rights. Safety information regarding this product is contained in its Safety Data Sheet.
Updated 4/2019
© 2019, Colonial Chemical, Inc. All rights reserved.