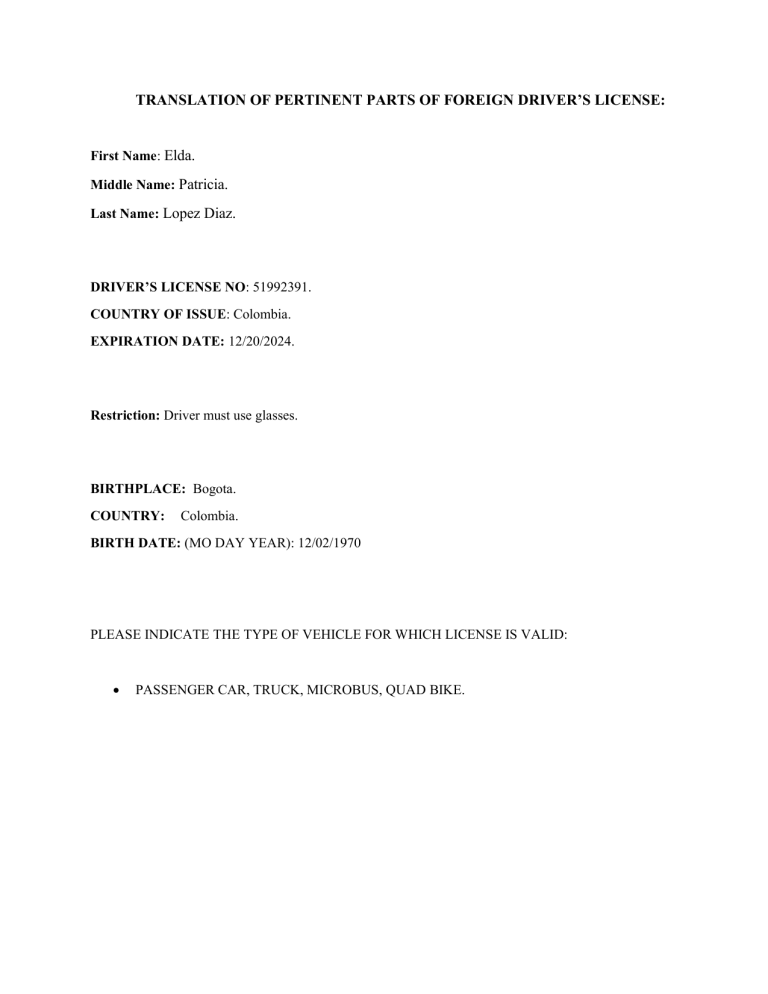 TRANSLATION OF PERTINENT PARTS OF FOREIGN DRIVER'S LICENSE:
First Name: Elda.
Middle Name: Patricia.
Last Name: Lopez Diaz.
DRIVER'S LICENSE NO: 51992391.
COUNTRY OF ISSUE: Colombia.
EXPIRATION DATE: 12/20/2024.
Restriction: Driver must use glasses.
BIRTHPLACE: Bogota.
COUNTRY:
Colombia.
BIRTH DATE: (MO DAY YEAR): 12/02/1970
PLEASE INDICATE THE TYPE OF VEHICLE FOR WHICH LICENSE IS VALID:
•
PASSENGER CAR, TRUCK, MICROBUS, QUAD BIKE.
TRANSLATOR'S CERTIFICATION
I, Angie Castillo, AM COMPETENT TO TRANSLATE FROM Spanish TO ENGLISH AND I
CERTIFY THAT THE ABOVE INFORMATION IS A TRUE AND CORRECT TRANSLATION OF
THE PERTINENT PARTS OF THE ATTACHED FOREIGN DRIVER'S LICENSE.
SIGNATURE OF TRANSLATOR:
DATE: 05/04/2021
Telephone number and agency information of translator: (732) -668-0735.